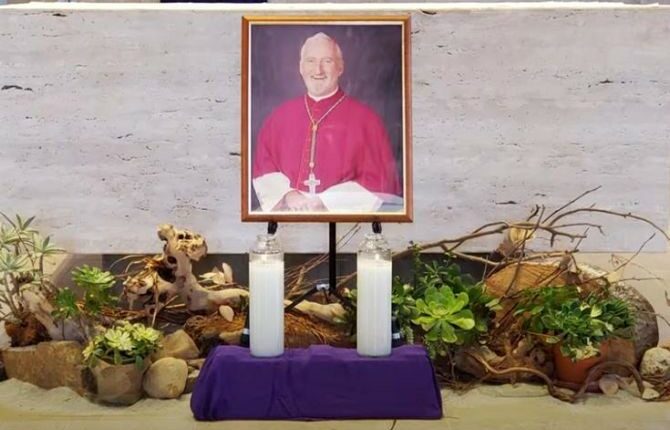 Pope Francis, Biden commend 'peacemaker' Bishop O'Connell as memorial services begin
As three days of memorial services began Wednesday for the late Los Angeles Auxiliary Bishop David O'Connell, who was murdered in his Hacienda Heights home on Feb. 18, Pope Francis and President Joe Biden commended the man known as a "peacemaker"
News of O'Connell's murder and the subsequent arrest of his housekeeper's husband in connection with the killing came as a shock to Catholics across the nation
Among those mourning the late bishop was Pope Francis, whose message was read at Wednesday's memorial Mass at St. John Vianney Catholic Church in Hacienda Heights, California.
Los Angeles Archbishop José Gomez was the main celebrant of a 7 p.m. memorial Mass in which O'Connell's younger brother attended and shared memories of growing up together in Ireland.
Pope Francis: O'Connell had 'profound concern for the poor'
In a message from Pope Francis read aloud at the beginning of Mass by Gomez, the Holy Father commended O'Connell, 69, for his efforts to uphold the sanctity of life and his profound concern for the poor.
The pope sent his "heartfelt condolences and the assurance of his spiritual closeness" to all the clergy, religious, and lay faithful of the Archdiocese of Los Angeles after the bishop's "untimely and tragic death."
Pope Francis remembered the bishop for his "profound concern for the poor, immigrants, and those in need; his efforts to uphold the sanctity and dignity of God's gift of life; and his zeal for fostering solidarity, cooperation, and peace within the local community."
"In commending the late bishop's soul to the love and mercy of Christ the Good Shepherd, His Holiness prays that all who honor his memory will be confirmed in the resolve to reject the ways of violence and overcome evil with good," said the message, which was signed by Vatican secretary of state Cardinal Pietro Parolin.
"To those gathered for the Mass of Christian burial and to all who mourn Bishop O'Connell's loss in the sure hope of the resurrection, the Holy Father cordially imparts his blessing as a pledge of peace and consolation in the Lord."
O'Connell's younger brother, Kieran O'Connell, thanked the local Catholic community for the outpouring of support and said that his brother had a strong belief in the power of prayer
"I know he has been a source of solace for myself and my family as well," he said.
"As my older brother, he was an immense support to me during the passing of our parents and also my brothers and sister.
Dave got us through these tough times. He always said it was God's plan and thanked God for their wonderful lives," O'Connell said.
Reflecting on his brother's ordination, O'Connell said:
"It was the proudest moment for our family and for the whole community when he said his first Mass in our local parish church."
O'Connell noted the many "great memories" he had of visiting his brother in Los Angeles and the active role that the bishop played in the raising of his children.
"He was present at every milestone in our lives, baptism, holy Communion, graduation, weddings," he said. "We forever cherish those memories."
"Just thank you most sincerely for taking care of Dave for these 45 years and know that he was happiest here among his people," he said, fighting back tears.
'Christ was looking Dave right in the eyes'
Monsignor Timothy Dyer, pastor of St. Patrick Catholic Church in Los Angeles, gave the homily and opened his remarks by recalling Archbishop Gomez's presence at the Los Angeles Sheriff's Department Feb. 22 press conference following the arrest of O'Connell's alleged murderer, Carlos Medina.
The archbishop had fought back tears as he struggled to get through his brief comments during that press conference.
"Before we begin to reflect on the Scripture readings I would like think that I represent each of you when I say to the archbishop that on the day he spoke in the news conference with the officials from the city and the state and the county around him, his inability to put into words his feelings, was the best way to speak for all of us," Dyer said.
Dyer said that the Catholic community has been "overwhelmed" at the "pouring out of praise and gratitude" and sympathy from both the Catholic community and the secular community for O'Connell.
"If ever there was a man of prayer that I've known it was Dave," he said. O'Connell would often begin meetings with the prayer method of lectio divina, he said, joking that "and he didn't worry about how much time it took."
O'Connell was passionate about standing up for immigrants, standing against racism, and standing up for the unborn and women, Dyer said
"You could not pigeonhole him. If you wanted to put him up on your banner and let him be your patron for your particular cause, you could only do it if you embraced all of the things that he embraced, and all of the places he fished because it was an ethic of life from beginning to end," he said.
Dyer's recommendation that "it would be wise" for the seminary to hold an annual seminar to study O'Connell's spirituality and ministry, was received with applause from those gathered at the church.
Dyer said that O'Connell had a "great devotion to Mary" that was "reflected in his respect and his admiration for women in religious life."
Speaking briefly abuse the clergy sex abuse crisis, Dyer said that O'Connell would say to his fellow priests: "Wear it like a hairshirt. Let it irritate you so that it will never happen again."
For O'Connell, becoming a bishop was a cross rather than a promotion, Dyer said, adding that "it almost broke his heart."
O'Connell did not want to leave the flock that he pastored, Dyer said. "We need to take care of our bishops. It is not an easy life," he said.
Fighting back tears, Dyer reflected on the last moments of O'Connell's life.
"When the bullets were being fired, Christ was looking Dave right in the eyes, and he said to him, 'Well done, good and faithful servant. You may lay down the nets now Dave. I've prepared a place for you in the Father's house,'" he said.
Dyer continued: "And there's someone there who's waiting too, the one you've always called the Blessed Mother, as well as your own mother, waiting to fold you in her arms. And Dave, you don't have to be a bishop anymore. But in front of your dwelling place, there's a great big lake. And we have a lot of fishing to do on behalf of the Archdiocese of Los Angeles still," he said.
Biden White House statement
In response to a question from EWTN White House Correspondent Owen Jensen, White House Press Secretary Karine Jean-Pierre said March 1 that "the president and the first lady join Archbishop Gomez, the Archdiocese of Los Angeles, and the entire Catholic community in the mourning of Bishop David O'Connell."
"We also express our sympathy and prayers for the family and friends of the bishop, who will certainly remember his legacy of service to those on the margins of society. And so, again, we offer up our condolences to the community."
Read Also
United States, Los Angeles Auxiliary Bishop David O'Connell Killed
Saint Of The Day For March 3: Saint Katharine Drexel
Pope Francis' Message For Lent 2023
Pope Francis In Africa, Mass In Congo And The Proposal Of Christians: "Boboto", Peace
Missions, Priest Wounded By Landmine In Central African Republic: Foot Amputated
DR Congo: Bomb Explodes In Church, At Least 17 Killed And 20 Injured
Africa, Bishop Laurent Dabiré: Terrorism In Saheel Threatens Peace And Paralyses Pastoral Mission
DR Congo, They Were Organising A Peace March: Two Women Kidnapped In South Kivu
International Day Against Violence Against Women, Pope Francis: "It Is A Crime That Destroys Harmony, Poetry And Beauty"
U.S., Being Missionaries While Staying At Home: Students At A Catholic School Bake Biscuits For Prisoners
Vatican, Pope Francis Writes To The Mothers Of The Plaza De Mayo: Condolences For The Death Of Hebe De Bonafini
War In Ukraine, Pope Francis Welcomes Archbishop Sviatoslav Shevchuk: A Fragment Of A Russian Mine As A Gift
Feast Of St Andrew, Pope Francis Greets His Holiness Bartholomew I: Together For Peace In Ukraine
Assisi, The Full Speech Of Pope Francis To The Young People Of The Economy Of Francesco
Burkina Faso, OCADES Conference: More And More Women In Migration Flows
Italy: Lay Missionary Biagio Conte Died, Always Close To The Poor
Nigeria: Terrorists Burn Priest Alive, Wound Another, And Abduct Five Faithful
Syria, Jacques Mourad New Archbishop Of Homs
Source