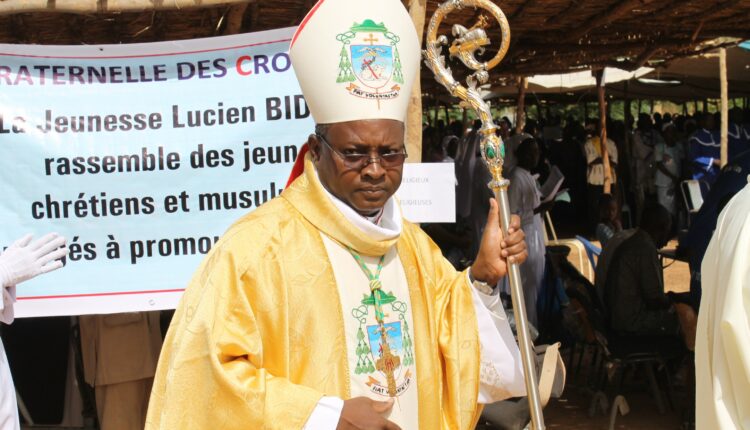 Africa, Bishop Laurent Dabiré: Terrorism in Saheel Threatens Peace and Paralyses Pastoral Mission
Missionary action in Africa is almost never simple, but in some areas it proves to be really complicated and dangerous: this is the case, for example, in the desert region of Saheel
Africa, Bishop Laurent Dabiré: 'From a pastoral point of view, we can no longer do what we did before'
A prominent bishop from Burkina Faso in West Africa, a Muslim-majority country with a significant Christian minority, has warned that two-thirds of the country's desert region is now controlled by Islamic terrorists, endangering security and paralysing the pastoral mission of the Church.
"From a pastoral point of view, we can no longer move as we did before," said Bishop Laurent Dabiré of Dori, who is also the president of the Episcopal Conference of Burkina Faso and Niger, in an interview with the papal charity organisation Aid to the Church in Need.
"Our field of action is much smaller, because the terrorists occupy two thirds of the Sahel territory," he said. "We are basically left with only the provincial capitals."
For the past seven years, Burkina Faso has been the scene of terrorist activity as terrorist organisations seek to expand their reach and influence throughout the African Sahel.
Human Rights Watch reports that terrorist attacks have forced "over 237,000 people to flee their homes in 2021, bringing the total number of internally displaced persons since 2016 to over 1.4 million, or 6 per cent of the population".
Some notable incidents include an 11 June 2022 attack in Seytenga, Seno province, north-east Burkina Faso, in which over 100 people were killed.
On 5 June 2021, over 160 people were killed in an attack on the village of Solhan, and on 26 April 2021, an Irish citizen and two Spaniards were killed in an ambush on a road between Fada-N'Gourma and Pama.
Africa: Aid to the Church in Need, interview with Bishop Laurent Dabiré
"The population is exhausted and many are mourning the loss of family members. Entire villages have been destroyed and this contributes to breaking people's spirits.
However, Christmas has always been not only a time of joy, but also a time of respite. People gathered for Mass, although some did not come because they were afraid. We understand that, and we do not ask people to be braver than they can be. Christmas has given us the opportunity to pay homage to all the victims of this war and to pray together for the return of peace,' the prelate says.
As for the spread of terrorist groups, Mgr. Dabiré adds that "50 per cent of the country is occupied and controlled by them.
While some groups have explicitly declared their intentions, with others their names are sufficient, such as the Group for the Support of Islam and Muslims (JNIM), to understand that they explicitly aim to impose Islam on the entire country, including through the use of terrorism.
Of course, this implies the suppression of the current, multi-religious society characterised by dialogue and coexistence.
Terrorists want to eradicate this free society and all those who do not profess their own kind of Islam, including Muslims, which means that terrorism is now aimed at society as a whole,' explains the Bishop of Dori.
The terrorist phenomenon has a dramatic impact on the life of the Church
"The consequences of this wave of vicious violence over the past seven years have been terrible.
From a pastoral point of view, we can no longer move as before.
Our range of action is much smaller, because the terrorists occupy two thirds of the Sahel territory.
Practically only the provincial capitals remain.
The diocese of Dori has six parishes, three have been closed, and we came close to closing another one this summer', while a fifth is still 'blocked'.
The closure is decided when, because of the presence of terrorists, 'it is the parishioners themselves who ask that their priests be sent to a safe place'.
Mgr. Dabiré adds that 'in some places there is no food and communications are cut off, we only manage to get some messages through thanks to a few United Nations organisations that have the means to transmit them'.
The Bishop of Dori reports that he has 'organised pastoral care for the internally displaced people, who now number two million.
This is a difficult time, but I also see some graces: in this situation we are united! The radio has been a great help to us in reaching the displaced people, and when communications are completely down, we try to use humanitarian and military convoys to send short written messages to those who are isolated, to give them information and try to understand how they are doing.
Occasionally we have been able to bring food and supplies to isolated areas thanks to the military convoys.
We adapt to the situation as best we can,' the prelate concludes.
Read Also
Italy: Lay Missionary Biagio Conte Died, Always Close To The Poor
Saint Of The Day For January 13: Saint Hilary Of Poitiers, Bishop
8 December 1856: Lyon, SMA (African Missions Society) Is Founded
Saint Of The Day For January 12: Saint Antonio Maria Pucci
D.R. Congo: Congolese Catholics Take To The Streets To Protest Increasing Violence
DR Congo, They Were Organising A Peace March: Two Women Kidnapped In South Kivu
International Day Against Violence Against Women, Pope Francis: "It Is A Crime That Destroys Harmony, Poetry And Beauty"
U.S., Being Missionaries While Staying At Home: Students At A Catholic School Bake Biscuits For Prisoners
Vatican, Pope Francis Writes To The Mothers Of The Plaza De Mayo: Condolences For The Death Of Hebe De Bonafini
War In Ukraine, Pope Francis Welcomes Archbishop Sviatoslav Shevchuk: A Fragment Of A Russian Mine As A Gift
Feast Of St Andrew, Pope Francis Greets His Holiness Bartholomew I: Together For Peace In Ukraine
Assisi, The Full Speech Of Pope Francis To The Young People Of The Economy Of Francesco
Burkina Faso, OCADES Conference: More And More Women In Migration Flows
Source