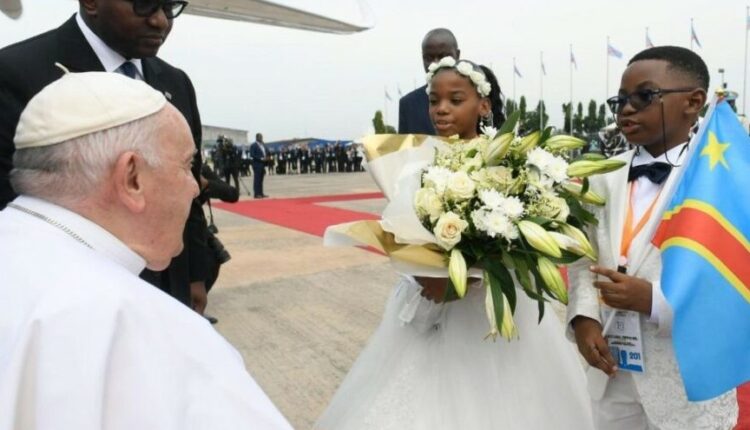 Pope Francis In Africa, Mass In Congo And The Proposal Of Christians: "Boboto", Peace
It is "boboto" (peace) the word that most resonated during Pope Francis' homily at his first mass in Congo
"Bandeko, boboto" ("Brothers and sisters, peace"): the Congo paradigm of a historical phase dominated by violence
One of the distinguishing characteristics of Pope Francis is clarity. The Holy Father does not skirt around concepts too much and knows how to identify them in unambiguous words.
A mind as refined as his immediately identified a salient point that is not necessarily allegorical: the Democratic Republic of Congo right now is a perfect paradigm of what is happening on a global scale.
It is violence that dominates, and opposed to it are those Christians who choose a key word of the Gospel: 'peace'
"Peace be with you" is the greeting Jesus addresses to the disciples, frightened and shut in, manifesting himself after the crucifixion (John 20:19-31) and showing his side and side.
Peace after a violence suffered, that of the Romans.
And 'peace' is what Pope Francis invokes in front of the million faithful who flocked to Kinshasa to welcome and listen to him.
And it is precisely to Christ that the Holy Father refers when he says 'Lay down your arms, embrace mercy'.
He asks the Congolese to tell a world 'discouraged by violence and war' that peace is not only possible, but the only way for a Christian.
Pope Francis then urges the faithful to become witnesses and ambassadors of peace in Christ.
The risen Jesus' "delivery" of peace to the disciples
The peace of Jesus, which is also delivered to us in every Mass, is paschal: it comes with the resurrection, because first the Lord had to defeat our enemies, sin and death, and reconcile the world to the Father; he had to experience our loneliness and our abandonment, our hells, embrace and bridge the distances that separated us from life and hope.
This is the summary of the homily of the successor of Peter, on the first day of this trip to the lands of Africa.
Read Pope Francis' homily in its entirety
ENG 20230201-omelia-repdem-congo (1)

Read Also
DR Congo: Bomb Explodes In Church, At Least 17 Killed And 20 Injured
Africa, Bishop Laurent Dabiré: Terrorism In Saheel Threatens Peace And Paralyses Pastoral Mission
DR Congo, They Were Organising A Peace March: Two Women Kidnapped In South Kivu
International Day Against Violence Against Women, Pope Francis: "It Is A Crime That Destroys Harmony, Poetry And Beauty"
U.S., Being Missionaries While Staying At Home: Students At A Catholic School Bake Biscuits For Prisoners
Vatican, Pope Francis Writes To The Mothers Of The Plaza De Mayo: Condolences For The Death Of Hebe De Bonafini
War In Ukraine, Pope Francis Welcomes Archbishop Sviatoslav Shevchuk: A Fragment Of A Russian Mine As A Gift
Feast Of St Andrew, Pope Francis Greets His Holiness Bartholomew I: Together For Peace In Ukraine
Assisi, The Full Speech Of Pope Francis To The Young People Of The Economy Of Francesco
Burkina Faso, OCADES Conference: More And More Women In Migration Flows
Italy: Lay Missionary Biagio Conte Died, Always Close To The Poor
Nigeria: Terrorists Burn Priest Alive, Wound Another, And Abduct Five Faithful
Syria, Jacques Mourad New Archbishop Of Homs
Source