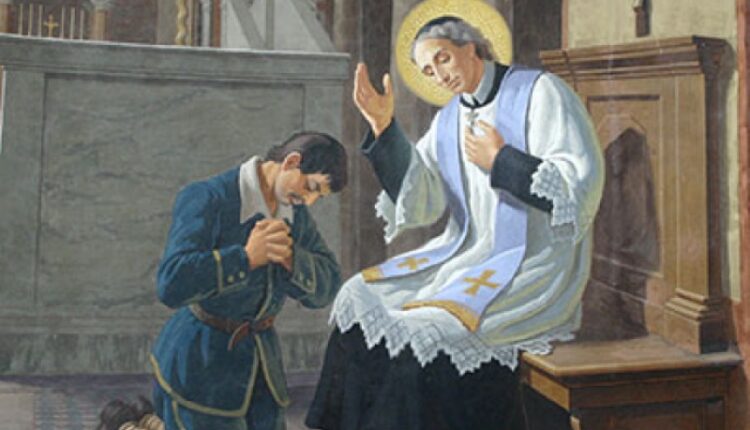 Saint Of The Day 23 May: Giovanni Battista De Rossi
Here is an instrument of God, a useless servant as they say, Giovanni Battista De Rossi who sacrificed everything for the cause of the poor
Giovanni Battista De Rossi is a tough temperament who, despite being not a little sickly, did not spare himself even the slightest effort
Yet he came from a tearful background, fatherless while still in his teens, and on top of that his brothers died one after the other.
Times were hard, as he was born in Voltaggio, Alessandria, in 1698.
It can be inferred that without a father he was a mouth to feed and not everyone could afford it.
Giovanni Battista De Rossi was thus helped to study until his ordination
However, one could not allow such a lively, intelligent boy to be left to family tragedy.
And so all distant relatives, friends, benefactors took him in, hosted him, and he did not let them tell him twice.
He went from house to house to move and wherever he found himself, he was hard at work in the studio.
He was so precocious that a dispensation had to be obtained in Rome to order him in advance.
Giovanni Battista De Rossi: unstoppable priest in his mission
From the age of 40, he became a confessor besieged by everyone, such is the relief that comes from opening up to him.
He continues to go from house to house but this time to visit those in need, the sick.
He was also a very young founder, starting the Pious Union of Secular Priests, as priests really needed to be more cohesive.
Ill, he died on 23 May 1764 at only 66 years of age.
Of course, there are popular saints who are much invoked, but let us bear in mind that there is no hierarchy of saints in Paradise and each one, due to his characteristics, can help.
Even John Baptist De Rossi can intercede for the whole world along with the entire court of angels.
Read Also
Laudato Si', A Week Of Reflection And Prayer On Pope Francis' Encyclical
Global Catholic Environmental Network, Co-Founder Of Laudato Si' Movement Resigns: No Time For Leaderism
Oceans Are Gift From God, Must Be Used Fairly And Sustainably, Pope Says
Lula Brings New Environmental Hope To Catholics In Brazil, But Challenges Remain
Brazil, Urban Agriculture And Ecological Management Of Organic Waste: The "Baldinhos Revolution"
COP27, African Bishops: There Is No Climate Justice Without Land Justice
World Day Of The Poor, Pope Francis Breaks Bread With 1,300 Homeless People
The Future Of The Missions: A Conference For The 4th Centenary Of Propaganda Fide
Pope Francis In Africa, Mass In Congo And The Proposal Of Christians: "Boboto", Peace
Syria, Jacques Mourad New Archbishop Of Homs
Syria Is Not Behind Us, But It Is An Open Question
Pacificism, Third Edition Of The School Of Peace: This Year's Theme "Wars And Peace On The Borders Of Europe"
Grand Imam Azhar Sheikh: We Appreciate Pope Francis' Efforts To Promote Peace And Coexistence
Gospel Of Sunday 21 May: Matthew 28, 16-20
My Mission As Ambassador Of The Works Of Mercy In Spazio Spadoni
Congo, The Right To Drinking Water And The Well In The Village Of Magambe-Isiro
Congo, I Cinque Stagni Delle Suore Della Sacra Famiglia Come Riabilitazione Della Salute Nutrizionale
Presentati I Novizi Delle Misericordia Di Lucca E Versilia: Spazio Spadoni Supporta E Accompagna Il Percorso
Volontariato In Congo? E' Possibile! L'esperienza Di Suor Jacqueline Lo Testimonia
Vangelo Di Domenica 16 Aprile: Giovanni 20, 19-31
Pasqua 2023, È Tempo Di Auguri A Spazio Spadoni: "Per Tutti I Cristiani Rappresenta La Rinascita"
Testimonianza Di Suor Giovanna Chemeli: "Spazio Spadoni…Uno Spazio Anche Per Me!"
Dall'Italia Al Benin: Suor Beatrice Presenta Spazio Spadoni E Le Opere Di Misericordia
Suor Angelita Jacobe: L'opera Di Misericordia Che Ho Trovato In Spazio Spadoni
Loppiano, Sorella Esperance Nyirasafari: "Il Mio Soggiorno In Italia"
Pearl And Angelica: The Two Sisters With Rosolini's Mercy
Spazio Spadoni, Il Fondatore Luigi Spadoni Insignito Della Cittadinanza Onoraria Di Rosolini
Rosolini, Un Gran Galà Per Festeggiare I Volontari Delle Misericordie E Per Salutare Le Suore Di Hic Sum
Caritas Internationalis Elects Alistair Dutton As Its New Secretary General
Source