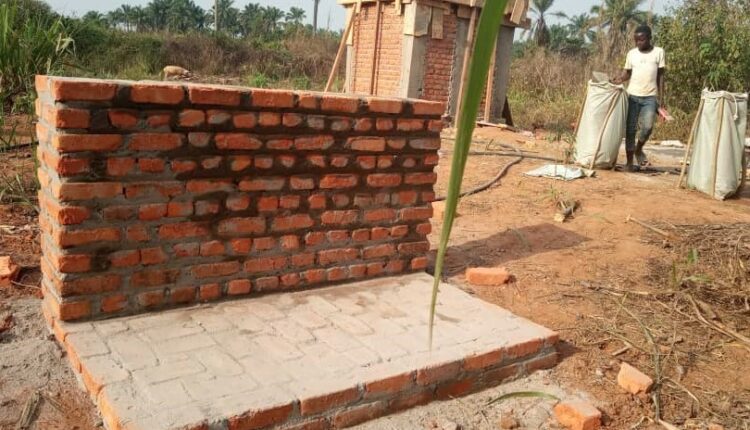 Congo, the right to drinking water and the well in the village of Magambe-Isiro
The Democratic Republic of Congo is one of the countries in the world in which 50 percent of the population do not have access to safe drinking water
R.D. Congo: the rate of access of congolese population to drinking water remains low
Water well drilling is extremely important to assure drinking water in Africa, and professionalism is needed to ensure that boreholes are of high quality.
Drilled boreholes are vital to achieving universal safe drinking and ensure equitable access to affordable drinking water, appropriate sanitation and hygiene to all and meeting Sustainable Development Goal (SDG6.1) particularly in Africa.
Isiro is located in the Haut Uele province NorthEast of DR Congo
It has a tropical climate with two seasons (dry and rainy). Isiro is a town of over 250,000 inhabitants.
Most of its houses are still made of mud and even its roads.
The town suffers from a lack of electricity and drinking water.
The roads to Isiro are dirt roads, which have not been maintained by the government and are now almost impassable; this is why everything that is not produced locally has to be transported by air, which drives up prices.
As a result, the purchasing power of the population is very low and living conditions are precarious.
The population lives from subsistence farming by going to the fields and selling their products on the market.
In Isiro, as in other places on the continent, it is the woman who largely provides for the family.
It is in this town of Isiro, in a district on the outskirts called Magambé, where the water drilling has been carried out.
The Dominican Family Missionary Sisters have already existed in this village for about ten years, with their convent and the Health Centre which has developed little by little to offer first aid to the surrounding population.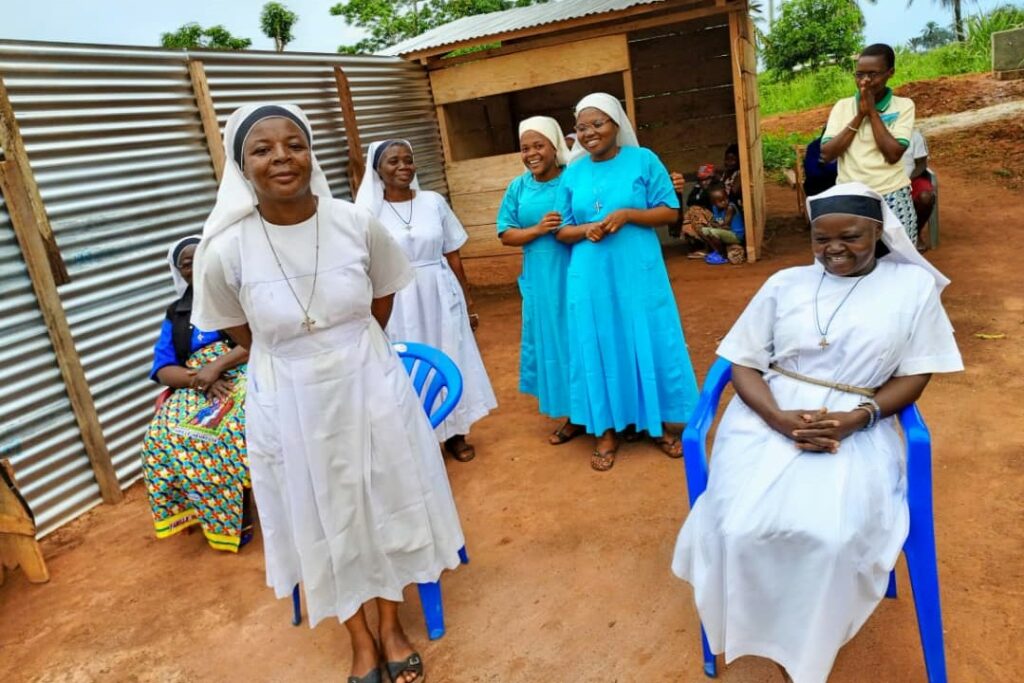 Many people frequent Mama Lucie Health Centre, including pregnant women and children.
It is here that the need for drinking water has emerged as an important issue in running the Health Centre and also in helping the villager's population to have access to water.
This project was thought to make water available in HealthCare Centre as explained Marguerite a doctor's sister responsible of the HealthCentre: for a long time, Mama Lucie Healthcare was affected by issues with water, sanitation and hygiene, knowing that the quality of healthcare was affected by these issues. Staff had to travel outside of the Centre to look for water and to bring it back to cover patient's basic needs; and to ensure health and dignity of the patients.
The objectives of this project are to improve access to drinking water for the population (Sustainable Development Goal), to combat waterborne diseases in and around the health center and to reduce the distance and cost of accessing water drinking.
This action is part of the hic sum project / ongoing project Works of Mercy: Giving Drink to the Thirsty; promote access to drinking water.
This project was financed by a private person that contacted Spazio Spadoni at the time of the formation of Dominican sisters in Italy and by the Spazio Spadoni Foundation wich followed the development and construction phases of the work.
Through the hic sum Project, Spazio Spadoni spreads the Spirit of "Mercy", bringing effective help to the missionary experiences of the Church and of the communities that continue to be present in the world and especially in those areas where the economic, social, cultural and education is still serious.
Sister Marguerite Mapitayi and sister Angele Beneda, both Sisters from the Congregation of Dominican Missionaries of Family attended HICSUM project formation course at Misericordia of Borgo(Mozzano) in 2021-2022.
Apart this Borewater project, Spazio Spadoni is developing others projects with the congregation of Dominican Missionaries of Family; like an agriculture project led by sister Angele and a construction of rooms at Mere Lucie Healthcenter, where sister Marguerite works as responsible. All this projects are located in Isiro.
The contractor to execute this service was the National Rural Hydraulics Service (SNHR), with an experience in drilling in different provinces around Isiro and her good cooperating with catholic missions in carrying out work of common interest.
For the execution of service requested in terms of mobilization of personnel and material resources, the SNHR presents in its planning the methodology it intends to follow in three phases;
-phase1: site installation and crew preparation. It was necessary with the start of service to have all consumables for the drilling materials, technical team, equipment, setting up of the logistics on the site.
-phase2: drilling
-phase 3: development of drilling equipment, site withdrawal and cleaning of drilling site, microbiological and bacteriological of analysis of water.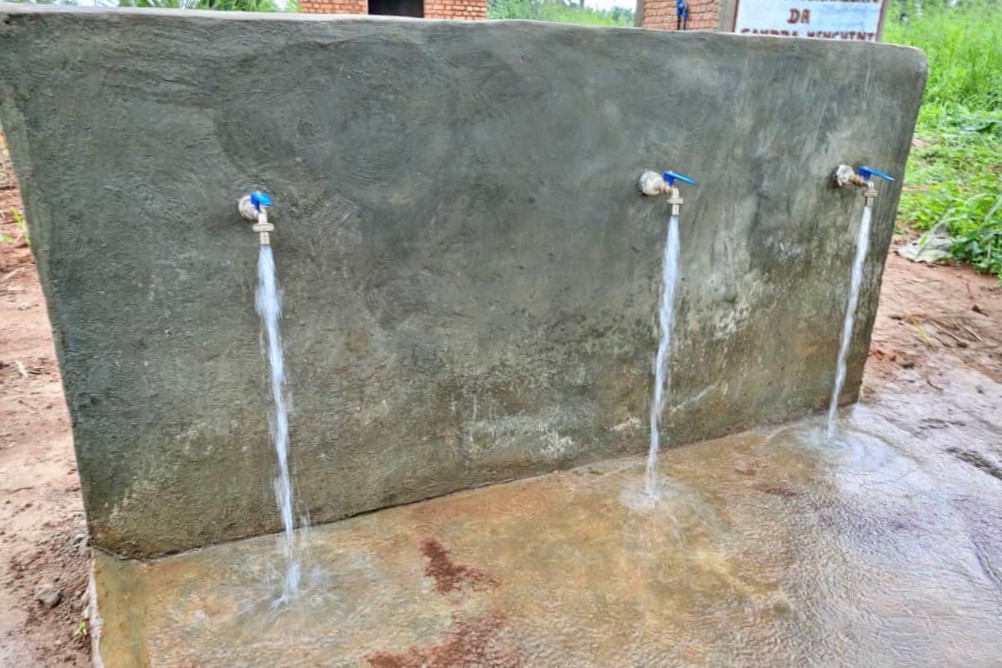 As drilling method used, the contractor used a bentonitic slurry for rotary; drilling with slurry unit consisting of sealed tanks in which the sterilization of the slurry and the injection water is carried out.
This borehole is drilled to a depth of 45 meters and a flow measurement of 1,5m.
Further development was carried out using 8-inch; a solar powered pump of 1m³ airlift and a tank with a capacity of 5.000m³, a valve and a reservoir for gauging device to carry out flow measurements.
Due to the lack of electricity and fuel in Isiro a solar pump has been installed to provide up water.
Solar fountain pump also came with additional feature, including remote control and LED lights, which help actually to illuminate the fountain at night, and to illuminate also the Healthcare.
At the end of this service, after verification to ensure that the work has functioned properly, an acceptance took place on 30th march.
The two stakeholders Dominican Missionaries of Family and the National Rural Hydraulics Service (SNHR) signed an acceptance in the presence of the Bishop's representative.
The access to water drinking is a basic right and a prerequisite to the realization of many other human right
For a longtime population in the villages around the Healthcare consumed water they found in the bottom of pits, endangering their health and the health of their children.
They have been struck by cholera and other water contaminations, but this access to bore water will improve the lives of the population.
The next step will consist to co-responsibilize families to take care by giving a contribution regularly for maintenance costs in the event of a breakdown so that the community can have a drinking water constantly.
Articolo a cura di Rodriguez Bidubula
Read Also
Congo, I Cinque Stagni Delle Suore Della Sacra Famiglia Come Riabilitazione Della Salute Nutrizionale
Presentati I Novizi Delle Misericordia Di Lucca E Versilia: Spazio Spadoni Supporta E Accompagna Il Percorso
Volontariato In Congo? E' Possibile! L'esperienza Di Suor Jacqueline Lo Testimonia
Vangelo Di Domenica 16 Aprile: Giovanni 20, 19-31
Pasqua 2023, È Tempo Di Auguri A Spazio Spadoni: "Per Tutti I Cristiani Rappresenta La Rinascita"
Testimonianza Di Suor Giovanna Chemeli: "Spazio Spadoni…Uno Spazio Anche Per Me!"
Dall'Italia Al Benin: Suor Beatrice Presenta Spazio Spadoni E Le Opere Di Misericordia
Santo Del Giorno 31 Marzo: Santo Stefano Di Mar Saba
Suor Angelita Jacobe: L'opera Di Misericordia Che Ho Trovato In Spazio Spadoni
Loppiano, Sorella Esperance Nyirasafari: "Il Mio Soggiorno In Italia"
Pearl And Angelica: The Two Sisters With Rosolini's Mercy
Spazio Spadoni, Il Fondatore Luigi Spadoni Insignito Della Cittadinanza Onoraria Di Rosolini
Rosolini, Un Gran Galà Per Festeggiare I Volontari Delle Misericordie E Per Salutare Le Suore Di Hic Sum
Source