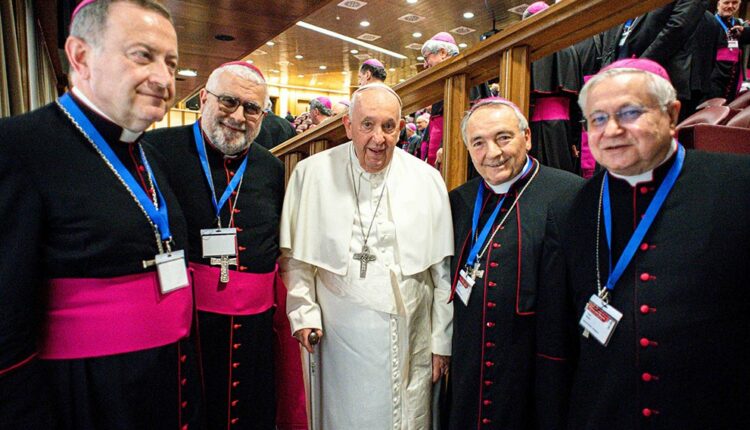 Pope meets bishops from Italy's flood-hit Emilia-Romagna region
Pope Francis poses for a photo with bishops from the flooded areas of Emilia-Romagna, Italy, during the general assembly of the Italian bishops' conference at the Vatican May 22
From left are: Archbishop Lorenzo Ghizzoni of Ravenna-Cervia, Bishop Giovanni Mosciatti of Imola, Bishop Livio Corazza of Forlì-Bertinoro and Bishop Mario Toso of Faenza-Modigliana.
During the general assembly of the Italian bishops' conference, Pope Francis met with bishops whose dioceses have been hit by devastating floods and landslides
At least 15 people have died and more than 36,000 people were left homeless after intense rainfall triggered flooding and landslides in the Italian region of Emilia-Romagna.
More than 23,000 people had been evacuated, according to the Italian Civil Protection Department May 22.
More than 200 members of the Italian bishops' conference were meeting May 22-25 in the Vatican's Synod Hall, and the pope took time out of the scheduled talks to listen to the situation affecting the region when he met with Archbishop Lorenzo Ghizzoni of Ravenna-Cervia, Bishop Giovanni Mosciatti of Imola, Bishop Livio Corazza of Forlì-Bertinoro, and Bishop Mario Toso of Faenza-Modigliana.
According to Vatican News, the group of bishops told him about what people were going through as well as about the outpouring of help and solidarity; the pope asked them to assure the people of his prayers and sympathy.
Francis had sent a telegram May 18 expressing his concern and prayers for all those affected by the "serious calamity" unfolding in the region.
He also thanked all those who had been providing emergency rescue and assistance, including various dioceses.
In his opening remarks to the assembly May 22, Cardinal Matteo Zuppi of Bologna, president of the bishops' conference, highlighted the extent of the devastation in the region with so many homes and businesses destroyed.
"Once again we mourn for taking too little care of our common home."
The cardinal thanked everyone, especially members of the police force and civil defense, "who are doing their best to bring concrete help and consolation, even to the most isolated places."
He also thanked the priests, parishes, religious institutes "and the many volunteers who generously and spontaneously organized themselves to help in this veritable 'field hospital.' "
Many young people are among those lending a hand "in a concrete way, to alleviate suffering with their strength and hope," Zuppi said.
An ongoing commitment will be necessary "to maintain the same spirit of solidarity and community in the coming months and perhaps years to repair what the raging waters have ruined."
Mario Galasso, regional delegate of Caritas Emilia-Romagna, said that even though the rains have stopped, many towns and homes were still flooded and cut off from help.
"Many small towns are closed off because of landslides, and some people are still unreachable," he said in a Caritas press release May 22. The sunshine was helping to dry things out, "but at the same time, it compacts the mud, making it difficult to remove."
Many volunteers from every diocese and people of other faiths have offered their help, he said, including a dozen or so young Muslims "who have lent a hand in cleaning the Forlì Seminary from the mud" and members of the Sikh Sewa Society, who were helping the Caritas in Faenza.
"But at the moment, people remain the priority. In coordination with the municipalities, we are trying to meet their practical needs and to support them psychologically as well," Galasso said.
"The most pressing need remains to free homes and premises from water and mud so that displaced people can return to their homes as soon as possible."
Read Also
Laudato Si', A Week Of Reflection And Prayer On Pope Francis' Encyclical
Global Catholic Environmental Network, Co-Founder Of Laudato Si' Movement Resigns: No Time For Leaderism
Oceans Are Gift From God, Must Be Used Fairly And Sustainably, Pope Says
Lula Brings New Environmental Hope To Catholics In Brazil, But Challenges Remain
Brazil, Urban Agriculture And Ecological Management Of Organic Waste: The "Baldinhos Revolution"
COP27, African Bishops: There Is No Climate Justice Without Land Justice
World Day Of The Poor, Pope Francis Breaks Bread With 1,300 Homeless People
The Future Of The Missions: A Conference For The 4th Centenary Of Propaganda Fide
Pope Francis In Africa, Mass In Congo And The Proposal Of Christians: "Boboto", Peace
Syria, Jacques Mourad New Archbishop Of Homs
Syria Is Not Behind Us, But It Is An Open Question
Pacificism, Third Edition Of The School Of Peace: This Year's Theme "Wars And Peace On The Borders Of Europe"
Grand Imam Azhar Sheikh: We Appreciate Pope Francis' Efforts To Promote Peace And Coexistence
Gospel Of Sunday 21 May: Matthew 28, 16-20
My Mission As Ambassador Of The Works Of Mercy In Spazio Spadoni
Congo, The Right To Drinking Water And The Well In The Village Of Magambe-Isiro
Congo, I Cinque Stagni Delle Suore Della Sacra Famiglia Come Riabilitazione Della Salute Nutrizionale
Presentati I Novizi Delle Misericordia Di Lucca E Versilia: Spazio Spadoni Supporta E Accompagna Il Percorso
Volontariato In Congo? E' Possibile! L'esperienza Di Suor Jacqueline Lo Testimonia
Vangelo Di Domenica 16 Aprile: Giovanni 20, 19-31
Pasqua 2023, È Tempo Di Auguri A Spazio Spadoni: "Per Tutti I Cristiani Rappresenta La Rinascita"
Testimonianza Di Suor Giovanna Chemeli: "Spazio Spadoni…Uno Spazio Anche Per Me!"
Dall'Italia Al Benin: Suor Beatrice Presenta Spazio Spadoni E Le Opere Di Misericordia
Suor Angelita Jacobe: L'opera Di Misericordia Che Ho Trovato In Spazio Spadoni
Loppiano, Sorella Esperance Nyirasafari: "Il Mio Soggiorno In Italia"
Pearl And Angelica: The Two Sisters With Rosolini's Mercy
Spazio Spadoni, Il Fondatore Luigi Spadoni Insignito Della Cittadinanza Onoraria Di Rosolini
Rosolini, Un Gran Galà Per Festeggiare I Volontari Delle Misericordie E Per Salutare Le Suore Di Hic Sum
Caritas Internationalis Elects Alistair Dutton As Its New Secretary General
Source