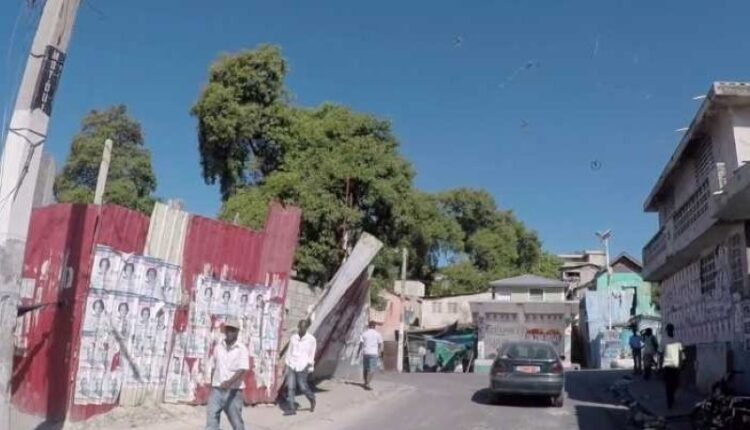 Haiti: Still No News of Father Jean-Yves, the Claretian Missionary Abducted on 10 March
No one knows the fate of the St Viator missionary kidnapped in Haiti: Father Jean-Yves is a priest of the Clérigos de San Viator (CSV) and was abducted on Friday 10 March
Just over a month ago, the senior superior of the Claretian missionaries in the West Indies, Father Fausto Cruz Rosa, announced that Father Antoine Macaire Christian Noah of African origin, who was kidnapped in Haiti at the beginning of February, had regained his freedom.
Cruz Rosa said that Father Noah – who has been a priest since 2020 – 'miraculously managed to escape his captors on 17 February, after 10 days of kidnapping'.
Father Noah was kidnapped by one of the many gangs controlling daily life in the Haitian capital, Port-au-Prince, on 7 February while on his way to his community in Kazal.
Father Jean-Yves Medidor , who supports the Christ-Roi parish in Croix-des-Bouquets, stronghold of a criminal gang called '400 Mawzoo'. was kidnapped on 10 March
Father Jean-Yves is a priest of the Clérigos de San Viator (CSV) and was kidnapped on Friday, 10 March, when he was near his home.
An armed gang of hooded men loaded him into a car and drove off in an unknown direction.
"Father Jean-Yves is still in the hands of the kidnappers.
They are not answering our phone calls and the pressure is mounting," Father Néstor Fils-Aimé, CSV provincial superior of Canada, told Fides Agency.
Father Jean-Yves, absolute impunity of the gangs in Haiti
"I arrived in Haiti on a pastoral visit on Wednesday 8 March and it was Father Jean-Yves who met me at the airport, then on Friday 10 he was taken away by an armed gang while he was celebrating a funeral," said Father Nestor.
He added: "Unfortunately, kidnappings by armed gangs are the order of the day here in Haiti.
I remain here to support and accompany my brothers at this very delicate time.
The communities that make up the CSV are gathered in prayer and offer Eucharistic celebrations for the release of the mediator father.
"We continue to receive many testimonies of solidarity, both nationally and internationally, and we thank everyone for their support," said Father Nestor.
The truth is that, in the vicinity of Port-au-Prince, kidnapping gangs act with absolute impunity and demand huge resources from religious communities to free their victims; resources that, for example, the CSV do not even remotely have.
This missionary congregation has been present in the suffering Haitian nation since 1965 after the Jesuits – who ran the Major Seminary in Port-au-Prince – were expelled by 'Papá Doc', the dictator François Duvalier .
As Fides recalls, the CSV work mainly in the field of education through eight schools.
They also administer two parishes in the archdiocese of Port-au-Prince.
The '400 Mawzoo' (the 400 untrained men) operate in the eastern district of Port-au-Prince, Croix-des-Bouquets, where they frequently carry out kidnappings, car thefts and extortion.
But they are not the only ones: there are 150 criminal gangs active around the Haitian capital.
Read Also
Pope Francis, Biden Commend 'Peacemaker' Bishop O'Connell As Memorial Services Begin
United States, Los Angeles Auxiliary Bishop David O'Connell Killed
Missions, Priest Wounded By Landmine In Central African Republic: Foot Amputated
DR Congo: Bomb Explodes In Church, At Least 17 Killed And 20 Injured
Africa, Bishop Laurent Dabiré: Terrorism In Saheel Threatens Peace And Paralyses Pastoral Mission
DR Congo, They Were Organising A Peace March: Two Women Kidnapped In South Kivu
International Day Against Violence Against Women, Pope Francis: "It Is A Crime That Destroys Harmony, Poetry And Beauty"
U.S., Being Missionaries While Staying At Home: Students At A Catholic School Bake Biscuits For Prisoners
Vatican, Pope Francis Writes To The Mothers Of The Plaza De Mayo: Condolences For The Death Of Hebe De Bonafini
War In Ukraine, Pope Francis Welcomes Archbishop Sviatoslav Shevchuk: A Fragment Of A Russian Mine As A Gift
Feast Of St Andrew, Pope Francis Greets His Holiness Bartholomew I: Together For Peace In Ukraine
Assisi, The Full Speech Of Pope Francis To The Young People Of The Economy Of Francesco
Loppiano, Sister Esperance Nyirasafari: "My Stay In Italy"
Saint Of The Day For March 20: Saint Salvator Of Horta
Gospel Of Sunday 19 March: John 9, 1-41
Saint Of The Day 19 March: Saint Joseph
Rosolini, A Grand Gala To Celebrate The Volunteers Of The Misericordie And To Salute The Sisters Of Hic Sum
Source