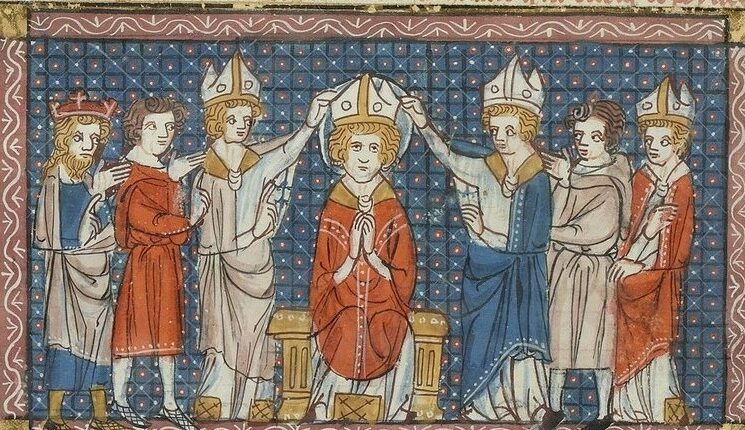 Saint Of The Day For January 13: Saint Hilary Of Poitiers, Bishop
A pagan philosopher and scholar from a wealthy family, Hilary converted to Christianity in 345. As bishop of Poitier, he opposed the Arian heresy that contested the dual nature of Jesus, divine and human.
To defend the truth, he also suffered exile.
The origins and conversion of Hilary
As little is known about his life as there are abundant theological works that this true Defensor Fidei has left us.
Born into a wealthy Gallo-Roman and pagan family, he received a solid literary and philosophical education, but only after his conversion to Christianity – as he himself declared in one of his works – was he able to find the meaning of man's destiny.
It is particularly with the reading of the prologue to the Gospel of John that Hilary begins and gives direction to his own inner quest.
As an adult, married and with a child, he received Baptism and between 353 and 354, was elected bishop of Poitiers.
Hilary and the fight against heresy
The historical period in which St Hilary lived was particularly characterised by religious and cultural pluralism, which with heavy controversy eroded the core of the Christian faith.
In particular, the doctrines of Arius, Ebion and Photinus – to name but a few – found fertile ground both in the West and in the East, spreading Trinitarian and Christological heresies that undermined the core of the Christian faith.
With courage and profound competence, St Hilary began his 'fight' against the Trinitarian controversy and in particular against Arianism, arguing instead that Christ, only if he is true God and true man, can be the saviour of mankind.
In this heated climate, St Hilary paid with exile for his commitment to restoring order in theological thought and for a return to truth.
Hilary, Exile and Return to Poitiers
We are in the 4th century, during the empire of Constantius, son of the emperor Constantine the Great.
St Hilary wrote a petition to the emperor – Liber II ad Constantium – asking to be allowed to defend himself publicly, in the presence of the emperor himself, against the accusations that Saturninus of Arles had unjustly levelled against him, pointing him out as a traitor to the true evangelical faith and forcing him into exile in Phrygia (in present-day Turkey) for four years.
Sobilised by the Arians who wanted to get rid of Hilary, Constantine sent him back to Poitiers where, instead, he was welcomed in triumph.
Back in his homeland, he resumed his pastoral activities, also assisted by the future bishop of Tours, St Martin, who under Hilary's direction founded the oldest monastery in Gaul in Ligugé, with the aim of countering the effects of heresy.
In the last years of his life he also composed a commentary on fifty-eight Psalms.
He died in 367 and exegetical-theological writings and hymns on doctrinal subjects remain of him.
His works also include the Commentary on the Gospel of Matthew, the oldest commentary on this Gospel in Latin.
His works were published by Erasmus of Rotterdam in Basel in 1523, 1526 and 1528.
Benedict XVI's words on Hilary
In 2007, continuing the cycle of catechesis on the Apostolic Fathers, Pope Benedict dwelt on the figure of Hilary of Poitiers, summarising the essence of his doctrine in this formula of the Saint:
'God does not know how to be other than love, he does not know how to be other than Father. And he who loves is not envious, and he who is Father is Father in his totality.
This name admits of no compromise, as if God were Father in some respects, and in others He is not'.
Read Also:
Saint Of The Day For January 6: Saint André Bessette
Saint Of The Day For January 5: Saint John Neumann
Saint Of The Day For January 4: Saint Angela Of Foligno
Women And The Art Of Speech: Economy Of Francesco's Solidarity With The Women Of Iran
8 December 1856: Lyon, SMA (African Missions Society) Is Founded
D.R. Congo: Congolese Catholics Take To The Streets To Protest Increasing Violence
Funeral Of Joseph Ratzinger: A Look At The Life And Pontificate Of Benedict XVI
Source: