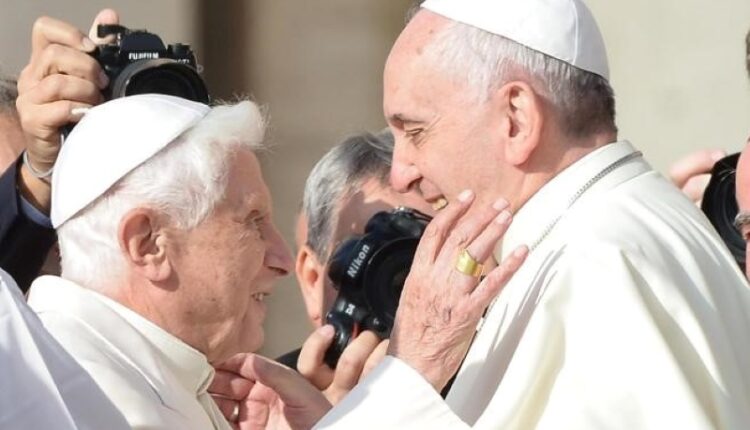 Funeral of Joseph Ratzinger: a look at the life and pontificate of Benedict XVI
Authorities, heads of state and government, but above all thousands and thousands of faithful lined up: the death of Joseph Ratzinger, Pope Benedict XVI, shook people's souls and aroused great sorrow
To celebrate his funeral will be, for the first time in the history of the Catholic Church, another Pope: the grieving and grateful Francis, Pope Bergoglio
A look at the life and pontificate of Benedict XVI
"God is not a ruling power, a distant force; rather he is love and he loves me – and as such, life should be guided by him, by this power called love".
On 11 February 2013, Pope Benedict XVI did something that had only happened four times in the previous 1,000 years of papacy.
His successor was not entirely unexpected: Cardinal Jorge Mario Bergoglio had long been a living, attentive mind in the Church.
Different sensitivities, as it should be: Pope Francis is not the successor of Pope Benedict XVI, but of Peter.
And yet people, though different, very close and mutually affectionate.
Pope Francis, and many with him, fully understood the intellectual and social significance of the barely eight years of the late Joseph Ratzinger's pontificate.
Who was Benedict XVI
The son of a country policeman, Joseph Ratzinger was born in 1927.
Like many Germans of his generation, his life was shattered by the rise of Adolf Hilter and the advent of World War II.
Ratzinger and his brother Georg had to abandon their seminary studies when they were drafted into military service.
They managed to return after the war and were both ordained in 1951.
Gifted with a keen intelligence, Ratzinger was attracted to theological studies.
In 1959 he accepted a teaching post in Bonn, where he became friends with Cardinal Joseph Frings, Archbishop of Cologne.
When the first session of the Second Vatican Council convened in 1962, Frings brought Ratzinger along as a peritus, or personal theologian.
Vatican II would turn Ratzinger into a leading figure in Catholic theology.
He played a key role in the drafting of several Council documents, most notably Dei Verbum (Dogmatic Constitution on Divine Revelation).
Dei Verbum cautiously approved the increasing openness of Catholics to modern biblical scholarship.
In 1966, Ratzinger joined an all-star faculty of Catholic and Protestant scholars at the University of Tübingen.
His teaching style attracted hundreds of students impressed by his erudition and personal faith.
His lectures formed the basis of his 1968 book 'Introduction to Christianity', which sold hundreds of thousands of copies and was translated into at least 19 languages.
In 1976, Paul VI appointed Ratzinger archbishop of Munich and Freising and made him a cardinal only a few weeks after his ordination.
Two years later, Ratzinger and his fellow cardinals elected Polish Archbishop Karol Wojtyla as successor to John Paul I, who died after only 33 days of reign.
Taking the name John Paul II, the new Pope appointed Ratzinger Prefect of the Dicastery for the Doctrine of the Faith (DDF) in 1981.
The DDF is one of the oldest institutions of the Roman Curia, the administrative arm of the papacy: its historical role has been to guard the boundaries of the Catholic faith.
Election as Pope, Benedict XVI: "Don't do this to me! You have younger and better people at your disposal"
When Pope John Paul II died in 2005, Ratzinger was the best known Catholic cardinal in the world.
Many observers felt he was too polarising a figure to be elected pope.
In a homily during the Mass celebrated before the conclave, Ratzinger leaned on these perceptions, calling on the Church to oppose a 'dictatorship of relativism' that rejects the idea of universal truth.
Early voting, however, made it clear that Ratzinger had the broadest base of support.
He later recalled praying silently as he watched the tally next to his name grow.
"Don't do this to me! You have younger and better people at your disposal'.
On 19 April he received the necessary two-thirds majority and took the name Pope Benedict XVI.
Those who expected the new Pope to be a strict disciplinarian were often pleasantly surprised by the positive tone of his public statements.
His first encyclical, Deus Caritas Est (God is Love), argued that the history of God and humanity is not a contest of wills, but a history of love.
Being Christian 'is not the result of an ethical choice or a lofty idea, but the encounter with an event, a person, who gives life a new horizon and a decisive direction,' Benedict wrote in the encyclical. Benedict also found time to write a three-volume work on the life of Jesus of Nazareth, which combines modern biblical scholarship with spiritual reflection.
Like all recent popes, Benedict XVI had to deal with the increasingly global crisis of clerical sexual abuse
He was the first pope to meet abuse survivors when he visited the US in 2008.
Benedict also removed Father Marcial Maciel from the leadership of the Legionaries of Christ after an investigation confirmed several allegations of sexual abuse.
As the pontificate progressed, the concerns Benedict expressed on the day of his election about his age and strength appeared increasingly prescient.
Immersed in his writings, the pope was perceived as detached from daily administration.
Since 2012, a steady stream of documents – including the Pope's personal correspondence – has leaked to Italian journalists.
These have written stories portraying a Roman Curia consumed by bitter rivalries and corruption.
When Benedict's long-time biographer Peter Seeward visited him in late 2012, he found his friend 'drained of energy' and 'deeply discouraged'.
A few months later, Benedict announced his resignation.
The two popes
If Benedict hoped to slip quietly into retirement, he was soon disappointed: his great intelligence was still needed by the Holy Church.
Even by Pope Francis, who, with respect to the Pope Emeritus and his importance, repeatedly said that he was
In June 2020, at the age of 93, he travelled to Germany to be at the side of his ailing brother Georg. It was his first trip outside Italy after resigning from the papacy.
Georg died shortly after Benedict's return to Rome.
It is perhaps appropriate that Benedict's last papal encyclical was entitled Caritas in Veritate (Charity in Truth), because these were two constant themes in his work.
Benedict never wavered in his defence of truth as he understood it, even if it meant distancing himself from those he had once called friends and colleagues.
For Benedict, however, truth was not an abstraction, but the truth about a personal God who is caritas, love.
As he says in the conclusion of his book Last Testament, 'God is not a dominating power, a distant force; rather he is love and he loves me – and as such, life should be guided by him, by this power called love'.
Pope Benedict XVI ascended to the Father's house on 31 December, his funeral will take place tomorrow, 5 January 2023.
"Lord, I love you!" were his last words.
Read Also
War In Ukraine, Benedict XVI: 'I Continue To Pray For Peace'
War In Ukraine, Pope Francis Welcomes Archbishop Sviatoslav Shevchuk: A Fragment Of A Russian Mine As A Gift
Pacificism, Third Edition Of The School Of Peace: This Year's Theme "Wars And Peace On The Borders Of Europe"
Grand Imam Azhar Sheikh: We Appreciate Pope Francis' Efforts To Promote Peace And Coexistence
Saint Of The Day For November 10: Saint Leo The Great
COP27, Religious Leaders Highlight Correlation Between Climate Change And Humanitarian Crises
Mission Lands, Pope Francis' Horror At Violence In Northern Congo
War In Ukraine, European Bishops Call For Peace: COMECE Appeal
Source