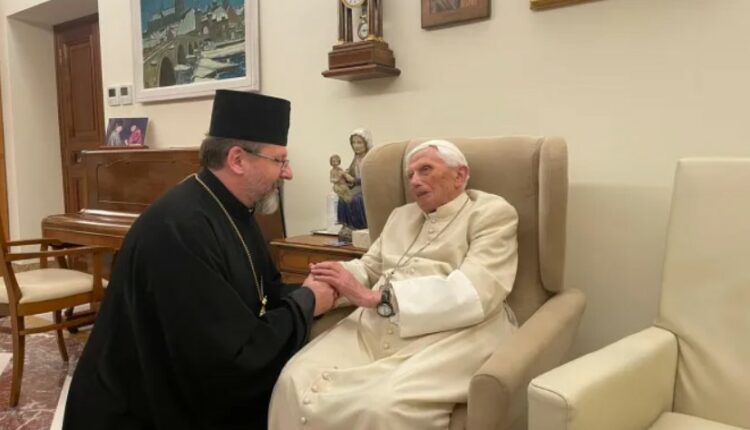 War in Ukraine, Benedict XVI: 'I continue to pray for peace'
The Ukrainian crisis also worries Pope Emeritus Benedict XVI, who expressed his emotions to the leader of the Greek Catholic Church, met in the Mater Ecclesiae monastery
Benedict XVI told Major Archbishop Sviatoslav Shevchuk that he "continues to pray for Ukraine"
At the meeting, the Pope Emeritus expressed his concern for the international framework and reiterated that he always prays for Ukraine.
At their meeting on 9 November, Shevchuk spoke about the war in Ukraine, presented the humanitarian situation to the Pope Emeritus, reiterated that the war in Ukraine is ideological and colonial, and compared it to the Nazi regime.
He also thanked Benedict XVI for his letter at the start of the war.
Benedict XVI appointed Sviatoslav Shevchuk as bishop on 14 January 2009, assigning him as auxiliary to the eparchy of Santa Maria del Patrocinio in Buenos Aires, where he met Pope Francis.
Benedict XVI also confirmed the election of Sviatoslav Shevchuk as head of the Ukrainian Greek Catholic Church on 25 March 2011
There is therefore a strong connection between the two.
The senior archbishop of the Ukrainian Greek Catholic Church is in Rome for a week of meetings at the Vatican.
On Monday he met Pope Francis, to whom he brought a fragment of the mine that destroyed a Greek Catholic church in the city of Irpin.
Read Also
War In Ukraine, Pope Francis Welcomes Archbishop Sviatoslav Shevchuk: A Fragment Of A Russian Mine As A Gift
Pacificism, Third Edition Of The School Of Peace: This Year's Theme "Wars And Peace On The Borders Of Europe"
Grand Imam Azhar Sheikh: We Appreciate Pope Francis' Efforts To Promote Peace And Coexistence
Saint Of The Day For November 10: Saint Leo The Great
COP27, Religious Leaders Highlight Correlation Between Climate Change And Humanitarian Crises
Mission Lands, Pope Francis' Horror At Violence In Northern Congo
War In Ukraine, European Bishops Call For Peace: COMECE Appeal
Saint Of The Day For November 7: Saint Vincenzo Grossi
Interreligious Dialogue: 7 Korean Religious Leaders To Meet Pope Francis
War In Ukraine, Prayers For Peace In Moscow, According To Pope's Intentions
Source