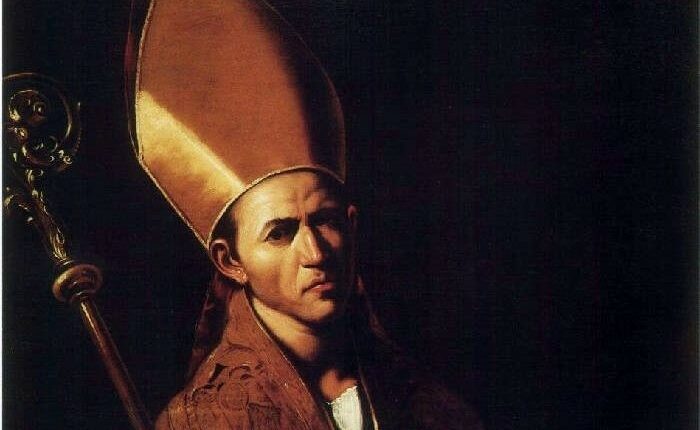 Saint of the Day, september 19: Saint Januarius
Little is known about the life of Januarius. He is believed to have been martyred in the Emperor Diocletian's persecution of 305. Legend has it that Januarius and his companions were thrown to the bears in the amphitheater of Pozzuoli, but the animals failed to attack them
They were then beheaded, and Januarius' blood ultimately brought to Naples
About Saint Januarius
"A dark mass that half fills a hermetically sealed four-inch glass container, and is preserved in a double reliquary in the Naples cathedral as the blood of St. Januarius, liquefies 18 times during the year…Various experiments have been applied, but the phenomenon eludes natural explanation…." [From the Catholic Encyclopedia]
It is defined Catholic doctrine that miracles can happen and are recognizable.
Problems arise, however, when we must decide whether an occurrence is unexplainable in natural terms, or merely unexplained.
We do well to avoid an excessive credulity but, on the other hand, when even scientists speak about "probabilities" rather than "laws" of nature, it is something less than imaginative for Christians to think that God is too "scientific" to work extraordinary miracles to wake us up to the everyday miracles of sparrows and dandelions, raindrops and snowflakes.
Saint Januarius is the Patron Saint of:
Blood Banks/Blood Donors
Naples
Read Also:
Saint Of The Day, September 18: Saint Joseph Of Cupertino
Economy Of Francesco: Intergenerational Dialogue Will Culminate In Assisi With A Meeting With Pope Francis
The Taliban's Afghanistan: Paying The Bill For Barbarism Are Artists, Women, But Above All The Afghan People
The Courage Of Francis?: "It Is Meeting The Sultan To Tell Him: We Don't Need You"
Sister Alessandra Smerilli On 'Making Space For Courage': Analysing The Existing Economic Model And Hope In Young People
Spazio Spadoni, From 7 To 11 September The Second Edition Of The Convention: "Making Space For COURAGE"
Saint Of The Day: September, 17: Saint Robert Bellarmine
Saint Of The Day, September 16: Saint Cornelius, Pope
Saint Of The Day, September 15: St. Nicomedes
Saint Of The Day, September 14: St. Notburga
Saint Of The Day, 13 September: St John Chrysostom, Bishop And Doctor Of The Church
Saint Of The Day, 12 September: Saint Guido Of Brabant
Source: