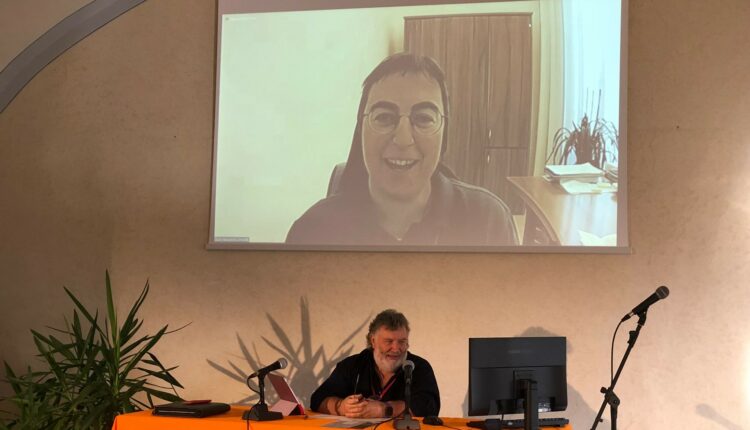 Sister Alessandra Smerilli on 'Making Space for Courage': analysing the existing economic model and hope in young people
Sister Alessandra Smerilli is a religious of the order of the Daughters of Mary Help of Christians. She teaches Political Economy at the Pontifical Faculty of Education 'Auxilium' in Rome
In 2021 Pope Francis appointed her secretary of the Dicastery for Integral Human Development.
She is the first speaker at "Fare Spazio al Coraggio", the Spazio Spadoni convention that kicks off today and will continue throughout the week.
At this link you can follow the debates on zoom.
A speaker, Sister Alessandra, who gets straight to the point and tackles head-on the central crux of what is happening: the current system distorts living systems and is inequitable
It is essential to rethink it and formulate a new economic theory that puts the human being, the care of the family and the community in which he or she lives back at the centre.
'Woman courage economy are three difficult words to put together, but they are important,' she began, speaking to an audience in which there were many 'veils', as she called them when greeting her sisters in Faith.
And Sister Alessandra Smerilli, however, reminds everyone of the very origin of the word Economy, "which derives from οἶκος (oikos), "house" also understood as "family goods", and νόμος (nomos) "norm" or "law", and which therefore means "management of the house", "care of the home".
But it should not only be understood as care of the home: as the encyclical Laudato Si' has taught us, it should be understood as care of the earth we inhabit'.
A term 'care' that must therefore be 'breathed' in the broadest sense of its meaning, and that therefore also translates into the concept of sustainability.
"When we talk about sustainability," he says on this topic, "we talk about an economy that knows how to transform the common home by making it cared for.
"Today's economy," he adds, "is based on certain fundamental assumptions that have nothing to do with caring for the common home.
One of them is inherent in the selfishness of the economy, "in expressions like business is business. Current economic models are also inequitable 'by gender': 'care,' he reminds us, 'is feminine in definition and masculine in practice: models of economic organisation are essentially masculine; it is only recently that women have entered the practical economy'.
But it is still a generalisation, he emphasises: women do exist, in the development of the economy.
And, of all people, she cites the Canadian political philosopher Jennifer Nedelsky
The lecturer at Osgoode Hall Law School in Toronto is no stranger to certain prophetic analyses. Her idea is that crises should be interpreted as a push to rethink economic models. And, for example, that the reduction of jobs caused by automation and robots should be used as an incentive for caring activities.
"According to Jennifer Nedelsky," emphasises Sr. Alessandra, "no one should spend more than 30 hours a week.
No one should devote less than 12 hours a day to care activities within their own family, if it is needed at that stage, or in the community, in the broadest sense".
The social importance of organised care for families is easy to see: a return to a sense of sharing, of each person's responsibility for their surroundings would generate a network of greater well-being.
Instead, what do we experience today? A daily life in which it is possible to hear 'I have so much work that I don't even have time to iron my shirts'.
"Which is inhuman", stresses the nun and university lecturer, "if one says that, there is something wrong".
And she adds: 'Integral human development as collective development. The economy without ethics and care is incomplete: the market requires new economic models.
We know that all this is very far from being realised: even in Italy women devote a lot of energy to unpaid care time compared to economically paid work'.
DO YOU WANT TO KNOW MORE ABOUT THE MISSIONS IN THE WORLD? VISIT THE FONDAZIONE SPADONI BOOTH AT EMERGENCY EXPO
Sister Alessandra Smerilli looks to the young people with confidence and hope:
"Compared to their parents' generation, young people offer us great hope: they know what a crisis (economic, health…) means.
They know how to speak of diversity as wealth.
Young people know that they cannot have the wealth of their parents, but they also know that they do not need it.
They know that there is no point in maximising profits if this does not serve to improve the common home.
What is needed now is for this vision of theirs to become a creative breath, a creative caress.
To do this, it is necessary to be competent, to have the ability to read the numbers to change the economy.
It would be nice if we left here with the question in our hearts "what can I do to make this possible?".
The meeting is dense and offers a lot of food for thought to the room, and to the online audience, which responds to the solicitations with interventions and questions.
o which Sister Alessandra replies with gentleness and competence.
A good debut of "Making Space for Courage", no doubt about it.
Sister Alessandra Smerilli on 'Making Space for Courage': analysing the existing economic model and hope in young people
Prev
1 of 5
Next
Read Also
Spazio Spadoni, From 7 To 11 September The Second Edition Of The Convention: "Making Space For COURAGE"
World Day Of Prayer For The Care Of Creation, Pope Francis' Appeal For The Earth
1 September, Saint Of The Day: Saint Aegidius Abbot
Ethic And Economic, A Cornell University Study On Plant-Based Beef In The US Market In The Lancet
UN Convoy Assault: Congo Government Accuses Rwandan Rebels, Who Deny It
Xaverian Missionary: In Congo, Covid Is There "But Not Visible"
Safe Places And Hot Meals, Franciscan Friars On The Front Line In Ukraine
Spazio Spadoni, Mercy That Looks At Today And Plans For Tomorrow
Source