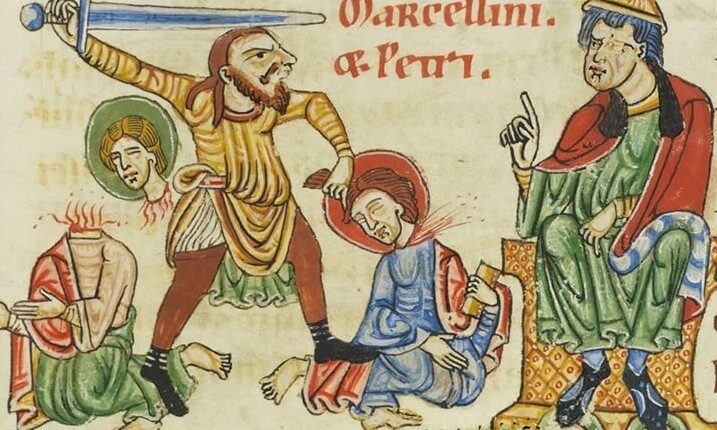 Saint of the Day for June 2: Saints Marcellinus and Peter
Saints Marcellinus and Peter's Story: Marcellinus and Peter were prominent enough in the memory of the Church to be included among the saints of the Roman Canon
Mention of their names is optional in our present Eucharistic Prayer I.
Marcellinus was a priest and Peter was an exorcist, that is, someone authorized by the Church to deal with cases of demonic possession
They were beheaded during the persecution of Emperor Diocletian.
Pope Damasus wrote an epitaph apparently based on the report of their executioner, and Constantine erected a basilica over the crypt in which they were buried in Rome.
Numerous legends sprang from an early account of their death.
Read Also
Saint Of The Day For June 1: Saint Justin Martyr
Saint Of The Day For May 31: Visitation Of The Blessed Virgin Mary
Saint Of The Day 28 May: Saint German
My Mission As Ambassador Of The Works Of Mercy In Spazio Spadoni
Congo, The Right To Drinking Water And The Well In The Village Of Magambe-Isiro
DRC, Hope Is Reborn In Kisangani With The Regeneration Of A Fish Farm
Volunteering In Congo? It's Possible! Sister Jacqueline's Experience Testifies To This
The Novices Of The Misericordia Of Lucca And Versilia Presented: Spazio Spadoni Supports And Accompanies The Journey
Gospel Of Sunday 16 April: John 20, 19-31
Easter 2023, It's Time For Greetings To Spazio Spadoni: "For All Christians It Represents Rebirth"
Sister Giovanna Chemeli's Testimony: "Spazio Spadoni… A Space For Me Too!"
From Italy To Benin: Sister Beatrice Presents Spazio Spadoni And The Works Of Mercy
Rosolini, A Grand Gala To Celebrate The Volunteers Of The Misericordie And To Salute The Sisters Of Hic Sum
Mission Testimony: Story Of Father Omar Sotelo Aguilar, Priest And Journalist Of Denunciation In Mexico
Shipwreck In Cutro (Crotone), Massacre Of Migrants: Note From CEI President Card. Matteo Zuppi
Pope Francis In Africa, Mass In Congo And The Proposal Of Christians: "Boboto", Peace
Source