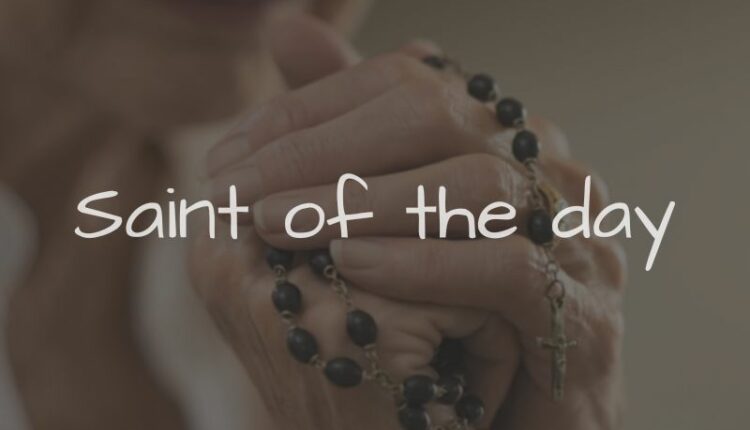 Saint of the day 28 May: Saint German
News about Saint Germanus is few and fragmented. The rather pompous biography was written by his friend Fortunatus of Poitiers. As for the foundation of the abbey of Saint German (Paris), almost nothing is known as documents disappeared due to the Norman invasions at the end of the 9th century
We do know that German was born in Autun towards the end of the 5th century, into a wealthy family, since he was educated in Avallon
For fifteen years he lived with a relative near Laizy or Lucey.
Recalled by Agrippinus, Bishop of Autun, he was ordained deacon and then priest.
Agrippinus was succeeded by Nectarius, who entrusted him with the direction of the monastery of Saint Symporian, which Germano rebuilt and at the same time sought the first elements for its foundation in Paris.
In 556, King Chilpericus, with whom German was staying, appreciated his wisdom and abilities and appointed him as his new bishop
He acted as an advisor to the prince and his successors Clotarius and Caribertus.
He thus got to know Clotarius' wife, Saint Redegonda, and in 561 in Poitiers, he saw the first abbess of the Holy Cross blessed.
It was during this period that he met the poet Fortunatus, who edited his biography upon his death.
Germano also participated in the Council of Tours in 567, the Councils of Paris – including that of 573 – and the consecration of Bishop Felix of Bourges in 570.
German died on 28 May 576 and was buried in the chapel of Saint Symporian near the abbey church. Chronicles narrate that in 754, in the presence of the young Charlemagne, there were many miracles while the body was being transferred.
From this time on, the monastery and church honoured the district of St. Germain, becoming an important Benedictine spiritual centre, especially between the 17th and 18th centuries.
Read Also
My Mission As Ambassador Of The Works Of Mercy In Spazio Spadoni
Congo, The Right To Drinking Water And The Well In The Village Of Magambe-Isiro
DRC, Hope Is Reborn In Kisangani With The Regeneration Of A Fish Farm
Volunteering In Congo? It's Possible! Sister Jacqueline's Experience Testifies To This
The Novices Of The Misericordia Of Lucca And Versilia Presented: Spazio Spadoni Supports And Accompanies The Journey
Gospel Of Sunday 16 April: John 20, 19-31
Easter 2023, It's Time For Greetings To Spazio Spadoni: "For All Christians It Represents Rebirth"
Sister Giovanna Chemeli's Testimony: "Spazio Spadoni… A Space For Me Too!"
From Italy To Benin: Sister Beatrice Presents Spazio Spadoni And The Works Of Mercy
Rosolini, A Grand Gala To Celebrate The Volunteers Of The Misericordie And To Salute The Sisters Of Hic Sum
Mission Testimony: Story Of Father Omar Sotelo Aguilar, Priest And Journalist Of Denunciation In Mexico
Shipwreck In Cutro (Crotone), Massacre Of Migrants: Note From CEI President Card. Matteo Zuppi
Pope Francis In Africa, Mass In Congo And The Proposal Of Christians: "Boboto", Peace
Source