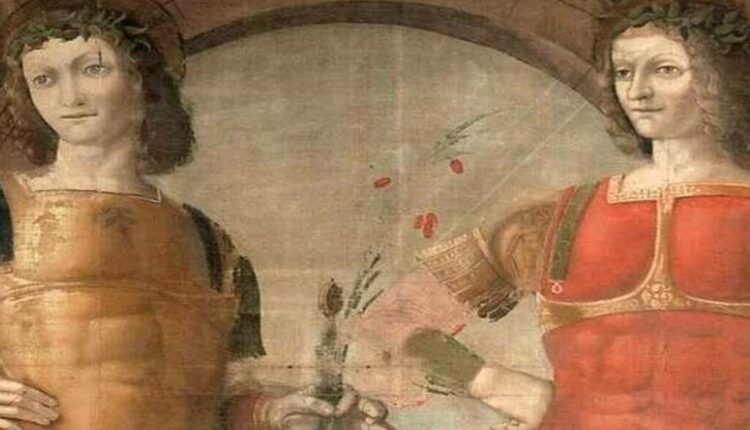 Saint of the Day, 11 September: Saints Proto and Hyacinthus
About Proto and Hyacinthus, from the Martyrology: in Rome in the cemetery of Basilla on the Via Salaria Antica, deposition of the martyred saints Proto and Hyacinthus, whom Pope St Damasus celebrated in his verses by recovering their burial mounds hidden underground. In this place, some fifteen centuries later, the intact tomb of Saint Hyacinth and his body consumed by fire were found again.
Proto and Hyacinthus, martyred brothers
Traditionally thought to be Romans, they were servants in the house of St. Philip who were arrested and executed for being Christians.
The main source for details on their martyrdoms, their acts, is considered very unreliable, although the relics of St. Hyacinth, known to be entirely authentic, were found in 1845 in the cemetery of St. Basilla, Rome.
This cult is now confined to local calendars.
For the 2nd-century martyr, see Hyacinth of Caesarea. For the Polish Dominican saint, see Hyacinth of Poland.
Saints Proto and Hyacinth were Christian martyrs during the persecution of Emperor Valerian (257–259 AD)
Protus' name is sometimes spelled Protatius, Proteus, Prothus, Prote, and Proto.
His name was corrupted in England as Saint Pratt. Hyacinth is sometimes called by his Latin name Hyacinthus (in French: Hyacinthe; Spanish: Jacinto; and Italian: Giacinto).
The day of their annual commemoration is mentioned in the "Depositio Martyrum" on September 11, in the chronographia for the year 354.
The chronographia also mentions their graves, in the Coemeterium of Basilla on the Via Salaria, later the Catacomb of St. Hermes.
The "Itineraries" and other early authorities likewise give this as their place of burial.
Read Also
Saint Of The Day: St Nicholas Of Tolentino
Saint Of The Day, 9 September: St. Peter Claver
Saint Of The Day, 8 September: Feast Of The Nativity Of Blessed Virgin Mary
Economy Of Francesco: Intergenerational Dialogue Will Culminate In Assisi With A Meeting With Pope Francis
The Taliban's Afghanistan: Paying The Bill For Barbarism Are Artists, Women, But Above All The Afghan People
The Courage Of Francis?: "It Is Meeting The Sultan To Tell Him: We Don't Need You"
Sister Alessandra Smerilli On 'Making Space For Courage': Analysing The Existing Economic Model And Hope In Young People
Spazio Spadoni, From 7 To 11 September The Second Edition Of The Convention: "Making Space For COURAGE"
World Day Of Prayer For The Care Of Creation, Pope Francis' Appeal For The Earth
Saint Of The Day, 6 September: Saint Zacharius, Prophet Is Celebrated
Source