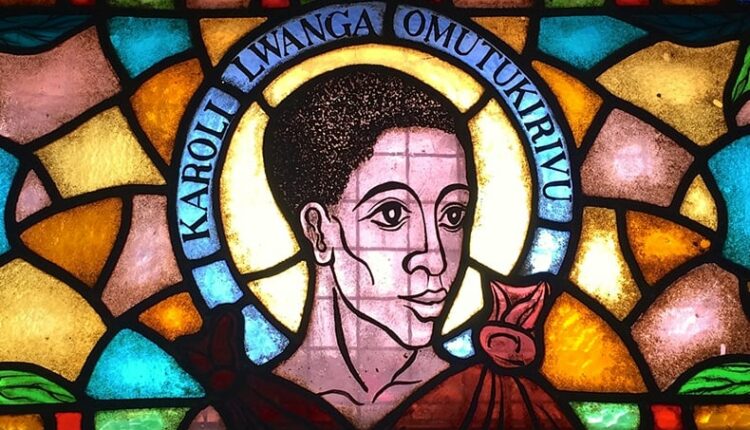 Saint of the Day for June 3: Saint Charles Lwanga and Companions
Saint Charles Lwanga and Companions' Story: one of 22 Ugandan martyrs, Charles Lwanga is the patron of youth and Catholic action in most of tropical Africa
He protected his fellow pages, aged 13 to 30, from the homosexual demands of the Bagandan ruler, Mwanga, and encouraged and instructed them in the Catholic faith during their imprisonment for refusing the ruler's demands.
Charles first learned of Christ's teachings from two retainers in the court of Chief Mawulugungu
While a catechumen, he entered the royal household as assistant to Joseph Mukaso, head of the court pages.
On the night of Mukaso's martyrdom for encouraging the African youths to resist Mwanga, Charles requested and received baptism.
Imprisoned with his friends, Charles's courage and belief in God inspired them to remain chaste and faithful.
For his own unwillingness to submit to the immoral acts and his efforts to safeguard the faith of his friends, Charles was burned to death at Namugongo on June 3, 1886, by Mwanga's order.
When Pope Paul VI canonized these 22 martyrs on October 18, 1964, he also made reference to the Anglican pages martyred for the same reason.
Read Also
Saint Of The Day For June 2: Saints Marcellinus And Peter
Liturgy Of The Word: The Priest's Kisses During Mass
What Does It Take To Be A Nun?
My Mission As Ambassador Of The Works Of Mercy In Spazio Spadoni
Congo, The Right To Drinking Water And The Well In The Village Of Magambe-Isiro
Pearl And Angelica: The Two Sisters With Rosolini's Mercy
Caritas Internationalis Elects Alistair Dutton As Its New Secretary General
Rosolini, A Grand Gala To Celebrate The Volunteers Of The Misericordie And To Salute The Sisters Of Hic Sum
Mission Testimony: Story Of Father Omar Sotelo Aguilar, Priest And Journalist Of Denunciation In Mexico
Shipwreck In Cutro (Crotone), Massacre Of Migrants: Note From CEI President Card. Matteo Zuppi
Pope Francis In Africa, Mass In Congo And The Proposal Of Christians: "Boboto", Peace
Source