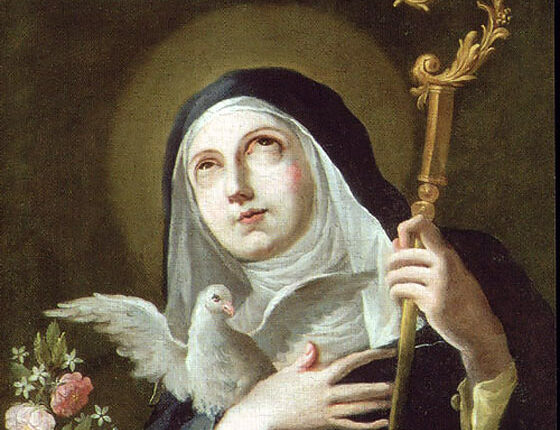 Saint Of The Day For 10 February: St. Scholastica
A story of St Scholastica that thickens in the mystery of popular beliefs and legends. Two saintly twin brothers
Even if you browse through the vast library of St Scholastica in Subiaco, you will realise that little or nothing is known about this saint.
Yet she remains one of the most important, to the point that she is commemorated in the Catholic liturgy.
Let us try to grasp some peculiarities of the temperament of such an imposing figure.
Often the pupils surpass the masters. So it was between St Scholastica and St Benedict
St Scholastica's twin brother, St Benedict, a model of austerity, strenuously bound by the rules, instructed his sister in the fundamentals of the spiritual and prayer life.
But then the feminine temperament, more devoted to contemplation, combined with a strong desire for God and his friendship, made the saint the teacher of her master!
It is said that by the sheer force of prayer she gently forced her brother to stay with her, triggering a veritable red storm.
Gregory the Great therefore wrote in his dialogues about St Scholastica: 'she was more powerful because she loved more'.
St Scholastica was the founder of western female monasticism
Following the example of her brother Benedict, St Scholastica, affirming the primacy of God, founded the monastery at Monte Cassino.
Tradition has it that both, since the monasteries were not too far apart, met for advice or spiritual gatherings.
There are many frescoes in Subiaco, where the two lived at a very fertile age, depicting them in perpetual dialogue.
The mystical union between the two was so ardent that Benedict himself had a clear perception of the departure of his sister, born on earth in Norcia in 480 and born in heaven on 543.
St Scholastica cultivated all her gifts in prayer
One of the gifts that St Scholastica, who was very dedicated to prayer, certainly did not lack was the gift of waiting.
Whoever prays, learns to abandon himself in the will of God and the fulfilment of his plan.
Therefore, he cannot but know how to wait.
St Scholastica is therefore the patron saint of women about to give birth.
Today the two brothers rest together at Monte Cassino for that union and understanding that accompanied them throughout their lives.
What greater mission did St Scholastica fulfil than to remain in the love of Christ, as Jesus told his own at the Last Supper!
He who abides in the love of Christ has Jesus and nothing else as the supreme foundation of his existence, and thereby wants to conform his heart to his image.
The power of prayer is unthinkable.
Sister Ines Carlone Daughters of Mary Missionaries
Read Also
Saint Of The Day For February 9: San Sabino Di Canosa
Saint Of The Day For 8 February: Saint Onchu
Earthquake In Syria And Turkey, Pope Francis Prays For The Intercession Of The Virgin Mary
Earthquake In Syria And Turkey, Prayer And Church Commitment For 23 Million Human Beings
Pope Francis In Africa, Mass In Congo And The Proposal Of Christians: "Boboto", Peace
Syria, Jacques Mourad New Archbishop Of Homs
Syria Is Not Behind Us, But It Is An Open Question
Pacificism, Third Edition Of The School Of Peace: This Year's Theme "Wars And Peace On The Borders Of Europe"
Grand Imam Azhar Sheikh: We Appreciate Pope Francis' Efforts To Promote Peace And Coexistence
Source