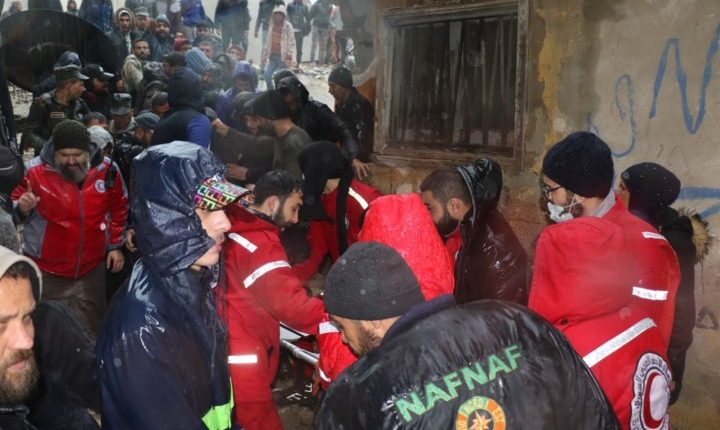 Earthquake In Syria And Turkey, Pope Francis Prays For The Intercession Of The Virgin Mary
Pope Francis concluded his public audience on Wednesday with a prayer for the Virgin Mary's intercession for the thousands of victims of a deadly earthquake in Turkey and Syria
Pope Francis prays to Mary for the protection of the earthquake victims in Syria and Turkey
"Let us pray together that these brothers and sisters may come out of this tragedy. And we pray that Our Lady will protect them," the Pope said in the Vatican's Paul VI Hall on 8 February to the pilgrims present.
A series of strong earthquakes that struck parts of Turkey and Syria on 6 February caused enormous destruction and killed around 11,000 people, according to the latest available estimates.
"With deep feeling I pray for them and express my closeness to these populations, to the families of the victims and to all those who are suffering as a result of this devastating natural disaster," the Pope said.
"I thank all those who are working to bring them assistance and encouragement," he added, "and solidarity to those areas, in part already battered by a long war."
On Monday, a "deeply saddened" Pope Francis sent "heartfelt condolences to those who mourn their loss" in telegrams addressed to the apostolic nuncios of Turkey and Syria after the earthquake
The theme of Francis' address at the general audience on 8 February was his visit from 31 January to 5 February to the Democratic Republic of Congo and South Sudan, which he described as a "long-desired trip".
The trip fulfilled "two dreams", he said: "To visit the Congolese people, custodians of an immense country, the green heart of Africa and second in the world along with the Amazon. A land rich in resources and bloodied by a war that never ends, because there is always someone stoking the fire'.
"And," he added, "to visit the people of South Sudan, on a pilgrimage of peace together with the Archbishop of Canterbury, Justin Welby, and the Moderator General of the Church of Scotland, Iain Greenshields: we went together to witness that it is possible and right to collaborate in diversity, especially if you share faith in Christ.
Read Also
Earthquake In Syria And Turkey, Prayer And Church Commitment For 23 Million Human Beings
Pope Francis In Africa, Mass In Congo And The Proposal Of Christians: "Boboto", Peace
Syria, Jacques Mourad New Archbishop Of Homs
Syria Is Not Behind Us, But It Is An Open Question
Pacificism, Third Edition Of The School Of Peace: This Year's Theme "Wars And Peace On The Borders Of Europe"
Grand Imam Azhar Sheikh: We Appreciate Pope Francis' Efforts To Promote Peace And Coexistence
COP27, Religious Leaders Highlight Correlation Between Climate Change And Humanitarian Crises
2 February, World Day Of Consecrated Life
Source