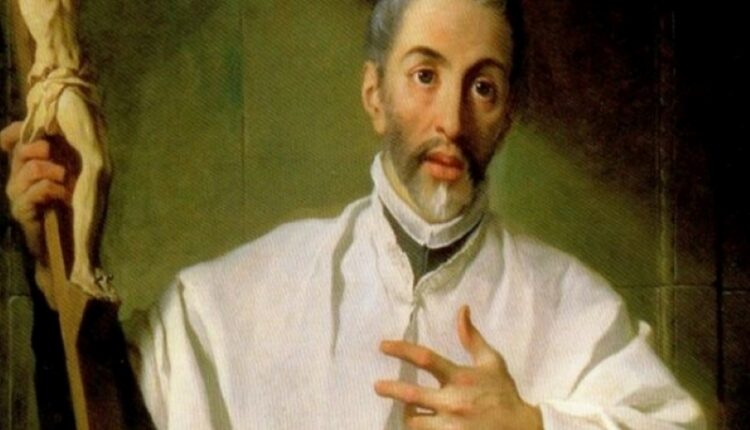 Saint of the Day 10 May: Saint John of Avila
John of Avila, the saint who wanted to find a solution to wars and who proposed the International Court of Arbitration
Good diplomacy and gifts of intellect were certainly not lacking in this saint, John of Avila, who was ahead of his time
He was a wayfarer of God, he went to the peripheries of the world and the neighbourhood, he was always on the side of the 'anawim', the wretched.
You would see him and not want to let him go.
To think that he had a destination, India, the new world then it was said, but they begged him to stay there a little longer.
Born in 1499, of Spanish descent, he died there without going out into the world.
His wealthy parents saw him return home from the prestigious university
One should not think too much that saints years and years away from our times are so different from the way of feeling today.
Christ is the same yesterday, today and always.
And the world, in its contradictions, with some economic and social evolution (if you want to call it that) is the same yesterday and today.
John of Avila could really afford it all, a spoiled son sent to the best university in Salamanca.
And still today this city is a renowned intellectual centre attracting students and scholars from all over the world.
No, it is useless to continue studying law, Giovanni told himself: I realised I wanted to become a priest.
A thug? At one point John of Avila was arrested
Unfortunately, being taken to the stars, being recognised, becoming popular does not always have its merits.
Sometimes, the tumble to the stables is quite painful.
Due to a misunderstanding, caused in no small part by fierce jealousy (and we know it all too well! Sic), he was placed under arrest during a homily.
But he certainly did not let himself be taken in by unfortunate despair.
On the contrary, John of Avila took advantage of it to work on sowing.
He had a spiritual daughter, Sancha Carrillo, now venerable, and put down in writing all the teachings between him and the holy woman.
He rendered his soul to God, after returning to former glories, esteemed by all, on 10 May 1569.
St John of Avila, help us to accept what life has in store for us as you have truly done in yours.
Read Also
Monasteries Of Mount Athos, Holy Place Of The Orthodox Church
Gospel Of Sunday 07 May: John 14, 1-12
Gospel Of Sunday 23 April: Luke 24, 13-35
Gospel Of Sunday 16 April: John 20, 19-31
Gospel Of Sunday 09 April: John 20, 1-9
Gospel Of Sunday 02 April: Matthew 26, 14-27, 66
Gospel Of Sunday 26 March: John 11, 1-45
Easter 2023, It's Time For Greetings To Spazio Spadoni: "For All Christians It Represents Rebirth"
Grand Imam Azhar Sheikh: We Appreciate Pope Francis' Efforts To Promote Peace And Coexistence
Mission Lands, Pope Francis' Horror At Violence In Northern Congo
War In Ukraine, European Bishops Call For Peace: COMECE Appeal
Saint Of The Day For November 7: Saint Vincenzo Grossi
Interreligious Dialogue: 7 Korean Religious Leaders To Meet Pope Francis
War In Ukraine, Prayers For Peace In Moscow, According To Pope's Intentions
Africa, Bishop Fikremariam Hagos And Two Priests Arrested In Eritrea: The War In Tigray Continues
Assisi, The Full Speech Of Pope Francis To The Young People Of The Economy Of Francesco
Source