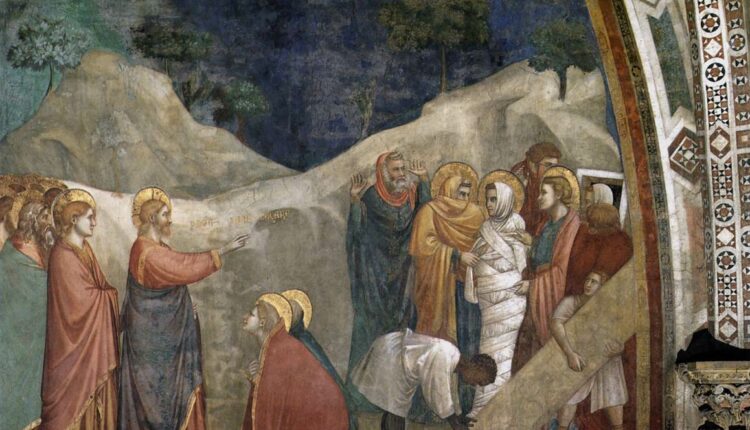 Gospel of Sunday 26 March: John 11, 1-45
Fifth Sunday in Lent A: John 11, 1-45
John 11, The Death of Lazarus
11 Now a man named Lazarus was sick. He was from Bethany, the village of Mary and her sister Martha. 2 (This Mary, whose brother Lazarus now lay sick, was the same one who poured perfume on the Lord and wiped his feet with her hair.) 3 So the sisters sent word to Jesus, "Lord, the one you love is sick."
4 When he heard this, Jesus said, "This sickness will not end in death. No, it is for God's glory so that God's Son may be glorified through it." 5 Now Jesus loved Martha and her sister and Lazarus. 6 So when he heard that Lazarus was sick, he stayed where he was two more days, 7 and then he said to his disciples, "Let us go back to Judea."
8 "But Rabbi," they said, "a short while ago the Jews there tried to stone you, and yet you are going back?"
9 Jesus answered, "Are there not twelve hours of daylight? Anyone who walks in the daytime will not stumble, for they see by this world's light. 10 It is when a person walks at night that they stumble, for they have no light."
11 After he had said this, he went on to tell them, "Our friend Lazarus has fallen asleep; but I am going there to wake him up."
12 His disciples replied, "Lord, if he sleeps, he will get better." 13 Jesus had been speaking of his death, but his disciples thought he meant natural sleep.
14 So then he told them plainly, "Lazarus is dead, 15 and for your sake I am glad I was not there, so that you may believe. But let us go to him."
16 Then Thomas (also known as Didymus said to the rest of the disciples, "Let us also go, that we may die with him."
Jesus Comforts the Sisters of Lazarus
17 On his arrival, Jesus found that Lazarus had already been in the tomb for four days. 18 Now Bethany was less than two miles  from Jerusalem, 19 and many Jews had come to Martha and Mary to comfort them in the loss of their brother. 20 When Martha heard that Jesus was coming, she went out to meet him, but Mary stayed at home.
21 "Lord," Martha said to Jesus, "if you had been here, my brother would not have died. 22 But I know that even now God will give you whatever you ask."
23 Jesus said to her, "Your brother will rise again."
24 Martha answered, "I know he will rise again in the resurrection at the last day."
25 Jesus said to her, "I am the resurrection and the life. The one who believes in me will live, even though they die; 26 and whoever lives by believing in me will never die. Do you believe this?"
27 "Yes, Lord," she replied, "I believe that you are the Messiah, the Son of God, who is to come into the world."
28 After she had said this, she went back and called her sister Mary aside. "The Teacher is here," she said, "and is asking for you." 29 When Mary heard this, she got up quickly and went to him. 30 Now Jesus had not yet entered the village, but was still at the place where Martha had met him. 31 When the Jews who had been with Mary in the house, comforting her, noticed how quickly she got up and went out, they followed her, supposing she was going to the tomb to mourn there.
32 When Mary reached the place where Jesus was and saw him, she fell at his feet and said, "Lord, if you had been here, my brother would not have died."
33 When Jesus saw her weeping, and the Jews who had come along with her also weeping, he was deeply moved in spirit and troubled. 34 "Where have you laid him?" he asked.
"Come and see, Lord," they replied.
35 Jesus wept.
36 Then the Jews said, "See how he loved him!"
37 But some of them said, "Could not he who opened the eyes of the blind man have kept this man from dying?"
Jesus Raises Lazarus From the Dead
38 Jesus, once more deeply moved, came to the tomb. It was a cave with a stone laid across the entrance. 39 "Take away the stone," he said.
"But, Lord," said Martha, the sister of the dead man, "by this time there is a bad odor, for he has been there four days."
40 Then Jesus said, "Did I not tell you that if you believe, you will see the glory of God?"
41 So they took away the stone. Then Jesus looked up and said, "Father, I thank you that you have heard me. 42 I knew that you always hear me, but I said this for the benefit of the people standing here, that they may believe that you sent me."
43 When he had said this, Jesus called in a loud voice, "Lazarus, come out!" 44 The dead man came out, his hands and feet wrapped with strips of linen, and a cloth around his face.
Jesus said to them, "Take off the grave clothes and let him go."
The Plot to Kill Jesus
45 Therefore many of the Jews who had come to visit Mary, and had seen what Jesus did, believed in him.
John 11, 1-45: a reflection
Dear Sisters and Brothers of the Misericordie, I am Carlo Miglietta, doctor, biblical scholar, layman, husband, father and grandfather (www.buonabibbiaatutti.it).
Today I share with you a brief meditation on the Gospel, with particular reference to the theme of mercy.
With the resurrection of Lazarus, the first part of the Gospel of John, the so-called "Book of Signs", ends.
For John, the 'sign' (semeion) is an event that must lead to Faith in Jesus. John recounts seven of them: the sign of the wine at Cana, the healing of the civil servant's son, the healing of the sick man at the pool of Betzahion, the multiplication of the loaves, the walking on water, the healing of a blind man from birth, the resurrection of Lazarus.
The sign can lead to faith, but Jesus rebukes a faith too much based on signs (2:23-24; 4:48; 20:28: "Blessed are those who believe without having seen!"), and in any case the sign is under the primacy of the Word that expounds it (5:46).
The Book of Signs is articulated around seven Jewish liturgical feasts, explicitly mentioned, over two years. On the Feast of Dedication (Jn 10:22), where IHWH was celebrated, with the recitation of Psalm 30, as the Giver of life, Jesus, in Bethany, the "house of affliction", proclaims that he himself is life, and gives a sign of this in the resurrection of Lazarus, whose name means "God helps".
John 11, 1-45: Jesus in the God of life
Jesus is the God of life: he is God who suffers in the face of the human condition and stands in solidarity with it in sorrow (Ex 2:24-25).
It is not God who sends us evil: our God is angry against evil! "Jesus then, when he saw her weeping, and the Jews who had come with her weeping, was deeply moved and disturbed… Meanwhile Jesus, still deeply moved, went to the tomb": the verb "embrimasthai" (Jn 11:33, 38) does not so much indicate "emotion" as "anger", "wrath": sickness is not something to be resigned to, but something to be indignant against, to fight against, to struggle against.
If we are in suffering, God is at our side, he weeps with us, he is angry with us; and he intervenes to give us life, even if sometimes not as we would like: sometimes he waits for the 'third day' (v. 6): 'Jesus loved Martha and her sister and Lazarus very much. So when he heard that he was sick, he stayed two days in the place where he was. Then he said to his disciples, 'Let us go to Judea again!'" (Jn 11:6-8).
But in any case, every illness or death is for his glory, because he will triumph over evil and restore life: this is the marvellous Christian certainty: "Jesus said: 'This illness is not for death, but for the glory of God, so that by it the Son of God may be glorified'… Jesus said (to Martha): 'Did I not tell you that if you believe, you will see the glory of God?
Today's Gospel is also an illustrative account of the Christian's journey of faith. It is exemplified by the disciples, who do not understand why Christ, the Son of God, must go and suffer (v. 8), who do not understand the mystery of Lazarus' illness and why Jesus is late in intervening (vv. 12-14): it is the objection of the world, personified by the Jews (v. 37), as to why God allows human pain and does not intervene, if he is Almighty.
But in the end, the disciples, through the mouth of Thomas, intuit the "misterium crucis", and in some way they are the ones who accept to "go and die with him": "Then Thomas, called the Twin, said to the disciples, 'Let us also go and die with him!'" (Jn 11:16).
Martha, too, is a type of the Christian: she perceives Jesus to be in need (v. 3), she makes an exodus to him (v. 20), she addresses him with lofty titles ("Lord, if you had been here, my brother would not have died!": vv. 20-21): but her faith is inadequate.
He has not yet understood that Jesus is life itself (v. 24). He first states: 'But even now I know that whatever you ask of God, he will grant it to you' (v. 22), which would seem to express unquestioning faith, but then unbelief immediately emerges in v. 39: 'Jesus said, "Remove the stone!" Martha, the dead man's sister, answered him: 'Lord, already it smells bad, for it is four days old'".
But Jesus calls the believer back to the heart of faith: Christology. If we accept him, we have eternal life: whoever believes in him will see the Glory of God (v. 40). Martha is like us: we profess with our mouths that light and life have come into the world, but our hearts are still uncertain, wavering.
Another model of the disciple is Mary: she is the contemplative dimension (vv. 2.20.32; Lk 10.39; Jn 12.3), she is the adoration, the liturgy, the priestly dimension of the believer who, even in an imperfect faith, brings to God, in tears, the suffering of man.
Lazarus, too, is a type of the believer: he is the friend of God (v. 3), the one whom the Lord loves very much (v. 5): but, far from Christ, he falls ill and dies (vv. 21.32), he rot (v. 39).
Jesus, through the intercession of the community, goes in search of the man even if he does nothing to invoke him: he comes to find us where we are, he comes down to our graves, regardless of our merits.
And he calls us to "come forth" (v. 43) from our condition of rotten dead, and resurrects us. But we often remain mummies unable to move: Jesus commands the community to loosen our bonds and enable us to "go" (v. 44) after him, involved in the paschal mystery of death and resurrection.
Good Mercy to all!
Those who would like to read a more complete exegesis of the text, or some in-depth analysis, please ask me at migliettacarlo@gmail.com.
Read Also
Gospel Of Sunday 19 March: John 9, 1-41
Saint Of The Day 19 March: Saint Joseph
Rosolini, A Grand Gala To Celebrate The Volunteers Of The Misericordie And To Salute The Sisters Of Hic Sum
Gospel Of Sunday 12 March: John 4, 5-42
Gospel Of Sunday, 5 March: Matthew 17, 1-13
Gospel Of Sunday, Feb. 26: Matthew 4:1-11
Gospel Of Sunday February 19: Matthew 5, 38-48
Gospel Of Sunday February, 12: Matthew 5, 17-37
Mission Testimony: Story Of Father Omar Sotelo Aguilar, Priest And Journalist Of Denunciation In Mexico
Pope Francis' 10 Suggestions For Lent
Pope Francis' Message For Lent 2023
Shipwreck In Cutro (Crotone), Massacre Of Migrants: Note From CEI President Card. Matteo Zuppi
Pope Francis In Africa, Mass In Congo And The Proposal Of Christians: "Boboto", Peace
Source