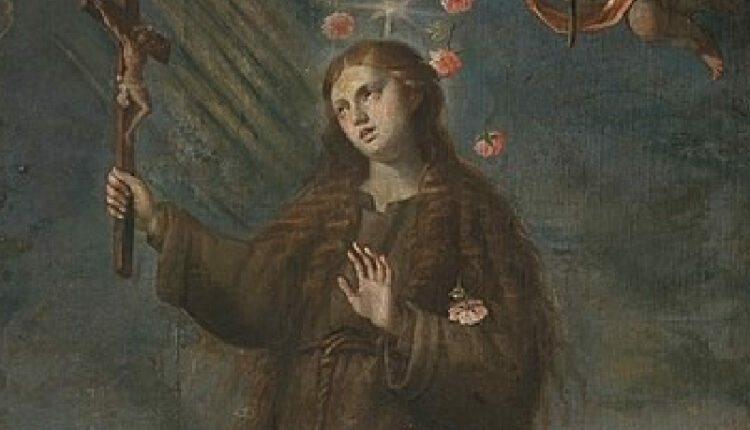 Saint Of The Day 6 March: Rose of Viterbo
The patron saint of the young women of Catholic Action, Rose of Viterbo, who was only fulfilled at death to be among the Poor Clares
A veritable churn of saints in the 13th century!
Just think of Saints Francis and Clare, Bonaventure, Thomas, Dominic.
This saint, Rose of Viterbo, was for a long time under the eye of the storm because nothing and no one made her let go of her purpose of fidelity to the Lord.
Let us look together at some interesting details of her intrepid life.
The vision she had of Our Lady moved Rose towards an adventure
She was to be in the presence of Donna Zita who was superior of the Franciscan tertiaries and then invite her, together with other sisters, to go in pious procession to the three Churches of Viterbo.
This was, according to Rose, Mary's will and she took the opportunity to convert as many of God's people as she could into true itineraries of faith.
The hostile context in which Rose lived
You know, we have talked about this in our previous articles.
And it is always good to go over the context of life surrounding the saint because it is what thickens her tenacious ardour.
The well-known connivance between political power and religious or temporal power.
We find, in particular, in the papal city lined up the Guelphs and Ghibellines who, engulfed by their leader, considered Rose a seditious and subversive personality, as we would say today.
Extradited in a hurry, she was only able to return to her childhood birthplace Viterbo, there in the district of Santa Maria del Poggio, after the death of Emperor Frederick II.
He thus asked for admission to the Poor Clares (in those days, when St Clare was alive, they were called Damianites).
Alas, they did not accept her.
With great nonchalance, Rose told them that they had to take her, dead.
And so it was: in that district of Santa Maria Del Poggio, the body was exhumed, and Pope Alexander IV ascertained her sanctity and complied with her iron will.
They placed the body of Rose Da Viterbo in the church next to the Convent of the Poor Clares.
She died in 1252 at only 18 years of age.
And we see her, too, the stubborn young saint prophetically saying: 'I told you so'!
Just the case to say it: today an intercessory prayer for Saint Rose of Viterbo will be made at least for that stubbornness willed by God.
Sister Ines Carlone Daughters of Mary Missionaries
Read Also
Gospel Of Sunday, 5 March: Matthew 17, 1-13
Saint Of The Day For March 5: Saint John Joseph Of The Cross
Gospel Of Sunday, Feb. 26: Matthew 4:1-11
Gospel Of Sunday February 19: Matthew 5, 38-48
Gospel Of Sunday February, 12: Matthew 5, 17-37
Pope Francis' 10 Suggestions For Lent
Pope Francis' Message For Lent 2023
Shipwreck In Cutro (Crotone), Massacre Of Migrants: Note From CEI President Card. Matteo Zuppi
Mission Testimony: Story Of Father Omar Sotelo Aguilar, Priest And Journalist Of Denunciation In Mexico
United States, Los Angeles Auxiliary Bishop David O'Connell Killed
Pope Francis' Message For Lent 2023
Pope Francis In Africa, Mass In Congo And The Proposal Of Christians: "Boboto", Peace
Source