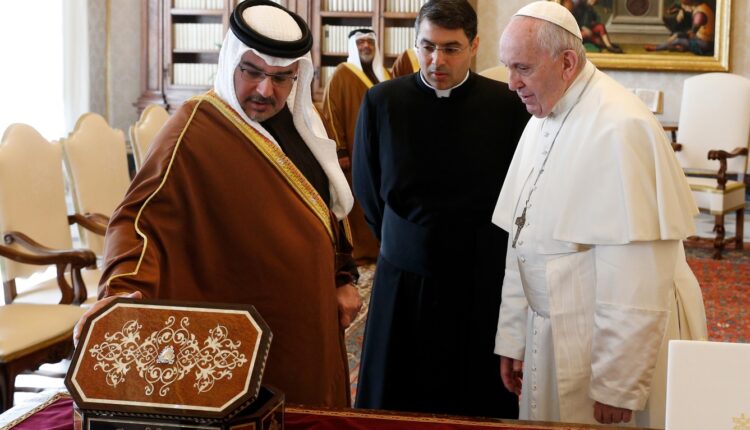 Holy See, Pope Francis confirms trip to Bahrain from 3 to 6 November
Pope Francis will make his announced Apostolic Journey to the Kingdom of Bahrain from 3 to 6 November. The Holy Father will visit the cities of Manama and Awali, on the occasion of the Bahrain Forum for Dialogue: East and West for Human Coexistence
Trip to Bahrain, Pope Francis was invited in an official letter by King Hamad bin Isa al Khalifa
In a visit by the Advisor to the Sovereign, Sheikh Khalid bin Ahmed bin Mohammed Al Khalifa, on 25 November, the King's greetings and his appreciation "for the fundamental and leading role played by Pope Francis in establishing and promoting interreligious dialogue and understanding between the various cultures and civilisations, as well as in spreading the values of human brotherhood and coexistence among all" were reported.
The territory of the Kingdom of Bahrain consists of an archipelago of 33 islands near the western shores of the Persian Gulf
The nation, ruled by the al Khalifa royal family, was previously an Emirate, which became a constitutional monarchy in 2002.
According to the Catholic Church's division of ecclesiastical jurisdictions, Bahrain is part of the Apostolic Vicariate of Northern Arabia, along with Qatar, Kuwait and Saudi Arabia.
Bahrain established diplomatic relations with the Holy See in 1999.
The first Catholic church erected in modern times in the Persian Gulf is the one dedicated to the Sacred Heart and built in 1939 in the Bahraini capital Manama on land donated by the Emir of Bahrain.
The Cathedral of Our Lady of Bahrain is currently the largest functioning church on the Arabian Peninsula.
During the consecration liturgy, Cardinal Tagle also remembered with gratitude Bishop Camillo Ballin, whom he described as a "great man and a great missionary", who had initiated the church construction project, and who died in 2020 before seeing it completed.
On the same day of the consecration liturgy of the cathedral, Cardinal Tagle himself had presented King Hamad bin Isa al Khalifa with a letter from Pope Francis.
During his meeting with Cardinal Tagle, King Hamad had affirmed that the consecration that had just taken place of the new cathedral embodied "the civilised and humanitarian role of Bahrain", a kingdom that has been hosting non-Muslim places of worship "for many decades", thus also manifesting "the tolerance, love and respect of its people for all".
Read Also:
Assisi, Pope Francis Enlightens The Young People Of The New Economy: "The Earth Is Burning Today, And It Is Today That We Must Act"
Economy Of Francesco, Over 1000 Economists Gathered In Assisi: "Sentinel, How Much Is Left Of The Night?"
World Day Of Prayer For The Care Of Creation, Pope Francis' Appeal For The Earth
The Taliban's Afghanistan: Paying The Bill For Barbarism Are Artists, Women, But Above All The Afghan People
The Courage Of Francis?: "It Is Meeting The Sultan To Tell Him: We Don't Need You"
Sister Alessandra Smerilli On 'Making Space For Courage': Analysing The Existing Economic Model And Hope In Young People
Source: