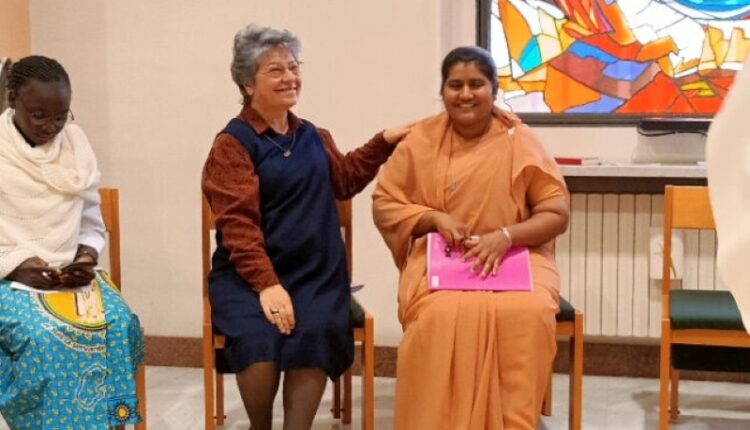 Figlie di Maria Missionarie in Celebration: First Indian Sister
A historic event for the Figlie di Maria Missionarie founded by the Venerable Don Giacinto Bianchi: India comes close
The religious congregation of the Daughters of Mary Missionary Sisters recognises itself in the apostolic ardour of a zealous priest, always on the move.
We are talking about Giacinto Bianchi, who wanted to lead his daughters to every part of the world.
During his lifetime, he was unable to enjoy his first mission in Central Africa and then went to the Ivory Coast and Brazilian soil.
He had always dreamed of the faraway Indies.
A dream that therefore seems more and more attainable for the Daughters of Mary Missionaries with the entry of Sr Josephine.
Figlie di Maria Missionarie: different sisters making a family
The oak tree of God never grows old, it is evergreen.
Its branches carry a multiplicity of charisms that flourish in every soil if God wills.
What is the charism that Sister Josephine has chosen within the religious life?
One of the special characteristics that make these sisters special Missionaries is precisely this feeling of sharing in the divine mystery in their simplicity.
Woman has many qualities but the incomparable one is gentleness and everything depends on her.
Woman saves the world and Mary embodies her fully.
The Figlie di Maria Missionarie chooses her dress, often in consonance with customs, traditions and lifestyles: daughters who differ in language, customs, interests, traditions, dress.
These daughters then must not only live in contact and cohabit, but for life merge and form a new family.
Sister Josephine among the Figlie di Maria Missionarie
The celebration of the first profession was presided over by Father Giulio Albanese, who well spelled out the new frontiers of consecrated life.
A consecration that has already taken place, since baptism, but which does not exempt us from the fear of becoming and rediscovering ourselves as fragile, human.
The Daughters of Mary Missionaries then with this gesture of provocation and hope courageously embark on this new adventure with Sister Josephine.
Let us pray with them for a world full of peace and mercy.
Sister Ines Carlone, Figlie di Maria Missionarie
Read Also
Gospel Of Sunday 19 March: John 9, 1-41
Saint Of The Day 19 March: Saint Joseph
Rosolini, A Grand Gala To Celebrate The Volunteers Of The Misericordie And To Salute The Sisters Of Hic Sum
Gospel Of Sunday 12 March: John 4, 5-42
Gospel Of Sunday, 5 March: Matthew 17, 1-13
Gospel Of Sunday, Feb. 26: Matthew 4:1-11
Gospel Of Sunday February 19: Matthew 5, 38-48
Gospel Of Sunday February, 12: Matthew 5, 17-37
Mission Testimony: Story Of Father Omar Sotelo Aguilar, Priest And Journalist Of Denunciation In Mexico
Pope Francis' 10 Suggestions For Lent
Pope Francis' Message For Lent 2023
Shipwreck In Cutro (Crotone), Massacre Of Migrants: Note From CEI President Card. Matteo Zuppi
Pope Francis In Africa, Mass In Congo And The Proposal Of Christians: "Boboto", Peace
Source