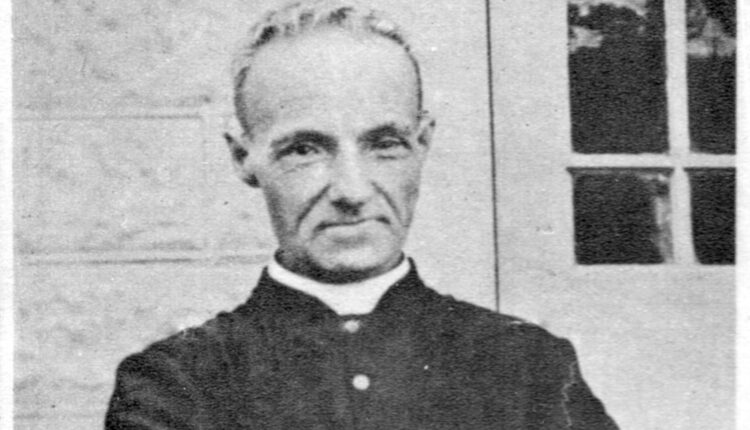 Saint Of The Day For January 6: Saint André Bessette
An illiterate laborer deeply devoted to St. Joseph became Brother André, the Holy Cross brother whose gift of healing won him the nickname "the miracle man of Montreal."
He consoled thousands, invoking the intercession of St. Joseph on all who came to him. His feast day is January
André, An unlikely vocation
The superior of the Holy Cross Brothers in Montreal could not help but doubt the vocation of 25 year-old Alfred Bessette (1845-1937), who showed up at his door asking to enter religious life.
The young man, orphaned at twelve, was desperately poor.
He had been an itinerant worker most of his life, in Quebec and in factories in the United States.
The jobs he had held had been brief, for Alfred suffered poor health from birth and could not work as much as an ordinary laborer.
Moreover, what was an illiterate man doing asking for admission into an order of teaching brothers?
Everything told the superior to reject such an applicant.
But there was a note from the young man's pastor: "I am sending you a saint…."
The superior hesitated, at first turning Alfred away.
But the bishop of Montreal intervened, and the Holy Cross Brothers accepted this sickly young man.
"Brother André," he was called, taking on a new name for his new life.
His community could not think of anything for him to do other than answer the door of their boarding school.
"At the end of my novitiate," Brother André joked later, "my superiors showed me the door, and there I stayed for forty years."
André, The porter
Something happens when the same person answers the door for hundreds of people day in and day out, for years.
They come to know him, and some come to intuit that this brother prays more than most.
They begin to tell him their sufferings. He prays with the sick, asks God to heal them, and commends them to St. Joseph, whom he loves.
The word begins to spread quietly through the city:
That simple brother who doesn't know how to read? God has given him the gift of healing.
People at the door no longer come to see those inside; they want the porter.
The other brothers begin to grumble.
He's a fraud, some say.
A danger to the order.
But that is a level of complexity that Brother André cannot understand.
Of course I don't heal, he tells them.
I pray to St. Joseph, and he intercedes for them with his foster Son.
So many people come asking for healing that Brother André's superiors ask him to receive visitors at the nearby trolley station.
Soon, 80,000 letters arrive for him a year.
"Go to Joseph" Andrè Said
To everyone to came, Brother André's message was the same:
"Go to Joseph. He will help you. Come, we'll pray together."
In 1904, Brother André asked the Archbishop of Montreal for permission to build a small chapel to honor St. Joseph across the street from the school.
You can build only what you have money for, the bishop replied.
Brother André did not have any money.
So he began to give haircuts, at 5 cents apiece.
In a few years be had enough to build what was essentially a small roofless hut.
Over many years came better walls, a roof, heating, and thousands of pilgrims – so many that plans were made for the little wooden chapel to become a basilica.
To this place of miracles, where God visited the broken, those who came brought the wounds of their hearts, the sufferings of their bodies, and their faith to St. Joseph and to his friend, this simple brother who received them and helped them to pray.
When Brother André was ninety years old, he asked some of his coworkers to place a statue of St. Joseph in the unfinished church.
They carried him, old and sick, up the hill so that he could see it.
When he died on January 6, 1937, those hundreds of thousands of pilgrims who had come over the years came again, despite the frigid Quebec winter.
They came in gratitude: in a week, one million people filed past the coffin of the illiterate brother who had accompanied them through their sorrows and sufferings, and who had been for them a kind of doorway to heaven.
St. Joseph's Oratory, completed after Brother André's death, still attracts over two million pilgrims a year.
It is filled with crutches, notes of gratitude, prayers – the signs of Brother André's friends then and now.
Read Also:
Saint Of The Day For January 2: Saint Basilius Magnus And Gregory Nazianzen
Saint Of The Day For January 1: Most Holy Mary, Mother Of God
Saint Of The Day For December 31: Saint Sylvester I, Pope
Women And The Art Of Speech: Economy Of Francesco's Solidarity With The Women Of Iran
8 December 1856: Lyon, SMA (African Missions Society) Is Founded
D.R. Congo: Congolese Catholics Take To The Streets To Protest Increasing Violence
Funeral Of Joseph Ratzinger: A Look At The Life And Pontificate Of Benedict XVI
Source: