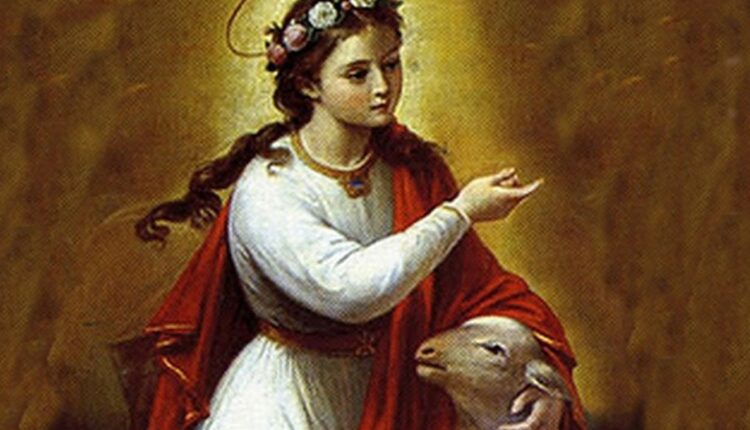 Saint Of The Day For January 21: Saint Agnes, Virgin and Martyr
Among the first martyrs of the Christian era, Agnes is one of the most popular saints in the tradition of the Church.
She sacrificed her life at the tender age of thirteen during the persecutions of the fourth century in order not to betray her faith in Christ and has been venerated for centuries as an icon of purity.
The life of Agnes
'Pure', 'chaste'.
This is what the name Agnes means in Greek.
For historians, it is therefore more of a nickname that identifies one of the Church's most venerated martyrs.
We are in 304, in the vortex of anti-Christian ferocity triggered by the Emperor Diocletian (although some scholars place the event during the persecution of Valerian 40 years earlier).
Nothing is known of Agnes except her passion, the news of which, not always unequivocal, is scattered in various documents after her martyrdom.
The hatred and grace of Agnes
Tradition tells of an unrequited love, that of the son of the Prefect of Rome for Agnes, who, barely thirteen years old, did not want to bind herself to the nobleman.
The young girl has made a vow of chastity to Christ, and when the Prefect learns of this, retaliation is triggered: Agnes must join the circle of vestals who worship the patron goddess of Rome.
The girl refuses and the revenge becomes more cruel, moving from the temple to the brothel, with the exposure of the young woman among the prostitutes in Piazza Navona.
The hagiographical accounts tell how Agnes, by virtue of superior protection, manages even in that situation to guard her own illibacy.
Like a lamb
The hatred against her increases in an escalating spiral.
The girl is condemned to the stake, but the flames do not even manage to touch her, and then it is a sword blow to the throat that breaks her life.
The iconography always depicts Agnes with a lamb beside her because hers is the same fate then reserved for the little sheep.
And every 21 January, the liturgical feast of the Saint, a pair of lambs raised by the sisters of the Holy Family of Nazareth is blessed.
With their wool, the nuns make the sacred palli that the Pope imposes on the new metropolitan archbishops on 29 June each year.
Agnes, Virtue superior to nature
The remains of St Agnes are kept in a silver urn commissioned by Paul V, placed inside the Basilica of the same name on the Via Nomentana, erected by Princess Constantina, daughter of Emperor Constantine I, over the catacombs in which the young woman's body was buried.
Saint Ambrose wrote of her: "Her consecration is superior to age, her virtue superior to nature: so that her name seems to me not to have come to her by human choice, but to be a prediction of martyrdom, an announcement of what she was to be".
Read Also:
Saint Of The Day For January 6: Saint André Bessette
Saint Of The Day For January 5: Saint John Neumann
Saint Of The Day For January 4: Saint Angela Of Foligno
Women And The Art Of Speech: Economy Of Francesco's Solidarity With The Women Of Iran
8 December 1856: Lyon, SMA (African Missions Society) Is Founded
D.R. Congo: Congolese Catholics Take To The Streets To Protest Increasing Violence
Funeral Of Joseph Ratzinger: A Look At The Life And Pontificate Of Benedict XVI
Source: