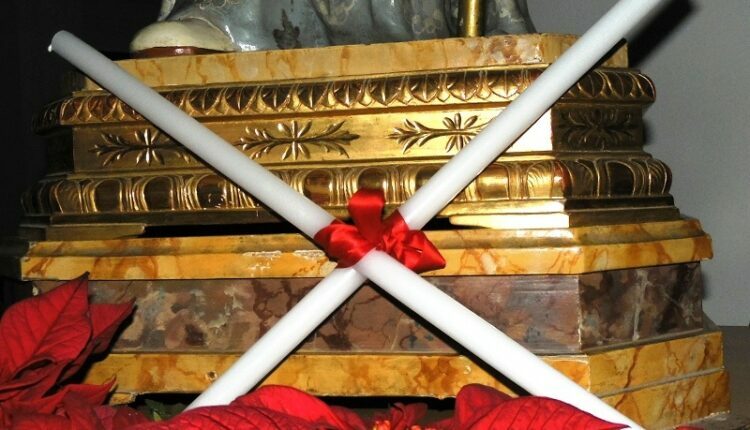 Saint Of The Day For 3 February: Saint Blaise And The Throat Blessing
History of St Blaise: where the widespread practice of blessing the throat with crossed candles originates
Year after year, the ritual of the St Blaise throat blessing is repeated, always following Candlemas.
Let us try to understand the stories and entanglements surrounding the figure of St Blaise and how this rite came about.
It is not just one episode but two that determine such symbolic adoption in the commemoration of St Blaise
St Blaise was a bishop who found a cave to shelter himself from Diocletian's persecution.
Unfortunately, his shelter did not last long because, with the help of passing travellers and hunters, he was soon discovered and imprisoned.
The saint's fame had spread so much that many came to him asking for miracles.
Two healings led to the blessing of the throat with crossed candles being thought of in the liturgy.
The miracle of St Blaise's fishbone
A child was about to suffocate.
Today, in emergencies, we would consider practising the manoeuvre to expel the foreign body.
But as an emergency gesture, the saint used a far wiser one: the invocation of the paternal will over the child's fate through the gesture of blessing.
It was sufficient.
St Blaise's miracle of the finding of the piglet
Each of us has things that we feel are precious treasures.
For one woman it was a piglet, and a wolf had taken it away.
With the strength of her prayer, Saint Blaise helped to find it.
Saint Blaise's gesture of crossed candles comes from the gift of a grateful woman of grace
A gift that moved him was that of the crumpet and the two candles to light the cave.
The woman had found her piglet and wanted to repay him.
Let us also move St Blaise before God with a gift
Light a candle not only to Our Lady, but especially on 3 February to St Blaise in the Western liturgy.
The Orientals also celebrate him and their date is 11 February.
A few words from the "Acts of the Martyrdom of St Blaise"
"I deliver my body to you, God will dispose of my soul".
What conclusion can we draw, then, from the legend of St Blaise?
Is he an extraordinary person? Certainly the narration of a saint's deeds always enjoys the transfiguration that beautifies, empowers.
But, in the end, it is Gospel incarnate.
The trait of this saint was absolute trust in prayer, as in that passage of the Gospel where it says that we can by prayer alone command the mountains to move.
We hope to take a little from these words of Pope Benedict XVI: 'To the extent that we allow ourselves to be touched by him….we become people who also introduce others into his purity and love'.
Happy journey in holiness to all.
Read Also
Saint Of The Day For February 1: Saint Bridget Abbess In Ireland
Syria, Jacques Mourad New Archbishop Of Homs
Nigeria: Terrorists Burn Priest Alive, Wound Another, And Abduct Five Faithful
DR Congo: Bomb Explodes In Church, At Least 17 Killed And 20 Injured
Source