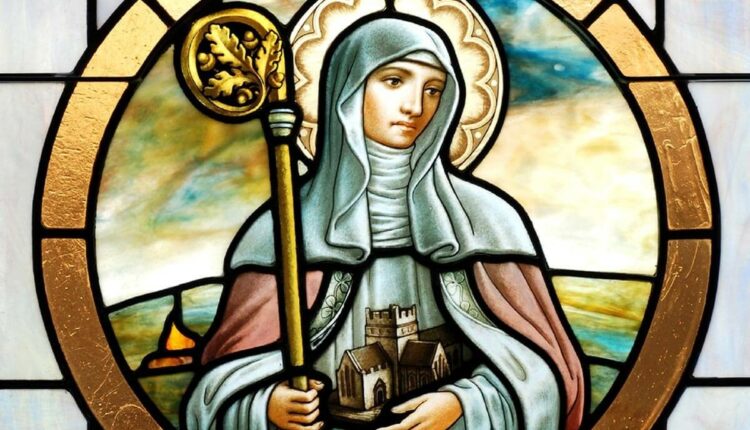 Saint Of The Day For February 1: Saint Bridget Abbess In Ireland
Prosecutor of St Patrick's evangelising work, Bridget was the foundress of one of Ireland's first monasteries at Kildare, near Dublin, where she was abbess of both the male and female branches.
In the Middle Ages, pilgrims prayed to her: 'Saint Bridget, protect us on our journey'.
The History of Saint Bridget
According to tradition, Bridget was born near Dundalk, County Louth, Ireland around 451.
Her parents were Dubhthach, a pagan leader from Leinster, and Brocca, a Christian pitta slave, who had been baptised by Saint Patrick.
Some historians believe that Bridget's mother was a native of Portugal and that she had been kidnapped by Irish pirates and brought to Ireland as a slave, as had happened to Saint Patrick himself.
St Bridget converted to Christianity in 468, inspired by St Patrick's preaching, at the age of only 6.
Despite her father's opposition, she decided to take up a religious life.
Numerous episodes testify to her faith: she had a generous heart and never refused alms to a poor person who came knocking on her door.
Her charity angered her father: he thought she was being overly generous to the poor and needy when she gave them milk, butter and flour.
When she finally gave her father's ceremonial sword to a leper, Dubhtnach realised that his daughter was perhaps better suited to become a nun.
Bridget was then able to fulfil her wish to be sent to a convent, received the veil from Bishop St Mel and took vows to dedicate her life to Christ.
She founded several convents: the first was Clara Abbey in County Offaly, but surely the most important was Kildare Abbey, founded in 470, which was a women's and men's monastery, of which she became abbess. It was indeed quite common in the Celtic Church for a woman as superior to govern both branches of a double monastery.
According to one legend, after Brigid became abbess, the now elderly bishop Mel, while blessing her, accidentally read out the rite of ordination as bishop and like any sacrament this cannot be undone.
Bridget and all the abbesses who succeeded her in Kildare had administrative authority equal to that of a bishop until the Synod of Kells in 1152.
Kildare Abbey became one of the most prestigious monasteries in Ireland and became famous throughout Christian Europe.
In the scriptorium of the monastery, for example, the Book of Kells was found and remained there.
Bridget died in Kildare around 525 and was buried in a tomb in front of the high altar of her abbey church. Some time later her remains were exhumed and brought to Downpatrick to rest with the other two patron saints of Ireland, St Patrick and St Columba of Iona.
Her skull was brought to Igreja de Sao Joao Baptista (Lumiar) in Lisbon, Portugal, by three Irish noblemen.
Feast of St Bridget
The date of her feast has always been 1 February, the day on which she is still commemorated even today by the Catholic Church, which in outlining a very brief profile of the saint reports the very few certain facts about her life: abbess and foundress of one of the first Irish monasteries, as well as continuer of the work of evangelisation undertaken by St Patrick.
Meaning of the name Bridget
The name Bridget is typically Celtic and specifically means 'lofty, splendid, wonderful person'.
St Bridget received the same name as one of the most powerful pagan deities: the Goddess Bridget was in fact the goddess of fire, whose manifestations were song, art and poetry, which the Irish considered the flame of knowledge.
Read Also:
Saint Of The Day For January 17: Saint Antony, Abbott
Saint Of The Day For January 16: Saint Marcellus I, Pope And Martyr
Saint Of The Day For January 15: Saint Mauro, Abbot
Nigeria: Terrorists Burn Priest Alive, Wound Another, And Abduct Five Faithful
DR Congo: Bomb Explodes In Church, At Least 17 Killed And 20 Injured
Source: