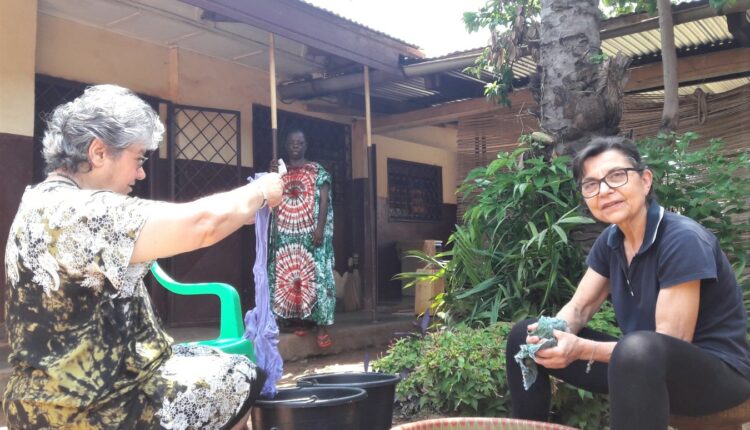 Noemi, Lay Missionary, For Three Weeks In Bangui In Central African Republic: 'I'll Take You With Me To Central Africa
It has been about three weeks since our return and still today, the simplest gestures, such as flipping the switch, turning on the tap, turning on the gas, walking or driving down the street, take me back to Bangui and I ask myself: only three weeks? It feels like three months to me!
Noemi's impact with Central African Republic
I thought I was prepared to meet a population, a culture, an environment that I have known about for a long time, and it is really true when they say that having information is quite different from being in it.
I realised it right away, already during that stretch of road (which is not a road!) that leads from the airport to Kpetené: dust, potholes and … lots and lots of people, all busy doing something, selling, repairing, transporting.
And in the days that followed, each time the eye and above all the heart were struck by the many different details of their lives, where everyone is busy!
Men, women, young people, children, everyone is already on the move at the crack of dawn; in their 'space' in the open air, almost heedless of the people passing by or the rough road with its ruts to avoid; heedless of the hours under the scorching sun to sell a few vegetables; heedless of the effort of pushing loads of lumber by hand, of carrying weights on their heads, with one child on their shoulders and another in their hands; heedless of the busyness going on around them!
Our gaze is also always on the move, first of all on the ground so as not to trip, then in front and to the sides to fix details of a daily life that takes place all outside, simple and essential gestures such as fetching water, bathing the little ones, putting the pot on the fire, doing the laundry, frying pancakes by the side of the road, setting up a stall in front of the house with something to sell, digging earth to make bricks to dry in the sun; and always here and there children playing with… nothing!
And what can you say about the curiosity mixed with surprise with which the kids come up to you, people smile at you and say hello!
But what always strikes you most of all is their reserved and dignified appearance, which becomes joyful and exuberant during festive moments; with song and dance they make you forget, and perhaps forget themselves, the fatigue and hardships of every day.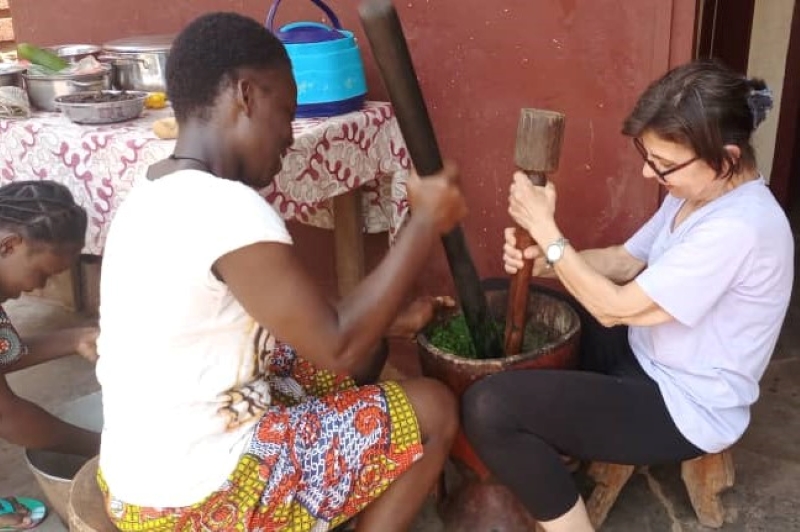 The harsh reality of daily life in Central African Republic
The question that hammers me inside is always the same: how do you live in this place where hardship, deprivation and fatigue reign? I think of the history of this people, like that of so many others, overwhelmed by a power that oppresses rather than promotes or, even worse, of the many tormented by 'useless wars'.
And I ask myself: how does God, who "created man in His image and likeness", "resist" in the face of a humanity that sometimes seems to do everything to be just the opposite of what He wanted it to be?
Observing these faces that are at times timid, at times patient, at times even a little resigned, the certainty dawns on me that God's "patient" PROGETTI does not end where my gaze ends. On the contrary, it is precisely there where I do not see or understand that the promise of the Risen Christ becomes reality: "I have come that they may have life" (Jn.10:10). What life? The very life of God, the only one that can satiate all the aspirations of the human heart, the only one that can make them say as it does us: yes, it is indeed true, the Lord hears the cry of the poor who cry out to him and frees the wretch who finds no help!
It is only by looking at their lives with this certainty that I can say I had a wonderful experience.
I sincerely thank those who invited me to Bangui and the sisters, Daughters of Mary Missionaries, who welcomed me.
By Sister Ines Carlone – Sisters Daughters of Mary Missionaries
Read Also
What Does It Take To Be A Nun?
My Mission As Ambassador Of The Works Of Mercy In Spazio Spadoni
Congo, The Right To Drinking Water And The Well In The Village Of Magambe-Isiro
Congo, I Cinque Stagni Delle Suore Della Sacra Famiglia Come Riabilitazione Della Salute Nutrizionale
Presentati I Novizi Delle Misericordia Di Lucca E Versilia: Spazio Spadoni Supporta E Accompagna Il Percorso
Volontariato In Congo? E' Possibile! L'esperienza Di Suor Jacqueline Lo Testimonia
Vangelo Di Domenica 16 Aprile: Giovanni 20, 19-31
Pasqua 2023, È Tempo Di Auguri A Spazio Spadoni: "Per Tutti I Cristiani Rappresenta La Rinascita"
Testimonianza Di Suor Giovanna Chemeli: "Spazio Spadoni…Uno Spazio Anche Per Me!"
Dall'Italia Al Benin: Suor Beatrice Presenta Spazio Spadoni E Le Opere Di Misericordia
Suor Angelita Jacobe: L'opera Di Misericordia Che Ho Trovato In Spazio Spadoni
Loppiano, Sorella Esperance Nyirasafari: "Il Mio Soggiorno In Italia"
Pearl And Angelica: The Two Sisters With Rosolini's Mercy
Spazio Spadoni, Il Fondatore Luigi Spadoni Insignito Della Cittadinanza Onoraria Di Rosolini
Rosolini, Un Gran Galà Per Festeggiare I Volontari Delle Misericordie E Per Salutare Le Suore Di Hic Sum
Caritas Internationalis Elects Alistair Dutton As Its New Secretary General
Liturgy Of The Word: The Priest's Kisses During Mass
Source