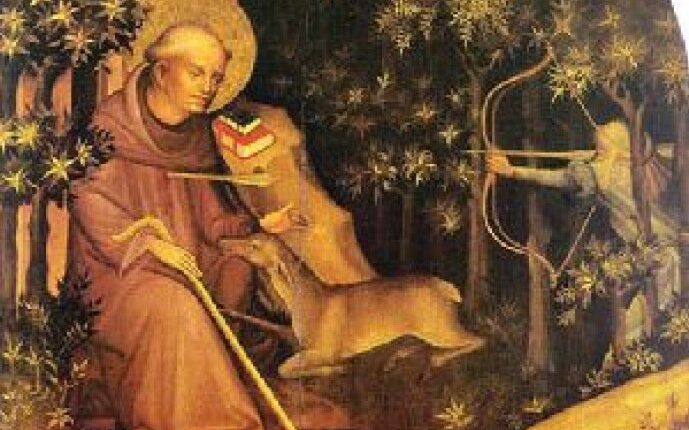 1 September, Saint of the Day: Saint Aegidius Abbot
Saint Aegidius Abbot was one of the best-loved saints of the Middle Ages, both for the life he lived and for the many miracles he performed. Born in Athens, Greece, around 640, to a noble family, Saint Aegidius moved to France, to a deserted place in Septimania, the ancient name for the area near the mouth of the Rhone
There he began a hermitic life that was curious in some respects.
If on the one hand, in fact, his aspiration was to wait on God's service by living in prayer, amid austerities and fasts, on the other hand, encounters with powerful men characterised his apostolate.
Among them were Flavius King of the Goths and Charles Martel.
Saint Aegidius lived by feeding on roots, wild fruits and little else, sleeping on the bare earth and using a stone as a pillow
God took pity on him and sent a doe who provided him with milk every day.
According to the chronicles, the doe was saved from being hunted by King Flavius of the Goths because the arrow shot by the sovereign hit St Aegidius, who was wounded in the leg.
DO YOU WANT TO KNOW MORE ABOUT THE MISSIONS IN THE WORLD? VISIT THE FONDAZIONE SPADONI BOOTH AT EMERGENCY EXPO
The king was then fascinated by the personality, faith and miracles of Aegidius, who became known throughout France as the 'thaumaturge saint'
Flavius donated that forest to the Saint, and built a monastery there, in which the Saint took in young people to be guided according to the Benedictine rule.
Also noteworthy is his meeting with Charles Martel, who, having heard of the saint's fame, met him and begged him for forgiveness for a fault he dared not confess to anyone.
The following Sunday, while he was celebrating mass, an angel appeared to Aegidius, who placed a note on the altar in which Charles Martel's unmentionable sin was written, which was then forgiven.
Saint Aegidius died on the night of 1 September 720, in Languedoc, France.
He had recently returned from a trip to Rome on which he had met the Pope.
The day of his ascent to heaven is dedicated to him.
Read Also:
Spazio Spadoni, Mercy That Looks At Today And Plans For Tomorrow
Ethic And Economic, A Cornell University Study On Plant-Based Beef In The US Market In The Lancet
World Day Of Prayer For The Care Of Creation, Pope Francis' Appeal For The Earth
Spazio Spadoni, From 7 To 11 September The Second Edition Of The Convention: "Making Space For COURAGE"
Ukrainian Children Welcomed By The Misericordie Meet The Pope, Present At Wednesday General Audience
Xaverian Missionary: In Congo, Covid Is There "But Not Visible"
Ukraine: Pope Francis' Ambulance For Lviv To Be Delivered By Cardinal Krajewski
Source: