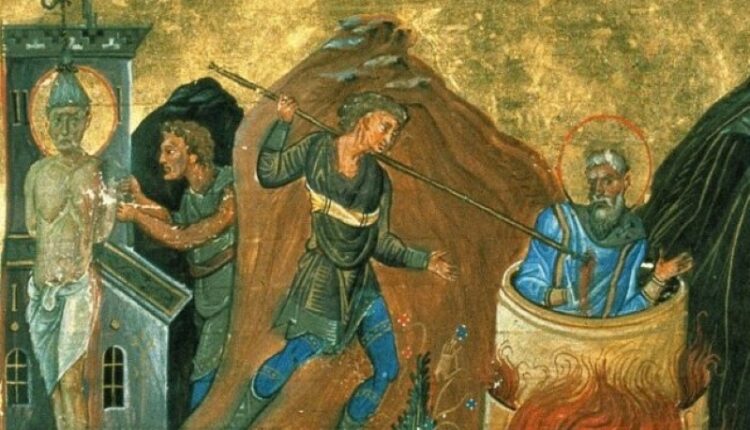 Saint of the Day May 4: Cyriacus of Jerusalem
Today we dedicate ourselves to Saint Cyriacus, the man who according to legend helped trace the place of the Passion of Christ complete with crosses
Every saint in an era close to Christ, in the first centuries, has left tangible and illuminating works in their name.
The same is true for Saint Cyriacus who by some strange chance found himself near Ancona and the church of the same name still stands, certainly majestic and imposing.
A bishop converted in Ancona and it is said that he is Judas Cyriacus
Of Jewish origin and deeply inclined to historical research, Cyriacus was a very rational man who wanted to find proof of the existence of Christ.
He understood immediately when he saw the cross and converted believing it impossible for a normal man to survive so much pain in those who implore and invoke him.
And he also guided another saint in this search: Helena, of noble blood.
These stories are present in apocryphal texts and the versions are not unique, so much so that some see him in Ancona only at the time of her death.
Today, in this city it is a patronal feast with the organization of a huge fair in which it is nice to participate.
The execution of Cyriacus of Jerusalem
We place ourselves around the fourth century AD. with paganism still high among the Imperial classes.
It is said that it was the emperor Julian the apostate who ordered his martyrdom forcing him to the most atrocious sufferings such as seeing his own mother killed.
Forced to ingest molten lead, his hagiography has left scholars stunned.
For this reason, the reliquary that jealously guards the remains of San Ciriaco has been carefully studied to find evidence of history.
It has objectively emerged that the popular narratives actually match the injuries sustained by the remains.
May Saint Cyriacus of Jerusalem help us then to face the inevitable pains with his own courage.
Read Also
Saints Of The Day For May 3: Saints Philip And James
Saint Of The Day For May 2: Saint Athanasius
Saint Of The Day For May 1: Saint Joseph The Worker
Gospel Of Sunday April 30: John 10, 1-10
Pope Francis Says He Wants To Visit Argentina In 2024
Gospel Of Sunday 23 April: Luke 24, 13-35
Gospel Of Sunday 16 April: John 20, 19-31
Gospel Of Sunday 09 April: John 20, 1-9
Gospel Of Sunday 02 April: Matthew 26, 14-27, 66
Gospel Of Sunday 26 March: John 11, 1-45
Easter 2023, It's Time For Greetings To Spazio Spadoni: "For All Christians It Represents Rebirth"
Sister Giovanna Chemeli's Testimony: "Spazio Spadoni… A Space For Me Too!"
From Italy To Benin: Sister Beatrice Presents Spazio Spadoni And The Works Of Mercy
Congo, The Holy Family Sisters' Five Ponds As A Rehabilitation Of Nutritional Health
Volunteering In Congo? It's Possible! Sister Jacqueline's Experience Testifies To This
The Novices Of The Misericordia Of Lucca And Versilia Presented: Spazio Spadoni Supports And Accompanies The Journey
Source