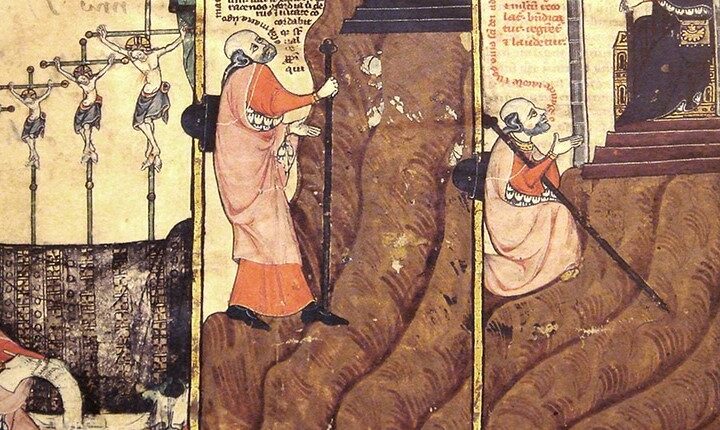 Saint of the Day for June 26: Blessed Raymond Lull
Blessed Raymond Lull's Story: Raymond worked all his life to promote the missions and died a missionary to North Africa
Raymond was born at Palma on the island of Mallorca in the Mediterranean Sea
He earned a position in the king's court there.
One day a sermon inspired him to dedicate his life to working for the conversion of the Muslims in North Africa.
He became a Secular Franciscan and founded a college where missionaries could learn the Arabic they would need in the missions.
Retiring to solitude, he spent nine years as a hermit.
During that time he wrote on all branches of knowledge, a work which earned him the title "Enlightened Doctor."
Raymond then made many trips through Europe to interest popes, kings, and princes in establishing special colleges to prepare future missionaries.
He achieved his goal in 1311, when the Council of Vienne ordered the creation of chairs of Hebrew, Arabic, and Chaldean at the universities of Bologna, Oxford, Paris, and Salamanca.
At the age of 79, Raymond went to North Africa in 1314 to be a missionary himself
An angry crowd of Muslims stoned him in the city of Bougie.
Genoese merchants took him back to Mallorca, where he died.
Raymond was beatified in 1514 and his liturgical feast is celebrated on June 30.
Read Also
Saint Of The Day For June 22: Saint Thomas More
Gospel Of Sunday 18 June: Matthew 9:36-10:8
Gospel Of Sunday, 11 June: John 6, 51-58
Gospel Of Sunday 28 May: John 20, 19-23
Gospel Of Sunday 21 May: Matthew 28, 16-20
Saints Of The Day For May 21: Saint Cristóbal Magallanes And Companions
Gospel Of Sunday 23 April: Luke 24, 13-35
Gospel Of Sunday 16 April: John 20, 19-31
Gospel Of Sunday 09 April: John 20, 1-9
Gospel Of Sunday 02 April: Matthew 26, 14-27, 66
Gospel Of Sunday 26 March: John 11, 1-45
What Does It Take To Be A Nun?
Easter 2023, It's Time For Greetings To Spazio Spadoni: "For All Christians It Represents Rebirth"
Sister Giovanna Chemeli's Testimony: "Spazio Spadoni… A Space For Me Too!"
From Italy To Benin: Sister Beatrice Presents Spazio Spadoni And The Works Of Mercy
Congo, The Holy Family Sisters' Five Ponds As A Rehabilitation Of Nutritional Health
Volunteering In Congo? It's Possible! Sister Jacqueline's Experience Testifies To This
The Novices Of The Misericordia Of Lucca And Versilia Presented: Spazio Spadoni Supports And Accompanies The Journey
Source