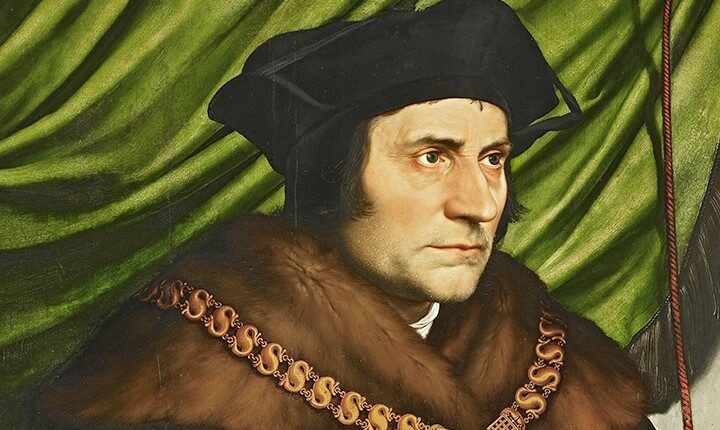 Saint of the Day for June 22: Saint Thomas More
Saint Thomas More's Story: his belief that no lay ruler has jurisdiction over the Church of Christ cost Thomas More his life
Beheaded on Tower Hill, London, on July 6, 1535, More steadfastly refused to approve King Henry VIII's divorce and remarriage and establishment of the Church of England.
Described as "a man for all seasons," Thomas More was a literary scholar, eminent lawyer, gentleman, father of four children, and chancellor of England
An intensely spiritual man, he would not support the king's divorce from Catherine of Aragon in order to marry Anne Boleyn.
Nor would he acknowledge Henry as supreme head of the Church in England, breaking with Rome, and denying the pope as head.
More was committed to the Tower of London to await trial for treason: not swearing to the Act of Succession and the Oath of Supremacy.
Upon conviction, More declared he had all the councils of Christendom and not just the council of one realm to support him in the decision of his conscience.
Read Also
Saint Of The Day For June 21: Saint Aloysius Gonzaga
June 20th Saint Of The Day: Blessed Virgin Mary Consolatrix
Saint Of The Day For June 19: Venerable Matt Talbot
Gospel Of Sunday 18 June: Matthew 9:36-10:8
Gospel Of Sunday, 11 June: John 6, 51-58
Gospel Of Sunday 28 May: John 20, 19-23
Gospel Of Sunday 21 May: Matthew 28, 16-20
Saints Of The Day For May 21: Saint Cristóbal Magallanes And Companions
Gospel Of Sunday 23 April: Luke 24, 13-35
Gospel Of Sunday 16 April: John 20, 19-31
Gospel Of Sunday 09 April: John 20, 1-9
Gospel Of Sunday 02 April: Matthew 26, 14-27, 66
Gospel Of Sunday 26 March: John 11, 1-45
What Does It Take To Be A Nun?
Easter 2023, It's Time For Greetings To Spazio Spadoni: "For All Christians It Represents Rebirth"
Sister Giovanna Chemeli's Testimony: "Spazio Spadoni… A Space For Me Too!"
From Italy To Benin: Sister Beatrice Presents Spazio Spadoni And The Works Of Mercy
Congo, The Holy Family Sisters' Five Ponds As A Rehabilitation Of Nutritional Health
Volunteering In Congo? It's Possible! Sister Jacqueline's Experience Testifies To This
The Novices Of The Misericordia Of Lucca And Versilia Presented: Spazio Spadoni Supports And Accompanies The Journey
Source