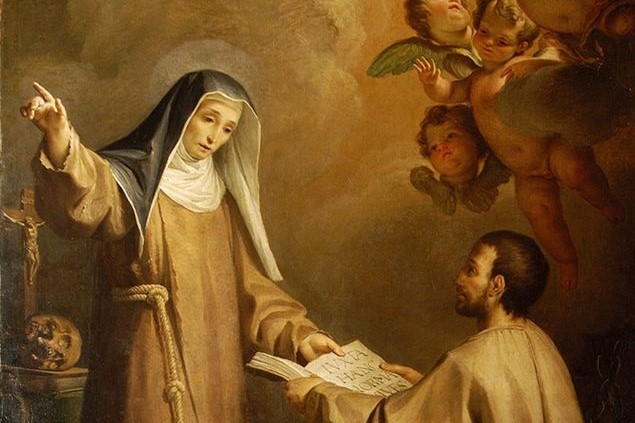 Saint Of The Day For January 30: Saint Hyacintha Marescotti
Co-patroness of Viterbo with St Blaise, St Hyacintha Marescotti was the wayward daughter of a prince. Forced to the convent after a disappointment in love, here she met her true husband in Christ and worked for the elderly and the sick.
The Story of Hyacintha
When one is beautiful, rich and moreover of noble birth, one thinks one can have it all.
Clarice, the daughter of Princes Marescotti di Vignanello, thought so too: from a young age she had dreamed of a wealthy life and a good marriage, but these were not the plans the Lord had for her.
At some point, however, she thought she could realise them: she had met the young Marquis Capizucchi and fallen in love with him, but he was soon destined for another marriage, with her younger sister, Hortensia.
Hyacintha, A forced vocation
Clarice's disappointment was so strong that she decided not to forgive her father for preferring her sister and began to make life impossible for him.
The prince, in response, sent her to Viterbo to the monastery of San Bernardino where she had studied as a child and where her other sister, Ginevra, had already become a nun.
Clarice did not lose heart: she took the name Hyacintha, submitted herself to the community's prayer life, embraced the vow of chastity, but became a Franciscan Tertiary so as not to be cloistered.
Even the vows of obedience and poverty did not suit her: she continued to dress in fine clothes, to live in a well-appointed flat where many friends came to visit her and to be served by two novices.
Noble she was and wanted to continue living as such.
Hyacintha, from obstinate teenager to great saint
Despite the scandal she caused, Hyacintha lived like this for 15 years.
Then she fell seriously ill.
And she understood. It was in the suffering of the illness that the Lord was waiting for her, patiently.
"O God, I beg you, give meaning to my life, give me hope, give me salvation!" she prayed.
Once healed, she asked her sisters' forgiveness and stripped herself of everything.
The next 24 years of her life were years of hardship and dedication to her neighbour, especially to the poor and the sick.
With the financial help of her former friends, from the cloister she managed to organise the work of two charitable institutes: the Sacconi (so called because of the sack the brothers wore during their service) nurses who gave help to the sick, and the Oblates of Mary, who brought comfort to the elderly and abandoned.
She herself gave everything she received to the poor and her example brought back to the faith many who had drifted away.
Hyacintha: Death in the odour of sanctity
Hyacintha died in 1640 and was immediately venerated by people among the saints, especially among those who had been great sinners, later converted by grace.
During her wake, everyone wanted to take away a piece of her robe to keep it as a relic and so her body had to be dressed three times.
It was Pope Pius VII who canonised her in 1807.
Read Also:
Saint Of The Day For January 17: Saint Antony, Abbott
Saint Of The Day For January 16: Saint Marcellus I, Pope And Martyr
Saint Of The Day For January 15: Saint Mauro, Abbot
Nigeria: Terrorists Burn Priest Alive, Wound Another, And Abduct Five Faithful
DR Congo: Bomb Explodes In Church, At Least 17 Killed And 20 Injured
Source: