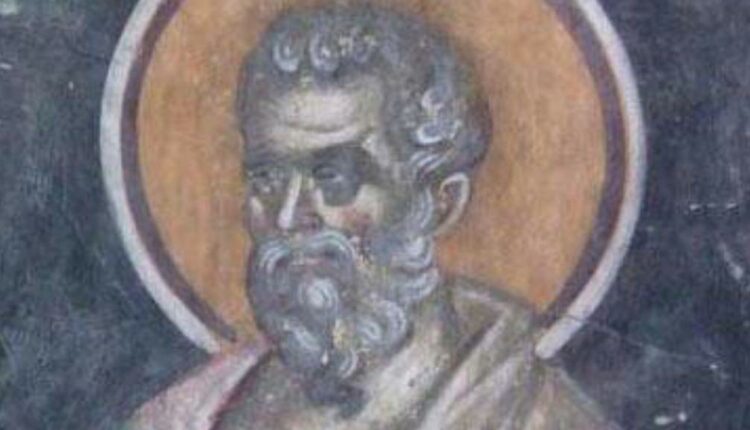 Saint Of The Day For January 25: Saint Ananias From Damascus
A Jew from Damascus converted to Christianity, Ananias in a vision the Lord urges him to go to Saul of Tarsus, the persecutor who became blind after the manifestation of Jesus.
He obeys and lays his hands on him. Saul regains his sight and asks to be baptised.
The Story of Ananias
He is said to have been a disciple of Jesus, a bishop of Damascus, a participant in the conversion of Paul of Tarsus and a martyr; for this reason he is considered a saint.
Traditionally, Ananias is listed among the seventy disciples who were sent out to preach in the world, whose mission is recorded by Luke.
Furthermore, He was the disciple who restored the sight of Paul of Tarsus and then baptised him.
According to tradition, Ananias evangelised in Damascus where he was also a bishop and then moved to Eleutheropolis, where he was martyred during the first century.
For Ananias, circumcision was not an essential element for conversion to Judaism, in the broad sense, thus subverting one of its fundamental principles.
According to the English writer of Jewish origin, Hyam Maccoby, a scholar of the Jewish and Christian religions, Ananias was the father of the head of the rabbis of Jerusalem at the time of the destruction of the Temple, Joshua ben Hananiah.
Cult of Ananias
The relics of St. Ananias are currently kept in Rome in the Basilica of St. Paul Outside the Walls, except for the head, donated by the King of Bohemia, Charles IV, to St. Vitus Cathedral in Prague.
Entitlements of Ananias
Mor Hanayo Monastery near Mardin, founded in the 4th century and one of the oldest monasteries of the Syriac Orthodox Church
Read Also:
Saint Of The Day For January 17: Saint Antony, Abbott
Saint Of The Day For January 16: Saint Marcellus I, Pope And Martyr
Saint Of The Day For January 15: Saint Mauro, Abbot
Nigeria: Terrorists Burn Priest Alive, Wound Another, And Abduct Five Faithful
DR Congo: Bomb Explodes In Church, At Least 17 Killed And 20 Injured
Source: