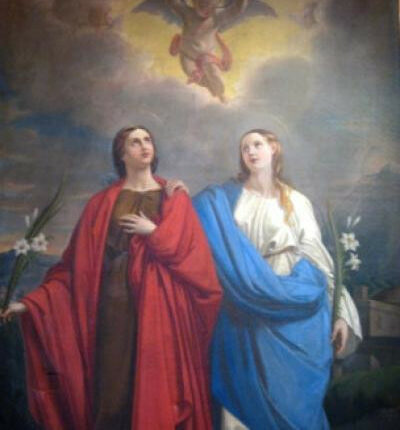 Saint of the Day for 10 July: Saints Rufina and Seconda
The courage and faith of two martyrs who defied oppression to defend Christian truth
Name
Sante Rufina e Seconda
Title
Martyrs of Rome
Recurrence
10 July
Martyrology
2004 edition
Prayer
O most glorious virgins and worthy martyrs of Jesus Christ, Rufina and Seconda, we thank you with all the affection of our hearts for the graces obtained through you. O glorious virgins and worthy martyrs of Jesus Christ, Rufina and Seconda, we thank you with all our heartfelt affection for the graces obtained through you. Deh! through that undaunted intrepidity with which you always remained faithful to your heavenly Spouse and among yourselves you are even more united by the bonds of grace and charity than by those of nature, unite our hearts ever more closely with God and with our neighbour; communicate to us that Christian strength which makes us superior to every obstacle, let us be constantly faithful to the obligations of our state and overcome ourselves to come one day to sing eternally the ineffable mercies of the Heart of Jesus.
The Saints and Mission
Saints Rufina and Seconda were two courageous women who resolutely embraced the mission of bearing witness to the truth and beauty of the Christian faith. Despite the difficulties and persecutions they faced, they never wavered in their commitment to spread the Gospel.
The mission of Saints Rufina and Seconda was manifested not only through their words, but also through their actions and example of life. They challenged oppression and injustice, resisting with strength and courage to defend the faith.
Their testimony invites us to reflect on the importance of having an ardent commitment to the Christian mission, despite the adversities we may encounter along the way. They encourage us to persevere in our faith, to live the Gospel with boldness and to spread the love of Christ to those around us.
Their lives are a call to live our mission with passion, courage and love, bringing the light of Christ to every corner of the world where we are called to work.
The Saints and Mercy
Saints Rufina and Seconda were two extraordinary figures who embodied the essence of Christian mercy. Despite their sufferings and the persecutions they faced for their faith, these saints demonstrated generous and compassionate hearts.
In their life witness, Rufina and Seconda offered forgiveness and compassion even to their persecutors. Their ability to forgive and love, despite the injustices they suffered, is a powerful example of how mercy can transform pain into hope and healing.
The two saints not only practised mercy towards others, but also received God's mercy in their lives. Through their faithfulness and perseverance, they experienced the grace of divine forgiveness and became instruments of mercy for those around them.
The lives of Saints Rufina and Seconda challenge us to live mercy in our daily lives, to forgive and love even when evil is inflicted upon us. Their witness reminds us that mercy knows no boundaries and that we can be bearers of hope and healing in a world often marked by division and conflict.
Hagiography
Second Martyr, saint (3rd century). According to an ancient passio, written around the middle of the 5th century, Seconda suffered martyrdom together with her sister Rufina during the violent persecution at the time of Valerian and Gallienus on the Via Cornelia.
Tradition has it that, betrothed to two young Christians who had become apostates, Seconda and Rufina vowed their virginity, provoking the reaction of the two young men who first tried to induce them to apostasy, then denounced them: arrested by the prefect Junius, they were tortured and martyred in Rome, at the tenth mile of the…
Read Also
Saint of the Day for 09 July: Saint Veronica Giuliani
Saint of the Day for 08 July: Saints Aquila and Priscilla
Saint of the Day for 07 July: Blessed Benedict XI
Saint of the Day for 06 July: Maria Teresa Ledóchowska
Saint of the Day for 05 July: Saint Anthony Mary Zacharias
Source and Images