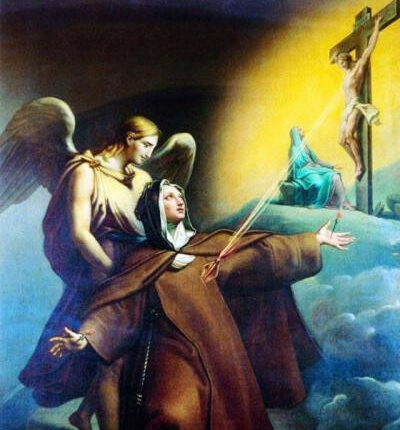 Saint of the Day for 09 July: Saint Veronica Giuliani
He experienced the love of Christ to the point of divine ecstasy
First name
Orsola Giuliani
Title
Vergine
Birth
27 December1660, Mercatello Sul Metauro
Death
9 July 1727, Città di Castello
Recurrence
9 July
Martyrology
2004 edition
Prayer
Most lovable saint, who, chosen by Jesus as his beloved bride, emulated, by your love for the Holy Eucharist, the most ardent love of the Seraphim of Heaven, and deserved to see him again and again in this divine Sacrament in the guise of a charming child; deh! obtain for us from Him the grace to love Him too, in imitation of you, with all the affection of our hearts, so that, inflamed by His love, we may keep ourselves from guilt, correspond worthily to this heavenly gift, and deserve to see Him one day together with you unveiled in the blessed home of Paradise. So be it.
Patroness of
Mercatello sul Metauro
Beatification
18 June 1804, Rome, Pope Pius VII
Canonisation
26 May 1839, Rome, Pope Gregory XVI
The Saint and Mission
Saint Veronica Giuliani was an extraordinary figure who embodied the very essence of spiritual mission. Her life was characterised by a deep devotion to Christ and an intense search for union with God.
St Veronica Giuliani experienced an intimate connection with the Divine, embracing His unconditional love and passing it on to others through her life witness. Her mission was to spread the Gospel truth and God's merciful love, illuminating hearts with the light of faith and hope.
St Veronica Giuliani showed great inner strength and unwavering determination to pursue God's will. Through her mystical visions and spiritual writings, she offered valuable guidance to those seeking a life of spiritual depth and communion with the divine.
Her mission was not only limited to words, but was also manifested through her works of charity and service to those most in need. St Veronica Giuliani embodied the love of Christ in her dedication to the poor and marginalised, offering them comfort and hope.
The Saint and Mercy
St Veronica Giuliani was an extraordinary witness to divine mercy. Throughout her life, she intensely experienced God's merciful love and passed this experience on to others.
Through her profound spiritual experiences, St Veronica Giuliani embraced the suffering of Christ and understood the profound meaning of mercy. She lived a life of penance and offering herself for the salvation of souls, offering herself as an instrument of love and redemption.
Her mission was to announce God's mercy to all those she met, inviting people to allow themselves to be embraced by divine compassion. St Veronica Giuliani reminds us that mercy is not just a theoretical concept, but a lived reality that transforms our lives and urges us to be merciful to others.
Hagiography
She was born in Mercatello (Marche) in 1660, and was given the name Orsola at her baptism. As a young girl, she was placed by her dying mother under the protection of the Saviour and she immediately conceived a great devotion, which was the source of many graces. She always desired to suffer something for Jesus; she gave herself to the acquisition of the virtues of humility and obedience that adorned her childhood. With patience and prayers she defeated her stubborn father who wanted her to marry a nobleman, and she entered the Capuchin convent in Città di Castello. At seventeen, to her great joy, she was admitted to her profession of religious vows and took the name Veronica. As a true religious, she thought of nothing else but pleasing Jesus, regardless of the hopes and fallacious attractions that the world presents to the young. This renunciation of herself and the world, and a generous dedication to the Lord, were the beginning of that perfection that led her to holiness. Veronica had reached the age of 33 when she repeatedly had a vision of a filled chalice; of a liquor that caused her unspeakable revulsion. At the same time she underwent the crowning with thorns that left deep and acute piercings appearing around her head. The pains were again increased by the doctors who, after trying in vain to heal her, declared themselves powerless.
Amidst many spasms, she always kept herself completely submissive to God's will. With her superiors' permission, she began a fast on bread and water that lasted three years. On Good Friday 1697, as she humbly and heartily asked God for forgiveness for her…
Read Also
Saint of the Day for 08 July: Saints Aquila and Priscilla
Saint of the Day for 07 July: Blessed Benedict XI
Saint of the Day for 06 July: Maria Teresa Ledóchowska
Saint of the Day for 05 July: Saint Anthony Mary Zacharias
Saint of the Day for 04 July: Saint Elisabeth (Isabella)
Source and Images