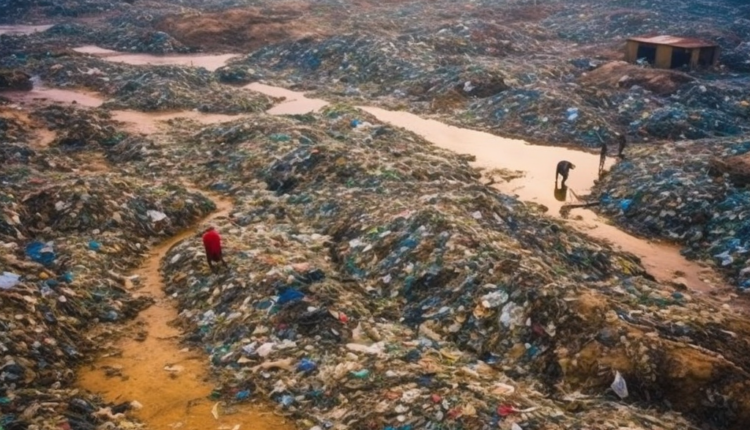 Plastic pollution: a threat in Africa
When will Africa have zero plastic?
Plastic pollution is having a huge impact on the African continent. This pollution contaminates our landfills, our soil and the air we breathe, and does not even spare our beautiful coastal beaches. The mobilisation of private companies to reduce the use of hydrocarbon derivatives and accelerate their recycling remains insufficient and uninnovative in the face of this challenge, and this is due to a lack of support from governments.
In a global context of rethinking packaging, recycling of bottles, investment in biodegradable materials, etc. in Africa, as in other parts of the world, the private sector and some local organisations are engaged in a tough battle to reduce the use of plastic and its impact on health and nature. A battle that, as we can see, is far from being won.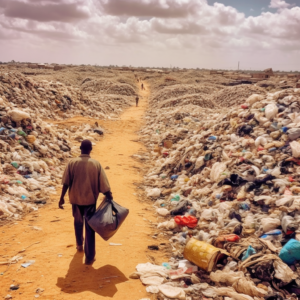 As the WHO report of June 2023 states, Africa produces only 7% of the world's plastic, yet it has become the continent most affected by plastic pollution. However, population growth and urbanisation on the continent are increasing the use of single-use plastic, increasing environmental pollution and health threats.
According to a study by Nigerian researchers published in the journal Environmental Sciences Europe, plastic imports are set to double by 2030 in Egypt, Nigeria, South Africa, Algeria, Morocco and Tunisia.
The World Health Organisation (WHO) and the United Nations Environment Programme (UNEP) are working to encourage national efforts to reduce environmental threats to health. The two organisations collaborate through Clim-HEALTH Africa, a project that helps to predict, prevent and manage the serious effects of climate change on public health in Africa, and the Chemicals Observatory for Africa, which helps to develop policies for managing chemicals and the incidence of related diseases. This collaboration helps African countries cope with the health impacts of environmental pollution and climate change.
Plastic pollution has many consequences for the health of people in Africa
These consequences affect both human populations and ecosystems. Plastic can easily enter the food chain: in our oceans it breaks down into small fragments called microplastics, which are ingested by marine organisms. When humans eat seafood contaminated with microplastics, there is a risk of transferring these microplastics into the food chain, with potentially serious health consequences.
On the other hand, plastic waste, such as single-use plastics and microplastics, can contaminate freshwater sources such as rivers, lakes and groundwater. According to the WHO, this pollution can lead to the ingestion of microplastics through contaminated drinking water, with serious health effects, including endocrine disruption, developmental problems for children and increased risk of cancer.
The mishandling of plastic waste also creates a breeding ground for mosquitoes, which are the source of numerous diseases in many villages and towns. Burning plastic emits harmful pollutants into the air, including toxic gases and fine particles. Inhaling these pollutants can cause respiratory problems and contribute to air pollution-related diseases.
The continent suffers from a lack of plastic processing infrastructure
The indiscriminate disposal of plastics could have the effect of reducing the porosity of soils to the point of disrupting the regeneration cycle of water resources and reducing the quality of soils for agricultural practices, as plastics take a long time to decompose. It is not uncommon to see how much arable land is no longer productive due to plastic contamination.
Plastic pollution is also held responsible for the degradation of ecosystems. If pollution upsets the balance of ecosystems involved in the production of essential services such as water purification, carbon sequestration and disease regulation, it can weaken local economies and livelihoods, creating food insecurity.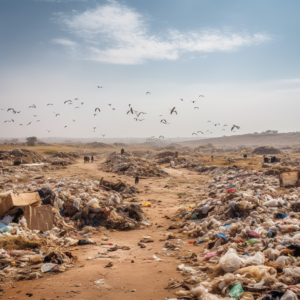 What can African countries do to get rid of plastic pollution and promote the health of their populations?
Measures include best practices in waste management, based on reduce, reuse and recycle initiatives (commonly known as the 3Rs: Reduce, Reuse and Recycle), followed by public awareness campaigns, community education and regulatory interventions. Once this is done, we can reduce plastic pollution by promoting sustainable alternatives that protect human health, preserve ecosystems and support sustainable development.
Some countries have already taken these initiatives, but others on the continent still have a long way to go. Much more progress has been made in the area of waste deduction. Some 30 countries on the continent have already demonstrated their commitment by banning the import and production of single-use plastic bags. However, more than 20 countries still produce or import single-use plastic, so there is still much to be done in this area.
The first priority is therefore the creation of infrastructure to manage waste such as plastic bottles and packaging. Several countries, such as Ghana, have asked UNESCO to help them build technical and structural capacity to manage plastic waste. The other priority is transparency and traceability of plastic products.
Several reports claim that plastics contain toxic additives harmful to the environment and human health
As major importers of plastics, African countries have little control over the composition of additives used in the production of this material. Kenya, for example, wants to apply the 'polluter pays' principle to make producers responsible, on the one hand, and to prevent the transfer of hazardous waste between countries, on the other, by avoiding landfills.
More and more plastic recycling start-ups are springing up in cities. These are young companies embarking on the production of bags, flooring and other types of products.
What remains to be done is to improve policies on the production, use and management of plastic waste, because the capacity and mechanisms to monitor and evaluate these solutions are still embryonic or non-existent. In reality, not all plastic can be eliminated, but it is important to promote better plastic management, remove pollutants and change the chemical composition to facilitate recycling.
Read Also
Oceans are gift from God, must be used fairly and sustainably, pope says
Why is Francis of Assisi the patron saint of ecology?
Nigeria Leads The Way With Electric Cars
Holy Christmas, between environmental impact and spirituality
Assisi, the full speech of Pope Francis to the young people of the Economy of Francesco