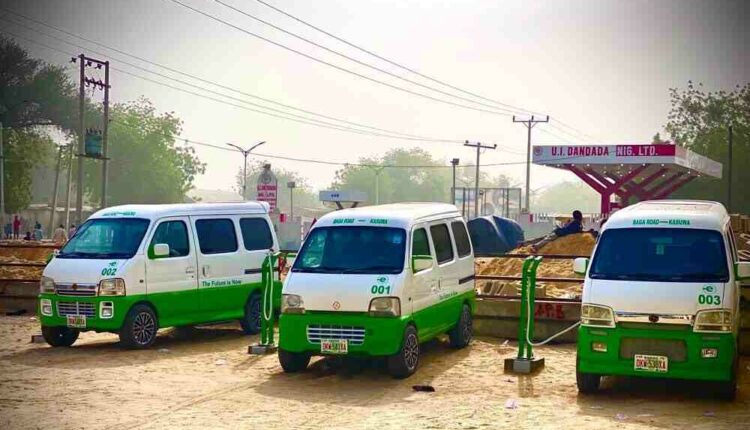 Nigeria Leads The Way With Electric Cars
With 100% electric cars, Nigeria opts for green conversion in Africa.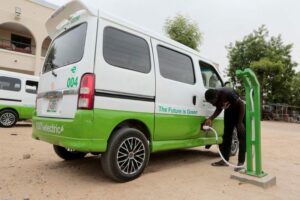 Nigeria, known as the largest economy and most populous country in Africa, is now leading the way in electric buses. This conversion from fuel buses to electric buses began a few years ago and has been noted to be accelerating.
In Africa, where buses account for more than a quarter of carbon emissions, electric buses are an environmentally friendly and economical means of transportation. As users testify, these buses offer greater comfort and lower transportation costs. They are also renowned for their environmental friendliness.
Before the Chinese electric vehicle industry signed a landmark contract in sub-Saharan Africa, this innovation in Nigeria was primarily the work of young local entrepreneurs such as Moustapha Abubakar Gajibo. This young Nigerian dropped out of university to devote himself to the production of 100% electric vehicles to combat air pollution in his country. Despite the challenges his company faces, his vehicles have made a name for themselves in Nigeria. The company is beginning to receive orders from other countries such as Ghana, Uganda, and Kenya, but it needs funding to expand its business.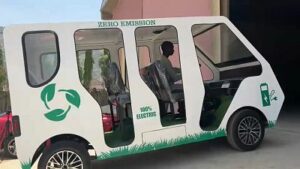 For the young entrepreneur, this vehicle model is designed for short-distance, low-intensity public transportation. The 7-seater bus, built entirely in house, can cover a distance of 210 kilometers on a single charge, with a battery replacement option that also saves charging time.
But what prompted this young man to embark on this electric vehicle start-up? As Moustapha Abubakar Gajibo explained to us, his motivation was to see how much the price of fuel and transportation is increasing every day, and in addition, the pollution caused by fossil fuel vehicles is very high here in Nigeria.
"So my commitment was to create this company, which is now called Phoenix Renewable Energy, which on the one hand is committed to producing electric vehicles, as I mentioned earlier, and on the other hand is committed to producing solar panels and converting gasoline vehicles to electric vehicles. We are working hard to meet the needs of the people by offering them high-performance vehicles at the right price."
Like other countries such as Kenya, the Nigerian government recently signed a contract with Chinese manufacturer Yuting to supply 12,000 electric buses by 2030. The same is true for Narirobi in Kenya. The electric vehicle company BYD wants to deploy more than 1,000 electric buses on the streets of the capital city of Nairobi by 2025, except that these buses will be manufactured in China and then assembled in Kenya when they arrive at the entrance to Mombassa Port.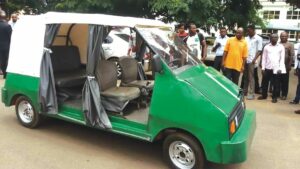 What is the environmental impact?
The ecological goal is decarbonization, which has become an important vector of industrialization. This applies to buses, but also to motorcycles.
Motorcycle cabs are now a popular means of transportation in many African cities and villages. Ideal for avoiding traffic jams, they are also a valuable source of income for drivers. However, they have one major drawback: they are highly polluting and harm the planet and the health of the population.
To address this problem, Kenya Roam is looking to launch a major development program for electric motorcycles, with a factory in Kenya that will build motorcycles that can compete with the price of conventional motorcycles exported so far from China and India. Kenya Roam plans to produce up to 50,000 motorcycles a year.
In other African capitals, such as Cotonou (Benin), the Spiro company has led the way by offering motorcycles with batteries. Now it is up to other governments and private companies to undertake this large-scale conversion.
Read Also
Why is Francis of Assisi the patron saint of ecology?
Oceans are gift from God, must be used fairly and sustainably, pope says
COP27, religious leaders highlight correlation between climate change and humanitarian crises
Lula brings new environmental hope to Catholics in Brazil, but challenges remain