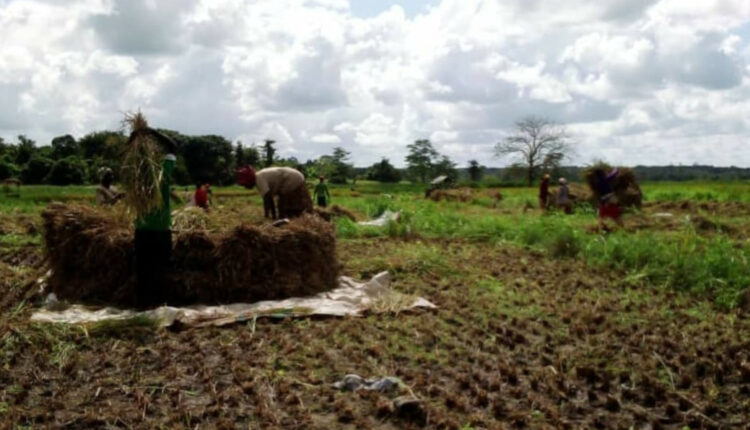 A disease is devastating rice crops in Tanzania
Xoo bacteria: a time bomb for East Africa
According to the Tanzania Agricultural Research Institute (TARI), about 20% of the country's rice fields are affected. The bacterium penetrates the leaves, attacks the plant and dries it out. As a result, the rice grains do not fill up, impacting farmers' yields. The government is trying to combat this epidemic, but the results are not yet reassuring. The international research consortium 'Healthy Crops', led by Wolf Heinrich of the University of Düsseldorf, is working to put mechanisms in place to find solutions.
The agricultural sector is a key driver of Tanzania's social and economic development, generating 25% of GDP, 24% of exports and employing more than 75% of the population, particularly in rural areas where poverty and food insecurity are concentrated. Small-scale agriculture is characterised by the use of rudimentary tools and reliance on traditional farming methods. Food is the main sub-sector, dominated by small-scale subsistence farmers, who have between 0.2 and 2 hectares and use 80% of arable land to produce both food and industrial crops. However, most farmers can only produce one crop per year due to poor irrigation infrastructure and water management.
What is the origin of this epidemic?
According to publications by international researchers, it may be due to seed tests carried out as part of a collaboration between Chinese and Tanzanian agricultural researchers. Some are already calling it the 'Covid' of rice. This Xoo bacterium (Xanthomonas oryzae pathovar oryzao) penetrates the leaves, attacks the plant and dries it out. As a result, the rice grain does not fill up, which affects the yield. According to several experts, one fifth of production will be affected this year.
This year, with the outbreak of the epidemic, producers are already worried. As harvest approaches, they see a two-fold drop in production compared to last year, when the bacterial blight had not yet broken out.
Which seeds are affected?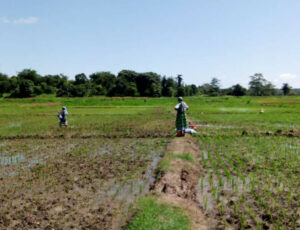 The first bacterial diseases were observed in Morogoro, the main rice-growing region, but also in the Mwanza and Arusha regions. Researchers have also detected the disease near Mombassa, Kenya. According to the director of the Tanzania Agricultural Research Institute, the epidemic is spreading rapidly and is affecting a very large number of fields.
In all irrigated areas, half of the fields are affected. The challenge is to supply these regions with healthy seeds, because if farmers continue to receive seeds that carry the bacterium, the problem will persist for a long time and could affect all countries, causing significant income losses and food insecurity.
The TARI has launched investigations to discover the origin of this epidemic.
The seeds themselves could be vectors of bacteria, which would explain the spread over such a great distance. What we do know for sure is that already in 2019, the first burnings of rice seedlings were observed on the Dakawa side of the Morogoro region. This is also the home of the Tanzania Agriculture Reasearch Institute, which has been working closely with China on innovation and experimentation in agriculture for almost 10 years.
Various tests and research on high-yield seeds are ongoing. What we learn is that it is an Asian strain of the bacterium that was found in Tanzania and had never been spotted in East Africa; hence the hypothesis developed by a team of international researchers, including Boris Szurek of the IRD (Institut de Recherche pour le Développement, France): 'I thought it was obviously accidental, but after our analysis they probably introduced the bacteria from Yunnan province, which is now spreading throughout the country,' the researcher explains. We know that the Chinese introduced the hybrid rice seeds by sowing them on an experimental farm to prove to the public, breeders and local farmers that their varieties have good performance and high yields. Which is absolutely true. The problem is that they also introduced this germ, which is a time bomb for East Africa.
What impact will this epidemic have on food security?
Tanzania is considered the second largest rice producer in sub-Saharan Africa after Madagascar. It imports a small amount from Pakistan and exports an even smaller amount to East Africa (Burundi, Kenya, Uganda, Rwanda, Malawi, DRC).
The country is almost self-sufficient, but with almost 20% less crop this year due to the epidemic, it could find itself in a difficult situation and dependent on the external market. Local prices have already risen and the situation is becoming worrying. 'This could become a food security problem,' says Jason Jonathan Kanan, consultant at the Faculty of Agriculture and Natural Resources in Dar es Salaam.
Tanzania depends on rice production, which is the country's second most important crop after maize. The government is struggling to control the epidemic and ensure security of supply.
What solution is being studied?
Possible solutions already exist. The international research consortium 'Healthy crops' is developing disease-resistant rice varieties. Frommer of the Heinrich-Heine University of Düsseldorf (HHU), is developing disease-resistant rice varieties. According to Boris Szurek (who heads the IRD research group) in the journal elifesciences.org, published on 20 June, resistance genes should be introduced into rice varieties found in Tanzania to combat these bacterial strains, and continues: 'Until 2019, Asian strains had never been found in Africa. Similarly, African strains have not been found in Asia, indicating a recent introduction of a strain from Asia to Africa, which is currently causing yield losses across Tanzania." It is a long search to contain an epidemic that is embarrassing the Tanzanian authorities and crippling more than one farmer.
Although the bacteriosis has not been considered a major threat to rice production in Tanzania, given the speed at which it spreads, it is not unlikely that the disease will also migrate to neighbouring countries.
To determine the arsenal used by this strain, the genome of the pathogen was sequenced. Sequence analysis showed that the bacterium is different from native African populations and similar to Asian strains. Similar to Asian strains but different from African strains, it has a tool that blocks a common rice resistance gene, called iTAL. They have a particular set of keys for the plant larder. The injection of a regulatory 'key' protein, developed by these bacteria, into the rice cells triggers the production of a sugar transporter called SWEET11a, which leads to the release of sugar in the vicinity of the bacteria, which can serve as nutrients and is necessary for the multiplication and virulence of the bacteria (IRD).
Fighting for the common good can become an opportunity to work for the common good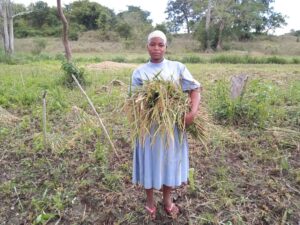 To protect African rice production from the emerging threat of the pathogenic bacterium, researchers have used new breeding techniques to change the locks of the popular East African elite variety 'Komboka' so that the pathogen's key can no longer open the larder and thus not cause disease. The modified lines show broad-spectrum resistance against all known Asian and African strains of Xoo, including those recently discovered in Tanzania. The researchers said: 'We intend to help African scientists with these discoveries and use new breeding methods to develop disease-resistant rice varieties adapted to local conditions. This knowledge can also be used for conventional breeding of varieties resistant to strains that are spreading rapidly in countries that have not yet introduced regulations for new breeding techniques'.
In a global context where rice farmers are the most vulnerable to the impact of climate change, coping with epidemics affecting rice plants, as in Tanzania, is becoming another important issue. And this requires concrete action today, intensifying research and introducing resistant varieties capable of producing sufficient quantities, because without them the population risks falling into food insecurity. This is another opportunity for the public and private sectors to combine their efforts.
The challenge is to meet the global demand for rice while protecting the planet
Droughts due to low rainfall, floods, high temperatures and salinisation of water due to rising sea levels are seriously affecting harvests. Rice cultivation requires about 40% of irrigation water and contributes significantly to climate change. Rice cultivation generates large amounts of greenhouse gases, with 10% of global methane emissions coming from rice paddies.
In East Africa, rice is an important source of food security, with an average annual per capita consumption of 25.8 kg in Tanzania, 14 kg in Kenya and 8 kg in Uganda. The governments of Tanzania and Uganda have recognised the opportunity for their rice sectors and are protecting their farmers, processors and traders by developing and imposing a 75% tariff on rice imports, while Kenya has imposed a 35% tariff.
What influence does the Tanzanian rice trade have on the region's economy?
Tanzania is investing in new irrigation systems, mechanisation of existing systems and the promotion of new rice varieties. Tanzania became self-sufficient in rice ten years ago. However, although the country is 'typically a surplus producer of staple foods, including rice, which are also in demand from neighbouring countries such as Kenya, Burundi, Rwanda, the Democratic Republic of Congo, Malawi, and so on, the actual quantity that can be marketed nationally and regionally is never clear.
Consequently, the search for rents on the domestic market is no longer motivated by a rice deficit, as in the past, but by the search for a balance between production and consumption and the search for rents by large companies involved in smuggling rice into Tanzania.
Smaller income opportunities also result from frequent changes in the rice trade regime in Tanzania. For example, import bans, export bans, temporary duty-free import permits when scarcity is perceived as a threat. On the other hand, the search for rents in Tanzanian export markets is motivated
the actual scarcity of rice in all other East African Community (EAC) member countries, with the exception of Tanzania
by the EAC trade regimes, compliance with which cannot be enforced by the Tanzanian authorities
by rice prices in EAC member countries, which are systematically higher than those in Tanzania
Some Tanzanian exports are based on illegal exports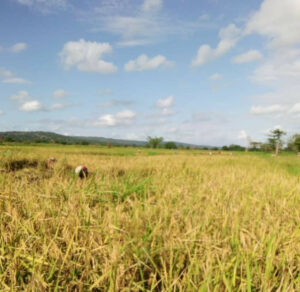 The rice value chain extends beyond Tanzania's borders and involves many different groups. We have little knowledge of how the value chain evolves over time and how actors in the value chain are involved.
This rent-seeking has affected tax revenue collection in Tanzania (and other EAC member states), as governments lose import duties due to under-declaration of rice or smuggling. More importantly, rent-seeking has created an environment where Tanzanian rice producers cannot exploit export opportunities and price premiums in regional markets. This is due to the political micromanagement of trade (by importing and exporting countries in the region) and the resulting semi-education in international trade law, international trade theory and public finance.
Hence, the need for a viable long-term anti-corruption strategy, starting with the establishment of a new formal trade agreement that
is in line with the national and regional economy and formalises current semi-formal practices
promotes collective action among countries in the region, supported by horizontal enforcement within the regional community
reduces inconsistencies between price lists, facilitating the enforcement of price lists and reducing vulnerability to corruption
promotes a degree of competition between rice traders at regional level
promotes regional supply chain integration in the rice sector and encourages increased productivity
Read Also
Feeding the hungry – First Corporal Work of Mercy
Pope Paul VI and Popolorum Progressio
A beautiful country where people survive
Sister Giovanna Chemeli's Testimony: "Spazio Spadoni… A Space For Me Too!"
Plastic pollution: a threat in Africa
Source