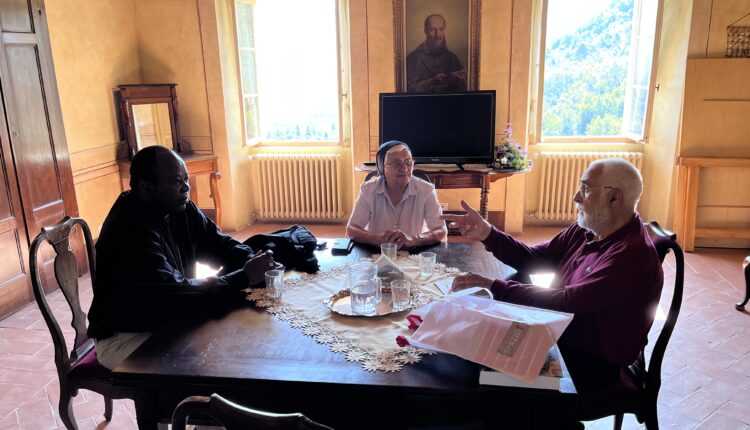 The Bishop of Dungu-Doruma visits Spazio Spadoni
Bishop Emile Mushosho Matabaro meets Luigi Spadoni to discuss development projects in the Diocese of Dungu-Doruma
On Friday, 29 September 2023, Monsignor Emile Mushosho Matabaro, Bishop of the Diocese of Dungu-Doruma in the Democratic Republic of Congo, visited Spazio Spadoni.
The Bishop, who is in Italy for a few weeks, was accompanied to the Convent of San Cerbone by Sister Lucia Sabbadin, Superior of the Dorothean Sisters' Community of Lucca.
The meeting with Luigi Spadoni, President of Spazio Spadoni, focused on the development of a possible project collaboration in the Congolese diocese.
The Diocese of Dungu-Doruma
The Diocese of Dungu-Doruma is located in the far north-east of the Democratic Republic of Congo. It straddles the two provinces of Haut and Bas-Uélés, and is currently divided into 12 parishes, the majority of which are served by the diocesan clergy and a small part by the religious of the Order of St. Augustine.
The diocese currently has a total population of approximately 957,813 inhabitants, of which 800,000 are Catholic Christians. The Brothers of Christian Instruction, Augustinians, Dominican and Franciscan Sisters of the Family are present in the 177 schools in the territory, in social works such as health facilities, orphanages, homes for the poor, charity and development associations.
The unrest linked to the rebellions that have marked the region for more than two decades have severely weakened the presence of missionaries in the diocese. Many, in fact, have had to return to Europe or America or move to other, relatively quieter dioceses.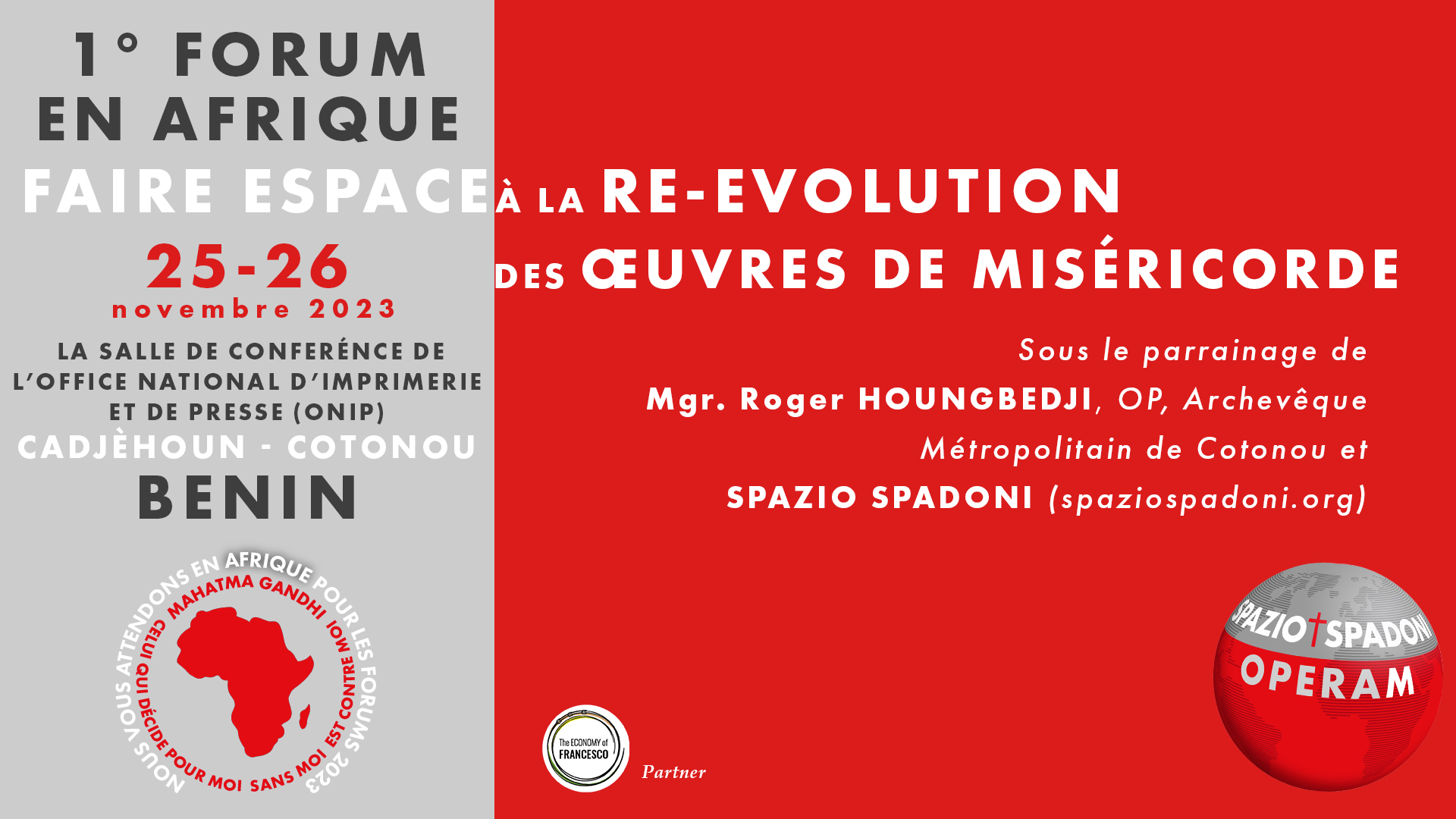 Future planning
Key topics for Spazio Spadoni were discussed: that of Works of Mercy, social enterprise and training. Bishop Emile showed himself open to future collaboration. When he returns to Congo in a month or so, he will try to make concrete some of the development objectives discussed during the meeting with Luigi Spadoni. At the same time, Spadoni will be interested in supporting and sustaining the spread of the Works of Mercy in the diocese through ad hoc training for parish priests and catechists.
H.E.R. Mgr. Emile Mushosho Matabaro
Bishop Emile Mushosho Matabaro was appointed Bishop of the Diocese of Doruma-Dungo (Democratic Republic of Congo) in October 2022 by Pope Francis.
After attending the propaedeutic and then the major seminary, he was ordained a priest on 17 September 2000 for the Diocese of Bukavu. From 2007 to 2012, he obtained a Licentiate in Theology and, from 2013 to 2017, a Doctorate in Theology from the Universidad San Dámaso (UESD) in Madrid.
He was Parish Vicar and Parish Priest in Ciherano, Parish Priest of Saint Pierre in Cibimbi and Bagira Parish, Director of the Diocesan Office for Social Works and Development, President of the Union of Diocesan Clergy, Bursar and Moderator of the Diocesan Commission of Goods, Episcopal Vicar and Chargé d'Affaires Economiques and Chancellor, Vicar General of the Archdiocese of Bukavu. Since 2021, Apostolic Administrator sede vacante et ad nutum Sanctae Sedis of the Diocese of Doruma-Dungu.
Source