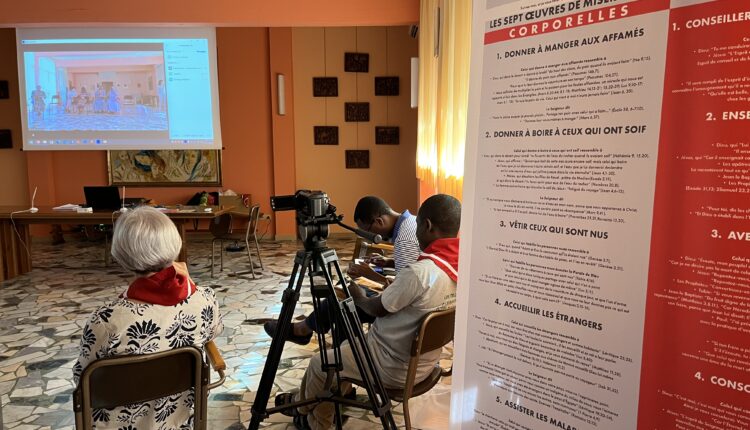 Talking about Works of Mercy with Spazio Spadoni
Divulging the Works of Mercy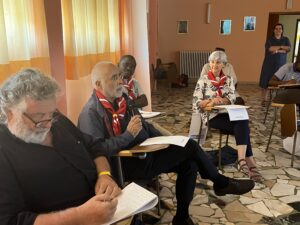 Yesterday morning, 17 July 2023, the meeting conceived and promoted by Spazio Spadoni, "Divulging the Works of Mercy", began in Lucca.
A moment of reflection and comparison that will end on 28 July, aimed at building concrete tools and methodologies to spread the Works of Mercy in the world. Especially in the places where Spazio Spadoni projects are being developed.
The days will focus on the structure of OPERAM, the voluntary groups that will be set up to perform Works of Mercy.
The day of 18 July will see the setting up of working groups, specifically:
Prayer and mission
Dignity and reciprocity
Universalisation of the Works of Mercy
From the following week, the participants will focus mainly on two elements:
Organisation of tools and methods to be used and disseminated
Organisation of territorial conventions
Five pillars of meaning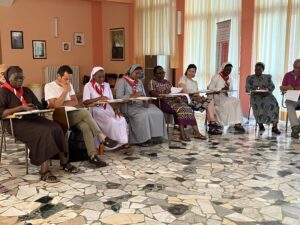 The mission of Spazio Spadoni includes the design and construction of paths, actions and tools with the desire, at once humble and grandiose, to enable a "new flood of spiritual meaning" in life through the Works of Mercy.
This is found possible through five pillars of meaning:
Pray the Works of Mercy. Every act and therefore every Work must be preceded by constant prayer so that the action is inspired by the Holy Spirit and the life of Jesus himself.
Universalise the Works of Mercy. The Works are for everyone and of everyone. All people in their lives perform Works. The difference can be seen in the evangelical sense that we put into the acts of charity.
Giving dignity to people through Works of Mercy. Regardless of culture and social class, the Works of Mercy restore dignity to people and enable them to produce the saving fruits promised by Jesus.
Foster reciprocity through the Works of Mercy. Spazio Spadoni believes that reciprocity is to be found not so much and not only in acting reciprocally with practical actions of solidarity, but by uniting, to the corporal Works of Mercy, the spiritual ones and the meaning derived from advising, teaching, admonishing, consoling, forgiving, bearing and praying.
Being 'Re-Evolutionary'. Combining the elements described above, Spazio Spadoni is convinced that the more we strive to make the Works universal, the more we give dignity to the doing and being of every man and woman.
The contribution to the days comes from many friends of Spazio Spadoni who come not only from Italy, but also from India, Burundi, Kenya, Burkina Faso, the Democratic Republic of Congo, Benin, Brazil, Mexico and the Central African Republic.
Read Also
Consoling the afflicted – Fourth Spiritual Work of Mercy
Admonishing sinners – Third Spiritual Work of Mercy
Teaching the ignorant – Second Spiritual Work of Mercy
Counselling the doubtful – First Spiritual Work of Mercy
Burying the Dead – Seventh Corporal Work of Mercy
Visiting Prisoners – Sixth Corporal Work of Mercy
Visiting the sick – Fifth Corporal Work of Mercy
Accommodation for pilgrims – Fourth Corporal Work of Mercy
Dressing the naked – Third Corporal Work of Mercy
Giving drink to the thirsty – Second Corporal Work of Mercy
Feeding the hungry – First Corporal Work of Mercy
The Works of Mercy from Brazil to Italy
Source