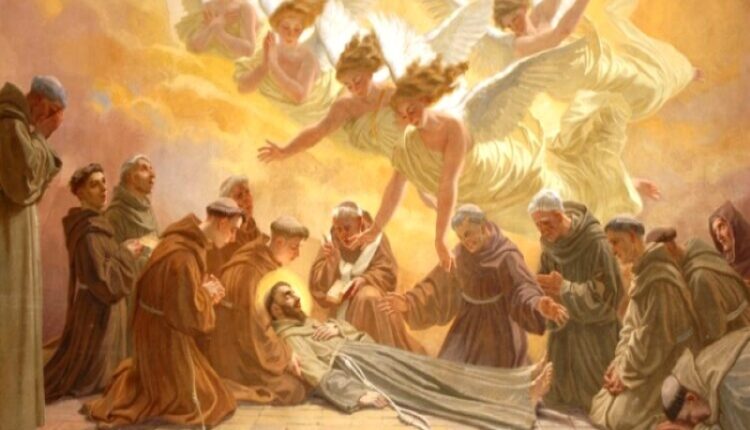 Saint Of The Day For February, 13: Blessed Angelo Tancredi
Angelo Tancredi, also known as friar Angelo, the most intimate guardian and custodian of the poverello of Assisi, St. Francis: today we remember him
It was Brother Angelo's pen and inkwell that chronicled the holy incursions of the three little brothers (Leo, Bernard, Angelo) together with the man Francis.
Stories of humanity and simple stubbornness from which we glimpse this rigorous temperament of Francis, yet capable of trusting.
Well, his closest companion, guardian, cloakroom attendant, caretaker, nurse and what have you, was the blessed Angelo Tancredi of Rieti, friar Angelo.
Here is what transpires from Brother Angelo's anecdotes on the life of Francis
There is a lot of talk about Assisi, but sometimes one could actually stay in the Rieti area because that is where the main places where Francis' prayer life gravitated were.
Out of habit, we see a walking Francis with a walking stick.
This is true: Francis walked miles and miles of unpaved roads through deserts and winding paths.
But the saint and his companions certainly used to move around a lot by boat, since the Rieti valley was a swamp at the time.
There are many adventures reported in Greccio, Fonte Colombo, Poggio Bustone and we place ourselves around 1200 down.
Angelo, with the gaze of a native of Rieti who does not deny the mysterious ravines that surrounded the landscape, was able to capture the temperament of Francis.
Francis was holy because, like Jesus, he hated not sinners but hypocrites.
And there was no stain of hypocrisy in Francis.
Let us capture this detail in an anecdote described by Brother Angelo himself about the time they had to sew a double layer of fur on Francis to show everyone that he wore it: one on the inside and another on the outside.
Francis called Angelo, the kind and courteous friar
When profiling the ideal friar, Francis thought of the simplicity and purity of Leo, the faith of Bernard, the courtesy of Angelo.
And indeed, he was the first to join Francis as soon as he met him, leaving his service for Cardinal Brancaleone.
The last two years of his life were thus spent at Francis' side, until his death when, together with Leo, he sang the Canticle of Creatures to him.
It is documented that Angelo died in 1258
These are real life stories. Let us leave the manuals of holiness for a while and, as Brother Angelo did, penetrate humanity with a gaze full of kindness and courtesy.
Sister Ines Carlone Daughters of Mary Missionaries
Read Also
Saint Of The Day For February, 12: Saint Eulalia
Gospel Of Sunday February, 12: Matthew 5, 17-37
Saint Of The Day For February, 11: Blessed Virgin Mary Of Lourdes
Saint Of The Day For 10 February: St. Scholastica
Saint Of The Day For February 9: San Sabino Di Canosa
Saint Of The Day For 8 February: Saint Onchu
Earthquake In Syria And Turkey, Pope Francis Prays For The Intercession Of The Virgin Mary
Earthquake In Syria And Turkey, Prayer And Church Commitment For 23 Million Human Beings
Pope Francis In Africa, Mass In Congo And The Proposal Of Christians: "Boboto", Peace
Lula Brings New Environmental Hope To Catholics In Brazil, But Challenges Remain
Source