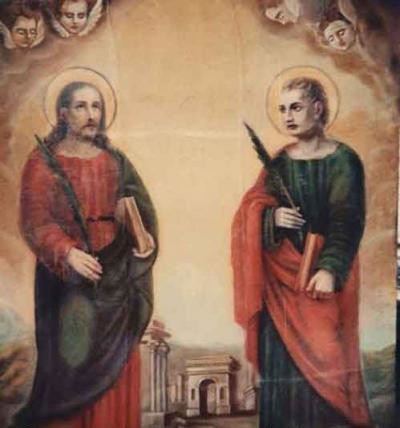 Saint of the Day for 30 August: Saints Felix and Adautto
Steadfastness in Faith: The History and Legacy of Saints Felix and Adautto
Name
Saints Felix and Adautto
Title
Martyrs
Recurrence
30 August
Martyrology
2004 edition
Patron saint of
San Felice del Benaco
Roman Martyrology
In Rome, in the cemetery of Commodilla on the Via Ostiense, holy martyrs Felix and Adáutto, who, having borne witness to Christ with the same unmerited faith, ran together victorious to heaven.
The Saint and Mission
Saints Felix and Adautto, witnesses of the faith in the early Church, show us how the Christian mission goes beyond the verbal proclamation of the Gospel. Their martyrdom represents the culmination of a mission lived with authenticity, courage and dedication, demonstrating that authentic faith manifests itself through actions and sacrifices, and not only through words. In the context of persecution, they did not deny their faith, thus becoming a shining beacon for Christians of subsequent generations. Their story teaches that the true Christian mission involves a total commitment to God and neighbour, even at the cost of one's own life. In Saints Felix and Adautto, we find a clear testimony of how deep and radical love for Christ and His saving mission in the world can be.
The Saint and Mercy
Saints Felix and Adautto, martyrs of the early Church, are shining examples of how mercy can manifest itself even in the most extreme situations. Despite facing persecution and suffering, their dedication to the Catholic faith and their love for God never weakened. In their suffering, they showed deep mercy, praying for their persecutors and offering comfort to other Christians in distress. Their story reminds us that even in the face of oppression, mercy and love can triumph, offering hope and redemption to those who are oppressed. The lives of Saints Felix and Adautto are a reminder to us all of the power of mercy and the importance of living it every day, regardless of circumstances.
Hagiography
In one of his poems, Pope Damasus remembers Felix and Adautto as martyrs who were worshipped at their burial place; the Geronimian Martyrology (and later other texts) commemorates them on 30 August. The first Life, which seems to date from the Pre-Carolingian period (7th century), but is known in various versions, recounts that Felix was Roman and…
Source and Images