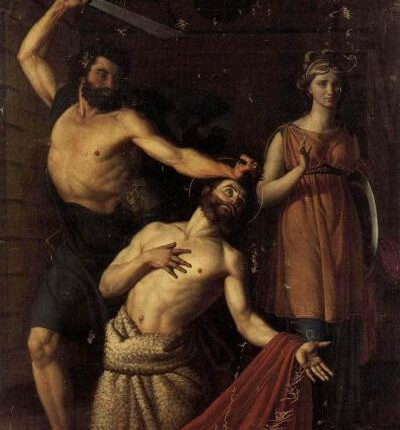 Saint of the Day for 29 August: Martyrdom of St John the Baptist
The Voice in the Desert: The Supreme Sacrifice of St John the Baptist
Name
Martyrdom of St John the Baptist
Title
Salome's request
Recurrence
28 August
Martyrology
2004 edition
Prayer
O glorious St. John the Baptist who, sanctified by God in the womb, preserved intact the lily of virginity and offered the world the example of profound humility and the strictest penitence: you who died a martyr's death by beheading because, with ardent zeal for the glory of God, with a courage no longer seen, you rebuked not only the scribes and Pharisees, but also the most feared monarchs in the world; obtain for me, I beseech you, to imitate you in your precious virtues, never to neglect for human consideration the fulfilment of my duties, and to fear nothing in the world but the sin that separates me from God, my only good. So be it.
Patron saint of
Ragusa, Fasano, Montepulciano, Porto Recanati, Campagnano di Roma, Racconigi, Camerano, Manziana, Robecco sul Naviglio, Grazzanise
Roman Martyrology
Commemoration of the passion of Saint John the Baptist, whom King Herod Antipas kept in prison in the fortress of Macheronte in present-day Jordan and on his birthday, at the request of Herodias' daughter, ordered to be beheaded. For this, Forerunner of the Lord, as a lamp that burns and shines, he bore witness to the truth both in life and in death.
The Saint and Mission
The martyrdom of St John the Baptist represents a crucial moment in salvation history, highlighting the price of fidelity to the divine mission. John, known as the forerunner of Christ, had the task of preparing the way for the Messiah, calling to penance and announcing the coming of the Kingdom of God. His death, the result of a whim and the vengeance of an offended queen, underlines the depth of evil in the world but, at the same time, reinforces the truth of his message. Despite external pressures and threats to his life, John never deviated from his mission. His martyrdom thus becomes a symbol of courage, integrity and total dedication to divine truth, reminding us of the supreme value of the mission to which we are called and of the challenges we must face to remain faithful to it.
The Saint and Mercy
The martyrdom of St John the Baptist, although an episode of violence and injustice, brings with it profound reflections on divine mercy. John, the Forerunner, had the mission of preparing the people for the arrival of Christ, the incarnation of God's mercy. Although his death was unjust and the result of intrigue and revenge, it can be seen as an anticipation of the supreme act of mercy: the crucifixion of Christ. Both deaths show how the light of truth and mercy can be rejected by the world, but at the same time emphasise that divine mercy is unceasing and always triumphs, even in the darkest circumstances. The martyrdom of John the Baptist reminds us that God's mercy also works through acts of sacrifice and faithfulness to the truth, inviting us to reflect on our call to be witnesses of His infinite goodness and compassion in the world.
Hagiography
In the 15th year of the reign of Tiberius Caesar, John the Baptist came from the desert to the banks of the Jordan, in the vicinity of Jericho, to preach the baptism of repentance there, in preparation for the coming of the Messiah. The whole of Jerusalem and the surrounding towns came in droves to hear him and…
Source and Images