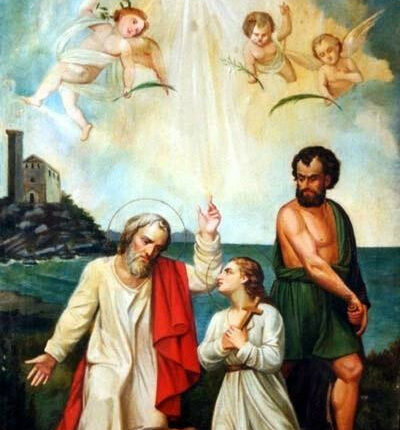 Saint of the Day for 28 July: Saints Nazarius and Celsus
Unbreakable Martyrs and Lamps of Faith in the Darkness of Persecution
Name
Saints Nazarius and Celsus
Title
Martyrs
Recurrence
28 July
Martyrology
2004 edition
Prayer
Glorious Martyrs and Apostles of Jesus. Saints Nazarius and Celsus, who with an invincible spirit and singular charity have enlightened us to know the true God and have taught us in the faith and religion of Our Lord Jesus Christ, the source of true civilisation and salvation, come to our aid and deign to intercede for us. Obtain for the pusillanimous vigour of Christian virtue and liveliness of faith, for sinners a true contrition of their sins, for the righteous final perseverance. Hear the prayers of those who have recourse to your worthy patronage, and be you the guardian Angels of our families. O valiant Martyrs of the Lord, may faith and love for Jesus Christ not fail in our hearts; may we remain steadfast in divine service and may we one day be crowned with you in Holy Paradise. So be it.
Patron saint of
Vignola, Bareggio, Arenzano, Urgnano, Verano Brianza, Frignano, Bussero, Marcallo con Casone, Sannazzaro de' Burgondi, Castronno
Roman Martyrology
In Milan, Saints Nazario and Celso, martyrs, whose bodies were found by Saint Ambrose.
The Saint and Mission
Saints Nazarius and Celsus represent a powerful example of Christian mission in the context of extreme persecution. Their lives, marked by martyrdom in the 3rd century, demonstrate an uncompromising commitment to the witness of the Gospel.
Nazarius was a Christian missionary of Roman origin, and Celsus was a child who was entrusted to him. Despite enormous risks, Nazarius dedicated himself to spreading the Christian message, baptising Celsus and taking him with him on his evangelical journey. Together, they travelled through many cities of Europe, spreading the Gospel with great zeal.
The mission they embody is one of unconditional fidelity to the message of Christ, a faith that does not stop in the face of adversity and that, indeed, recognises in martyrdom the supreme expression of love for God and neighbour. They teach us that the Christian mission may require enormous sacrifices, but that faith in Christ and love for the Gospel can give the strength to face them.
Saints Nazarius and Celsus, therefore, offer us an extraordinary example of how the Christian mission can be lived with courage and determination, even in the most difficult circumstances. Their story encourages us to remain faithful to the Gospel and to live our faith with boldness, unafraid of the difficulties we may encounter along the way.
The Saint and Mercy
Saints Nazarius and Celsus represent the emblem of mercy in the Christian tradition, highlighted by their unstinting dedication to evangelising and comforting the needy, despite the persecutions and difficulties they encountered.
Nazarius, an evangeliser of inexhaustible faith, and Celsus, a child who had accepted the message of the Gospel, travelled together through different regions, bringing the good news of Jesus Christ. Their mission was not limited to simply spreading the words of the Gospel, but extended to the work of consoling and comforting those who were suffering.
In this context, mercy played a key role. They not only preached the faith, but lived it out through acts of mercy – offering comfort to the needy, encouraging the desperate, and supporting those suffering from persecution.
Mercy, in their ministry, became an act of endurance and hope in a time of persecution and suffering. They show how mercy is a fundamental aspect of the Christian mission, a concrete manifestation of God's love for us all.
The lives of Saints Nazarius and Celsus invite us to reflect on mercy not only as a theological aspect of the Christian faith, but as a call to action, to concretely manifest our love for God and neighbour, especially in times of difficulty and suffering.
Hagiography
S. Nazarius had the good fortune to have a pious mother by the name of Perpetua who had been taught the faith by St Peter, or at least by some of his early disciples. Although her husband, who held a distinguished position in the empire, was a pagan, she nevertheless endeavoured to inspire young Nazarius, her son, with an ardent desire to consecrate himself to Jesus Christ. Her lessons were so successful that…
Source and Images