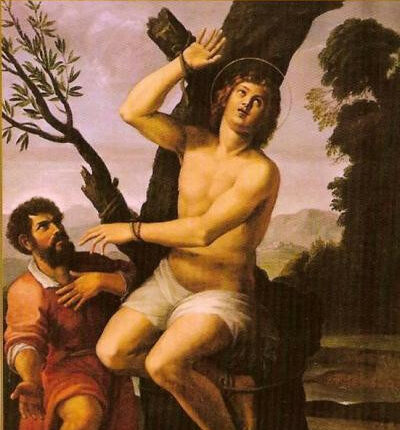 Saint of the Day for 27 July: Saint Pantaleon
Doctor, Saint and Symbol of Mercy and Christian Mission
Name
Saint Pantaleon
Title
Doctor and martyr
Birth
3rd century, Nicomedia, Turkey
Death
27 July 305, Nicomedia, Turkey
Recurrence
27 July
Martyrology
2004 edition
Prayer
O glorious Physician and Martyr Saint Pantaleon, my protector, who in the midst of the gravest torments you repeatedly remained unharmed by divine goodness and who at the moment of your death prayed for your own persecutors, implore us from the Lord the grace of always being safe from the dangers of soul and body and of loving our neighbour; thus, by imitating your virtues, we will deserve to be protected by you during our lives to then be partakers of your glory in heaven. So be it.
Patron saint of
Crema, Sorso, Macomer, Vallo della Lucania, Miglianico, Limbadi, Courmayeur, Ravello, Frisa, Martignano
Protector of
doctors, midwives
Roman Martyrology
In Nicomedia in Bithynia, in today's Turkey, Saint Pantaleon, a martyr, was venerated in the East for practising his profession as a doctor without asking for any payment in return.
The Saint and Mission
St Pantaleon is an extraordinary example of how the Christian mission can be lived and realised in everyday life. As a doctor, Pantaleon not only cured people's physical illnesses, but also acted as a true disciple of Christ, healing their spiritual suffering and bringing them comfort and hope.
Pantaleon interpreted his profession as a vocation, a means to fulfil the Christian mission to 'go and make disciples'. He did not just preach the Gospel, but lived the message of Christ in his daily service to the sick and needy.
In his life, Pantaleon showed that the Christian mission is not something isolated or separate from everyday life, but is intrinsically linked to our daily actions. Mission is not just proclaiming the Gospel with words, but incarnating the Gospel with our actions, showing love, compassion and mercy to all, especially the most vulnerable and needy.
The life of St Pantaleon reminds us that all of us, regardless of our profession or status in life, are called to participate in the Christian mission. Whether it is caring for the sick like Pantaleon, educating the young, working for social justice, or simply showing kindness and love to those we meet every day, we all have a role to play in carrying out Christ's mission in the world.
The Saint and Mercy
Saint Pantaleon, is a saint venerated in many Christian traditions, recognised as one of the fourteen Auxiliary Saints. He was a physician from Nicomedia, in modern Turkey, during the reign of Emperor Diocletian. Through his story, the importance of mercy in Christian practice emerges.
Pantaleon was known for his medical skills, but even more so for his generosity and compassion. Despite having access to the imperial court, Pantaleon was famous for offering free treatment to those who could not afford it, and for using his position to intervene on behalf of the most vulnerable.
This constant act of mercy was not just a gesture of personal goodness, but a tangible expression of Pantaleon's Christian faith. In the Christian tradition, mercy is not simply an act of kindness, but a commitment to see the face of God in every person and to respond with love.
The message of St Pantaleon's life still resonates today. His story reminds us of the importance of living our faith through acts of mercy and compassion. It shows that mercy is not just an aspect of the Christian faith, but an integral part of it, a call to action to love and serve others without reservation. In today's world, where we too often see divisions and suffering, the life and example of St Pantaleon offers us a vision of universal love, care and mercy.
Hagiography
Pantaleon Martyr, saint (4th cent.). One of those saints whose popularity was as great in the West as in the East. His Greek Passion, which unfortunately has no historical value, had numerous Latin versions, as well as translations into the various Oriental languages.
The account tells us that Pantaleon was born of a Christian mother, but was not baptised; he had begun a brilliant medical career when a priest revealed to him the power of Christ, physician of soul and body. Converted to the Christian faith and trusting since then in the efficacy of prayer, he performed several miracles, healing in particular…
Source and Images