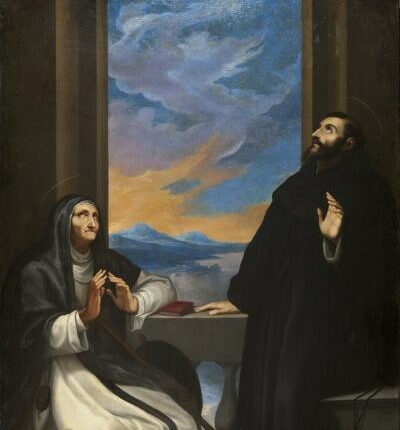 Saint of the Day for 27 August: St Monica
Persevering Mother and Patroness of Mothers in Love with the Faith
Name
St Monica
Title
Mother of St. Augustine
Birth
331, Tagaste, Numidia
Death
27 August 387, Ostia
Recurrence
27 August
Martyrology
2004 edition
Prayer
You blessed, O adventurous Saint Monica! Having obtained the goal for which you only yearned, that is, the conversion of your Augustine, you yearned for nothing more than Paradise; and soon fulfilled, by divine disposition you were unable to make your return to your homeland, so that here in Italy you left your mortal remains that remain to us, glorious and dear garrison, in the eternal city, in that very temple that is dedicated to your glorious son. Receive, O great saint, under your powerful patronage all of us who, bearing the name of wives and mothers and with it the grave burden of duties incumbent upon us, have so much need to walk in your luminous footsteps, making us faithful imitators of your holy virtues; be ever propitious to us in all our needs, assist us in the holy enterprise of saving our children so that we may be granted to come together with them to enjoy the glory of Our Lord Jesus Christ next to you. So be it.
Patron saint of
Sardegna, Bevilacqua
Protector of
Married women, mothers, widows
Roman Martyrology
Memory of Saint Monica, who, when still a young girl married to Patrick, bore children, including Augustine, for whose conversion she shed many tears and prayed many prayers to God, and, yearning deeply for heaven, left this life in Ostia in Latium, while on her way back to Africa.
The Saint and Mission
St. Monica, mother of St. Augustine, is often remembered for her unceasing prayer and devotion to the conversion of her son. However, her mission goes far beyond that of a caring mother. Monica represents the silent and persevering power of faith, one that works in silence but has a profound impact on the people and community around her. Her dedication to God, not only for the sake of her son but for all those who crossed her path, makes her a shining example of how the Gospel mission can be lived out in daily life. St Monica shows us that mission is not limited to grand gestures or spectacular miracles, but is also found in small everyday actions done with love and faith.
The Saint and Mercy
Saint Monica is an extraordinary emblem of mercy incarnate. Through her continuous prayers and tears for the conversion of her son, St Augustine shows us the image of a mother who never gives up, reflecting the infinite mercy of God who always awaits the return of the prodigal son. Her resilience and unwavering faith, even in the face of Augustine's challenges and sins, represent the merciful love that does not judge, but hopes, forgives and renews. St. Monica teaches us that true mercy does not tire, is not discouraged and always looks to the greater good of the soul. In her, we see the power of mercy that transforms, reconciles and brings to light.
Hagiography
S. Monica, always greatly venerated by the Church and held up as a model for Christian mothers, was born in Tagaste, Africa in 331, into a Christian family, in which she learned to know and love God from childhood. Like all children, she also had certain defects of youth, such as gluttony, which manifested itself in her with a certain…
Source and Images