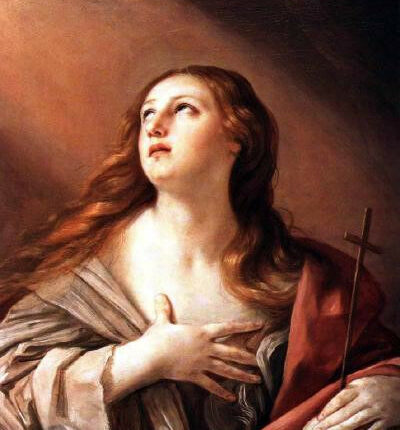 Saint of the Day for 22 July: St Mary Magdalene
The transformation of the heart through love and redemption
Name
St Mary Magdalene
Title
Disciple of the Lord
Birth
22, Magdala, Israel
Death
22 July 66, Saint-Maximin-la-Sainte-Baume, France
Recurrence
22 July
Martyrology
2004 edition
Prayer
O Glorious Saint Magdalene, model of the penitent, grant me the grace of perseverance in the practice of self-denial, in accordance with my oaths; pray to God for me that I may appear before Jesus our Lord and Master; at the moment of my death, with the lamp full of the oil of hope and burning with the pure flame of charity, so that I may be worthy to be received into the Eternal Kingdom of God. Amen.
Patron of
Castiglione del Lago, Artena, Pieve di Soligo, Volpago del Montello, Volvera, Casamicciola Terme, Volta Mantovana, Borgetto, Galliera Veneta, Cappella Maggiore
Protector
hairdressers, penitents, repentant prostitutes
Roman Martyrology
Memory of St Mary Magdalene, who, having been freed by the Lord from seven demons, became his disciple, following him to Mount Calvary, and on Easter morning was the first to see the risen Saviour from the dead and to bring the announcement of the resurrection to the other disciples.
The Saint and Mission
St Mary Magdalene was a key figure in the mission to spread the Gospel of Christ. Having been transformed by her experience with Jesus, she embraced the mission to proclaim the Good News with zeal and devotion.
Her closeness to Jesus during her earthly ministry made her a direct witness to his teachings and passion. After Christ's resurrection, Mary Magdalene had the honour of announcing to the disciples his victory over death, becoming the 'Apostle of the Apostles'.
Her mission was not only limited to talking about the wonders of Christ, but she also showed a living example of faith and love for God. With the burning heart of an apostle, she continued to follow the Lord and spread his message of hope and salvation.
The figure of St Mary Magdalene invites us to reflect on our mission as Christians. We can learn from her the importance of being faithful witnesses of Christ, bringing his light and love to those we meet along our path.
May the example of St Mary Magdalene inspire us to be ardent in our missionary efforts, spreading the Gospel with passion and love, as she did with dedication and generosity. May we follow her example in our mission to bring Christ's message of hope and salvation to all those around us.
The Saint and Mercy
St Mary Magdalene was an inspiration of mercy and transformation. From her encounter with Christ, she experienced God's forgiveness and love, which drove her to change her life and follow the Lord with zeal and devotion.
Her experience of mercy taught her the importance of forgiving and being forgiven. Mary Magdalene showed a deep love and gratitude towards Christ, who delivered her from sin and called her to be one of the first witnesses of His resurrection.
Mary Magdalene's merciful heart shone through in her service to others and her dedication to the Gospel. She followed Jesus with passion and shared His message of love with everyone she met, becoming a messenger of hope and conversion.
The figure of St Mary Magdalene challenges us to reflect on our response to God's mercy in our lives. We can learn from her the importance of allowing ourselves to be transformed by Christ's love, to forgive and to be compassionate towards others.
May the example of St Mary Magdalene inspire us to live mercy in our daily lives, bringing forgiveness, compassion and God's love to those around us, as she did with ardour and dedication.
Hagiography
Mary, nicknamed Magdalene from Magdala, a village on the west coast of Lake Tiberiad, where she was born. She sinned much in her youth, but enlightened by divine grace she wept for her sins and changed her life. Freeing her from the 'Seven Demons' Jesus then made her his disciple.
On Calvary she defied the wrath of Jesus' enemies, witnessed the death of her Master, and did not leave until after His burial. She could not wait for the Sabbath to pass so that she could rush to embalm the body with perfumes and aromas…
Source and Images