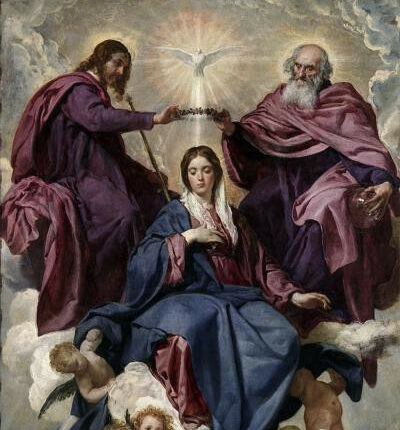 Saint of the Day for 22 August: Blessed Virgin Mary Queen
The Celestial Coronation and His Eternal Kingdom of Grace
Name
Blessed Virgin Mary Queen
Title
Queen of Heaven and Mother of Mercy
Recurrence
22 August
Martyrology
2004 edition
Prayer
August Queen of Angels and our sweet sister in the faith, embrace with your motherly gaze all of us who trustingly turn to you. We are sinners but Thy children. Obtain for us the gifts of grace necessary for our salvation. Guide us on life's journey along the path of the Gospel. Give us the certainty that You will be at our side with Motherly love at the moment of death. Then, together with the angels and saints, we will bless you in heaven and with you we will praise the Lord forever. Amen
Patron saint of
Apricena
Roman Martyrology
Memory of the Blessed Virgin Mary Queen, who begot the Son of God, Prince of Peace, whose reign shall have no end, and is hailed by the Christian people as Queen of Heaven and Mother of Mercy.
The Saint and Mission
The Blessed Virgin Mary Queen is not only venerated as the mother of Christ, but also as the supreme guide and model for every Christian on mission. Mary, through her unconditional 'yes' to the angel Gabriel, inaugurated the greatest mission of all: to bring salvation to the world through her Son. Her life, steeped in faith, hope and charity, shows us how to live our vocation fully and how to respond with love to God's call. Her kingship is not a sign of domination, but rather of devoted service to the divine will and to humanity. Mary Queen invites us to recognise our own mission, to love without reserve and to be ambassadors of Christ in the world, carrying the message of salvation and divine love.
The Saint and Mercy
The Blessed Virgin Mary Queen, crowned not only as mother of God but also as queen of the universe, is a perfect example of divine mercy. Her unconditional acceptance of the annunciation, her dedication as mother and her role as intercessor for all Christians embody the very essence of mercy. Mary, in her regal mantle as queen, does not reign with earthly power or authority, but rather with a heart overflowing with love and compassion. Her kingship is woven with kindness and mercy, offering consolation, hope and refuge to all who turn to her. Through Mary Queen, we are reminded of God's infinite mercy and his desire to enfold us in his royal and maternal love.
Hagiography
On the eleventh of October 1954, H.H. Pius XII instituted the feast of the Queenship of Mary, to be celebrated annually throughout the world on 31 May; it was later moved to 22 August, the eighth day of the Assumption, to emphasise the link between Mary's kingship and her bodily glorification.
With this feast day, the Pope wished to seal the voice of the ancient monuments with his authority and…
Source and Images