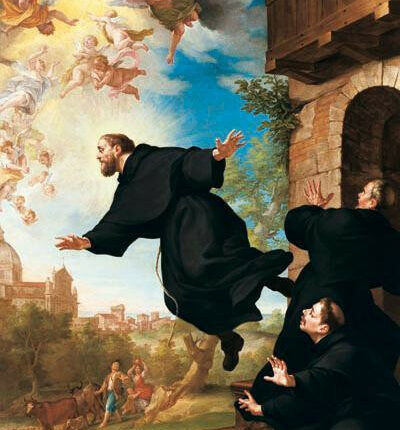 Saint of the Day for 18 September: St Joseph of Cupertino
St Joseph of Cupertino: the saint of miracles and levitations
Name
Giuseppe Maria Desa
Title
Priest
Birth
17 June 1603, Copertino, Lecce
Death
18 September 1663, Osimo, Ancona
Recurrence
18 September
Martyrology
2004 edition
Beatification
24 February 1753, Rome, Pope Benedict XIV
Canonisation
16 July 1767, Rome, Pope Clement XIII
Prayer
O mighty advocate of the afflicted, O glorious St Joseph of Cupertino, to the many wonders and graces that you dispense every day, thanks to divine Goodness, to those who with faith implore your help, add also this: to be generous to me at this particular time. You know my difficulties and my worries. Make them end. Be my angel protector. By the merits acquired in your life grant me grace. Comforter of all those in need, do not fail to grant me, I trust in you! Amen.
Patron Saint of
Osimo, Copertino
Protector of
Astronauts, aviators, plane passengers, students
Roman Martyrology
In Osimo in the Marches region, Saint Joseph of Cupertino, a priest of the Order of Friars Minor Conventual, who, despite the difficulties he faced during his life, excelled in poverty, humility and charity towards God's needy.
The Saint and Mission
St Joseph of Cupertino, also known as the flying saint because of his frequent levitations, is a central figure in Catholic tradition, an emblem of deep spirituality and dedication to the religious life.
The mission of St Joseph of Cupertino can be seen through the lens of his fervent prayer life and his ability to find God in simplicity and the everyday. His vocation was not without its challenges, as he encountered numerous obstacles, including difficulty in his studies due to his limited intellectual capacity. However, he overcame these challenges through his unconditional trust in God and his deep prayer life, becoming a Franciscan priest.
The mission of St Joseph of Cupertino was characterised by humble and discreet service. He did not seek recognition nor did he aspire to positions of power within the Church. Instead, he dedicated himself to serving his community with a pure heart and unwavering faith. His deep prayer life and closeness to God enabled him to be a channel of grace and blessing for others.
St Joseph is also known for his miracles and ecstasies, extraordinary manifestations of his deep union with God. These spiritual phenomena were never an end in themselves for him; instead, they were spontaneous expressions of his deep communion with God.
In this light, the mission of St. Joseph of Cupertino can inspire us to seek God with a pure heart, to serve others with humility, and to pursue a life of deep and personal prayer, trusting that God can work wonderful things through those who entrust themselves completely to Him. His example encourages us to see beyond human limitations and recognise the power of God's grace to transform and elevate human souls to unimaginable spiritual heights.
The Saint and Mercy
Saint Joseph of Cupertino is a significant figure in the history of Christianity, known for his deep sense of devotion and miraculous life reflecting God's love and mercy. Born into an extremely poor family in 1603 and suffering from learning difficulties, his life was marked by humility and suffering. However, through his deep connection with God, he was able to overcome countless obstacles.
St Joseph of Cupertino is a shining example of how God's mercy can manifest itself in surprising and unexpected ways. His life shows us that God has a plan for each of us and that, with faith and devotion, we can be transformed through His grace and mercy.
Divine mercy not only played a central role in St Joseph's life, but was also a driving force in his ministry. He embodied mercy in being a comforting and healing presence for those who were afflicted both physically and spiritually. His ability to comfort and guide others stemmed from his deep empathy and understanding of human suffering, gained through his personal experiences of hardship and trials.
Even in the midst of extraordinary mystical experiences, including ecstasies and levitation flights, St Joseph never lost sight of the importance of serving others with a merciful heart. His closeness to the poor and marginalised, and his continuous commitment to put the needs of others before his own, speak of a mercy that goes beyond words, manifesting itself in concrete actions and genuine Christian love.
St Joseph of Cupertino reminds us that mercy is not only something we receive from God, but is also a virtue we are called to practise in our daily lives. He teaches us that through a merciful approach to others, we can reflect God's love in the world and bring comfort and hope to those in need.
In conclusion, St Joseph of Cupertino remains an emblem of divine mercy, a saint who embodied God's love and compassion through his life of humble and dedicated service. His life is a powerful reminder of the ability of mercy to transform lives and an invitation to live with an open and receptive heart, ready to serve with love and kindness.
Hagiography
S. Joseph was born at Cupertino in Apulia in the year 1603 of pious parents, and prevented by the love of God, he spent his childhood in holy simplicity and purity of morals. Freed by the Virgin Mother of God from a long and troublesome illness, which he bore with admirable patience, he devoted himself fervently to pious practices, and…
Source and Images